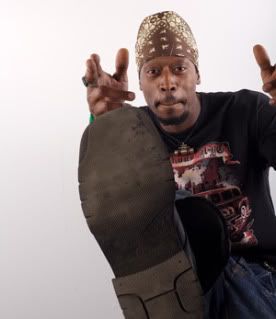 Anyone keeping an eye on the playlists here, or on ye olde myspace, will have seen the name Jahdan Blakkamoore popping up with increasing regularity. The Brooklyn based, Guayanese originated singjay has actually been around for a while, but his career hit new heights in 2006 with 'Brooklyn Anthem' when he combined with 77Klash and Matt Shadetek to devastating effect. When Shadetek went on to ally himself with yet another recidivist Stinky Grooves offender, DJ/Rupture, under the
Dutty Artz
banner, Jahdan was instant fam and the seeds were sown for
Buzzrock Warrior
. It's a dizzying album, definitely too much to take in on initial listens (it has severely grown on me since I reviewed it for Mixed Messages in the next Real Groove) with production from the Dutty Artz dons, Chancha Via Circuito, Liondub, Modeslektor, Maga Bo and long time spar 77Klash. I had a natter to Mr Blakkamoore on the blower last week and he was a right delight, our 25 minutes became 45 as we both wanked on about the splendour of Busy Signal like a couple of fanboys. Here's some of what he had, to say..un-edited and au natural like
On music being his living now –
"Yeah pretty much man this is what I do now. I'm trying to make a living from music, trying to keep my head above water. It's still struggle mad tribulations and trials and tings like that, just with the day to day you know. This is going to be my springboard for everything else so I'm going to put my all into this, all my sacrifices is for this
My team – everyone I work with is focused on this, this is what's going to be my springboard not many other things but its strictly music now I got to keep my booking up, keep my head above water, stay away from police, stay away from the cops, stay away from jail and prison. I'm not trying to be out there doing any illegal activity out there because I don't like the police, they don't like me, I don't like them I don't like their system so I don't deal with them…just music."
On album standout 'Come With Me' he talks about his background, immigration business and what not, what's his status?
"That was then and that's in the past they can't do nothing about that now, the dirt was already done. It's many years ago and it's before I even knew it was dirt you know. I've got my passport, I'm looking to get other passports from other nations, other countries – looking to have international status and be able to move like a diplomat around the planet you know. Might even be leaving this planet too, go to another planet, might go back to where I came from which is Mars."
I'm obliged to inform him that he's in the right place – talking to the man from Round Trip Mars.
"I'll probably be linking with you, and get my Martian passport, and then I'm out of this place."
On working with Dj/Rupture and what a stupendous filterer of music he is –
"He's a connoisseur, that's one of the main reason. I know it's a very good that we linked up, because I was kind of getting fed up with what the propaganda machine is pushing out there. So I was looking for some other way to attack and this is it and I'm going to continue to be a genre bender as much as I can."
Not quite sure (without going back to the tape) what prompted this wee ramble, he does like a rant, which is fine by me. But it's a good answer, whatever the question.
"The mediahype propoganda machine they want to use music to sell hamburger and Nike and fuckery. They want to sell bullshit, they want to use your music to sell these things. But the real thing already happened, the origination of this music already happened already. It came now so obviously this thing has to go forward now. What we're left with is what they give us. They give us the different choices and we pick from it. But the streets know what… the streets still listen to Nas, to KRS One there's still some people going to listen to X Clan. Still tuning into some Tonto Irie, Charlie Chaplin and Brigadier Jerry and Papa San. Those are the kind of things I grow up on, that's my frame of reference for this whole thing. So when they talk about dubstep to me, they aint talking about dubstep. You have to talk about Augustus Pablo, that's dub step. The music has got to progress somewhere, and the youths only catch on from where they're born, when their eyes open up. So somebody has to say 'remember this?!' That's why the retro thing catch on so, because someone said 'Hey remember this!'"
With contribution from grime demi-God Durrty Goodz, Berlin spicy synth superintendents Modeselektor and some all-over-the-modern-shop rhythms it is refreshing to hear a record that pushes it, but avoids the usual predictable pitfalls and limp lunges at crossover.
"I really focus on it man, I'm trying my best to tap into what my source of inspiration is. I want to be different and I don't want to ft in. You're going to see, when you look at what I do with my group Noble Society, everything that you see coming out is going to get more mad, stranger and stranger, more different. Because that's my avenue when I work with Noble Society, that's the source we tap into, that's the realm we tap into. We want to be eclectic, we want people to go 'wow what the hell is this?' I though this was a reggae band' That's my crew of people that I resonate with, so even when I go off and I do a 'Buzzrock Warrior', or a 'Babylon Nightmare' (his long awaited one drop project, 'it will be ready when it's done' ..he says), its still going to be with that edge is what I'm coming with. I don't feel its about fitting in, I feel its about fitting out. Staying out!"
Talking of 'fitting out' somewhat inevitably leads me to provoke a Busy Signal fanfest!
"Busy is my artist right now. Nobody not talking to Busy. You'd think that like he'd start taking the lead, and he is taking the lead, he is mastering his agenda. He's really tapping into something, and saying something. You can hear it with his flow, you can hear he's not coming with the norm. He was trained, he was schooled, he was bought up in the same schoolroom, you can detect it. Because you cant stray too far out, you can't go too far. They're going to tell you to get back, well you hope they're going to tell you. Especially in the arena, in the dancehall arena, you've go to fit in – otherwise they wont notice."
Below a track from Noble Society (his other band who made a big splash on iTunes last year with their album, havailable locally and internationally through aforementioned digital big bwoss) and a remix of 'General' featuring General Steele of Smif-N-Wessun. You know the original of that track made a big impression on me as it kicked off the last Stinkmix (hokay for those that have enquired and requested, another Stinkmix on the way… soonest), that slot is not for the fainthearted or any dibbi-dibbi type behavior! As ever the music is only at 192kbps and limited time – buy the discs or DLs and support an original artist making his way, progressive style and fashion.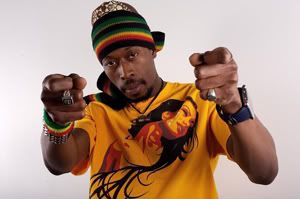 Check the Full Hundred Jahdan Blakkamoore and Matt Shadetek mixtape fer free (the first tatse always is..) at
XLR8R
22 minutes mix-up madnesseration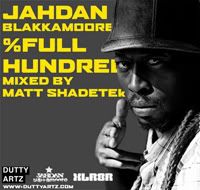 The Noble Society's latest album, has some winners, check the catalogue too. Buy from Juno or iTunes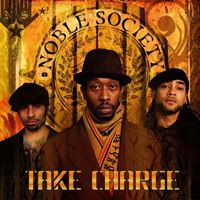 This EP is still available, the CD also has the highly desirable versions. Buy from Boomkat
But don't sleep on the wax, is hot and available for purchase here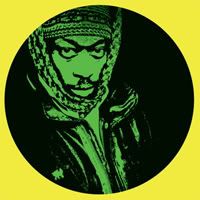 And this is the album you should be looking for, in shops next week EnZed style & fashion so no links …yet.
THE GENERAL REMIX – JAHDAN BLAKKAMOORE FT GENERAL STEELE
GYPSY ROCKL – NOBLE SOCIETY
There may well be a Part Two to this in a few weeks, depending on whether I can inveigle someone to take the hint and get it in print…. hold tight..