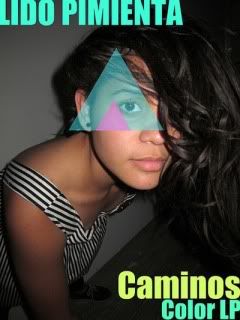 OK part 2 – good for you. Don't forget that this is shorn of all the quotes used in the Real Groove on Lido article so please check that (at least the words) if you are of NZular disposition. There are some streams at yonder end for the hardy sound traveller, but as ever show your worth and nurse the purse towards some vendification (I'm trying to say B.U.Y.!)
I'd say there's at least a 50/50 chance I'll be playing Caminos again on Stinky Grooves tonight though there is a veritable trailerload of field-fresh crisp vegetables and top ranking, pertinently picked rooty toot ripe fruits, all fighting for a bit of airtime.. what a delightful conundrum. Yet more great stuff from Lido in the following, hope you can take the time to read……. And for thems that are able and willing – see you on the air(andhinternet)waves tonight….
You are a serial collaborator, can you mention a few of the highlights? (already released and upcoming)
Collaboration is the best!
El Remolon, Basta Ya-Todos Somos Imigrantes(released)
Pernett & Quantic, Blue Monday(cover)(released)
Javiera Mena, Luz de Piedra de Luna (Included in her new album Mena)
Mono Azul & El Remolon Ninfa de la Mar(unreleased)
El hijo de la Cumbia, Quedate Un Ratito Mas(Unreleased)
La Victoria Mi Libertad (Side project with Vic Fabrice from the blog Cooliado)
Los Espiritus, Pacifico-Atlantico and Besito en mi Ombliguito(Side project with Antonio Jimenez a.k.a Maria y Jose). Both songs are Released/but included in unreleased, soon to be released EP called Aprendiendo A Amar Con Los Espiritus Volume 1 which has 4 songs)
Currently recording for –
Frikstailers, El Poirier, El Remolon, Museum Creatures, Rob Pollinate.
There is more to come, but I am putting those off so I can actually finish my current projects!
Do you get to actually collaborate in person ever, or is it all done across the internets etc?
So far, the only collaboration in person, aside from the daily work at my home studio with my producer/father of my son Michael Raimey has been with El Hijo de la Cumbia. We met in Mexico while we both were having shows down there and in one morning started working on a song together. It was a very enriching experience, and we were able to express our emotions about the track immediately, which obviously helped the development of the song way faster.
Time ran out at the studio, or otherwise we would have finished it. There are still some changes that need to be done to the track, but we decided we would do it in person so it it keeps the same essence. We don't know when we will actually do it, but there is no rush. We definitely know that the song needs to be finished in person, we don't want it to lose its character, is not worth rushing it. I was also able to sing live in Tijuana with Antonio Jimenez in our band Los Espiritus, it was great to be able to see each other finally. We were able to play the songs live, together in the flesh! It was surreal. Unforgettable indeed. Working online is great, but nothing like doing it in person.
Who is releasing your vinyl and what are your release plans etc moving forward?
The vinyl will be released by a label from Los Angeles California.
Ku De Ta/theblankettheory.com
They are all about supporting Do It Yourself art and promoting independent artists and raw talent. It is an honor to be a small part of it. For the vinyl release of Color we are including 3 new songs, the album will have a code for the album to be downloaded digitally and as special extra something – To keep the one of a kind vibe going, a handmade illustration by me. Lot's to be excited about!
How has the Color CD release gone for you?
So far it has been very good, and extremely surprising. I always knew that I had to (When releasing an album)Do or give a little bit extra, give people something they can't hear online or download-Which, if you really try, you could find all of my songs spread in different websites and compilations. So, what better to do then make one of a kind handmade covers- each time I get an order via my myspace I paint a special album cover each time. At the same time, I never thought I was going to sell more than maybe 10 cds, so, one by one is pretty doable. Of course I have sold more than 10, but I never thought I would be shipping it to people in Australia, Italy, New Zealand or Germany for example. I sing in Spanish! It has been a pleasant surprise and the proof that we all feel the same way about music. It unites us, and makes our world smaller and smaller.
Your music (even from the little I can understand with my pocotito of spanglish) carries a strong message. That seems to be quite rare these days and it comes through even without understanding all the words. Why do you think that there is so little music with a point and a purpose these days?
Because we need a distraction from loneliness and depression. People are eager to hear things that will help them forget about their problems. We want to look at pretty things because the world can be very very ugly. Although it does not justify the terrible music out there. It is all a matter of taste as well-perhaps is not fair of me to say that there is terrible music out there, when maybe what I consider amazing, for others, is complete shit.
About the message, I guess everyone does have a message to deliver, it varies from person to person- people ultimately want t be entertained and we all follow trends so we don't feel excluded, so we can be part of something bigger than us. Most mainstream pop is a distraction from reality, it is an industry very much supported by the government, they feed off of each other so side A can make money and side B can rely on side A when it needs to hide the truth or abuses towards people. A(entretainment industry) B (Government).
Can you tell me about Aqui Conmigo please? It may not be your most initially striking song but I think it has hidden depths and something very special about it.
I think all my songs are striking in their own way. There is no way I was gonna make an album with 8 Mueves in it. Aqui Conmigo means here with me. It is a song about wanting to be with your best friend whom you've never met before.
I dedicated that song to Atonio Jimenez. Who I love like a brother. Aqui Conmigo grew and now it is a hymn of fraternal love and resistance and struggle within ourselves to stop caring about what others think of us and vice versa. The track is strong, it helps emotions wake up and shake us up a little-That is what I think it is. But if you feel differently about it, then, that's what the song is about, whatever my song makes you feel, then that is what the songs is about..
Big difference between the early versions of Mueve and La Rata to the Color versions, do you feel you went through a big musical growth curve in that time?
Well, we just realised the songs needed to be stronger. The songs were not finished, people really liked them, but, you know, we are never happy until we are able to show our total potential. We are both perfectionists, Michael probably more than me, he makes me sing stuff like 50 times if necessary. It is great to have someone like that by your side, and sometimes I don't realise I can be as good as he pushes me to be. So, with our songs, we did the same and gave them the finishing touches. Especially if we are going to promote ourselves and our music, it better be something of high quality for us to be happy with it.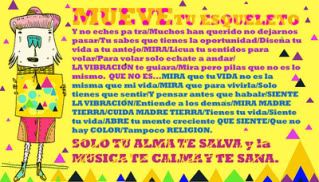 How long has Mueve been around (song is streamed at the end of this post btw), and what it it about, it feels like that song has been the vehicle for so many people picking up on you?
Mueve I wrote when I was 19. Alongside Walter Hernandez from Colombian export band Systema Solar. We sampled a track from The Beta Band and started freestyling on top of the track and wrote the lyrics together, he did the intro and then I kept going. Last year I decided to take it out of the treasure chest and with Michael's help changed the arrangements and played it with actual instruments and transformed it to what it is now. The song is all around positive and the brass is too uplifting! Of course people are gonna pick up on me as soon as they hear that song-You cant say no to love.
I don't know about you but I often feel I am drowning in new music, how do you intend to allow yours to stand out amongst the crowd?
Be myself, as cheesy at it sounds. Be true to myself and respect those around me and share and collaborate with more people. Be open to new music and learn from as many musicians and experiences as I can. Stay true to myself, and the moment I don't feel something is right then I am done. I move on.
How come you ended up living in Canada?
I had no choice, my friend. I was 19, and with no independence or power to say "I am staying in Colombia". It was my time to come. Mother had been living here prior to me for about 5 years. She left when I was 14, so I kinda stumbled against the world learning about life by myself and about being a woman I guess.
Which is great when you want to raise a family, but dreadful when you are a creative type. I used to live in Toronto,for a year I went to school there but decided to move back to London to be closer to my family. I am determined on having more shows and touring more so I need my mom and siblings so they can help me with my son when we leave to play concerts. My current plans are to move to Montreal, around this same time next year. I need my son to get a little older, so I can be confident things will work out there for us.
Can you tell us about your other creative activities? There's a good deal more to you than just music.
I am currently attending University to hopefully one day be a successful Art critic and curator. I am a visual artist. I illustrate and make books and sew. I am a mom which can be very creative at times. I design toys and do print making. Art is my loyal friend, saved me from going crazy.
Check the Pt 1 for links and what have you, me no parrot. We'll definitely be keeping you posted on when the Color vinyl is available, so keep 'em peeled.
If you've made it this far (and fully consumed and digested) … thanks..