Hokay I've been waiting to post this for a good, long minute but the feature is out in Real Groove now – so here's the first chunk of the full transcript, and it's a scorcher. This was all done by email (and thank goodness for that, it would have rivaled the mental 75 minute conversation I had with Lloyd Miller which was like an epic transcription Lord Of The Rings with all the trimmings) and I've got to say huge thanks to Lido for being so generous with her time, and answering all my fairly standard questions in such a spectacularly full and non-standard way.
There's a lot more to come, so I have made this post a more introductory affair with part deux going more into depth on the music, roughly kinda ish. Do please read on…
How (and when) did you begin making music?
I started singing at a very young age. My father used to make me and my sister put on shows for him and my mom, and we would sing Abba songs as well as songs by the Spanish Diva Paloma San Basilio. I started making music in my early teen years with various local bands in my native city Barranquilla. I was 11 when I stepped on stage for the first time. Have kept at it ever since.
What are your influences (is that Joy Division on 'Progreso'?) and could you perhaps name a few contemporary acts that you feel an affinity with please?
Yes, Joy Division is mashed in there! Actually two Joy Division tracks are mashed together in the song. My influences are many, from political abuse to gay rights-From visual arts to motherhood.
Musically I feel there is a division from Lido Pimienta living in Colombia, and Lido Pimienta living in Canada. I grew up bilingual, and when I was 11 I liked bands like Massive Attack and Portishead, you know, all of the Bristol scene. I used to listen to Radiohead and Bjork, and I also really enjoyed everything released by Ninja Tune – especially Dj Shadow and Kid Koala. From North America, I used to listen to Lauryn Hill, the Fugees, and Fear Factory. At this time I was maybe 13 and started to sing in hardcore bands, metal and later Hip Hop. From Latin America I listened to Cafe Tacuba, Julieta Venegas, Los Tres, Lucibel, Plastilina Mosh, Los Prisioneros, Lucybell, Ely Guerra, and Control Machete.
It is fun to remember this era of my life and at the same time sad because when I turned 14 my mother left the country and I had to change my life completely, moving in with relatives who lived far from my home-town. But it was because of this change that I started appreciating Colombian folk. When I moved in with my relatives, my cousins and new friends, they did not like ANY of my music, I mean, they used to call it music for crying hahahaha-They introduced me to music I grew up listening to but took for granted: names like Diomedez Diaz and Los Betos. I learned to like it, and dance to it, and learned about love and break-ups, and feeling things from the perspective of my own people. Which at that point in my life I learned from Thom Yorke, you know what I mean? This period of my life was key for me to define my identity, to understand where I come from, and the historical weight Colombia has in the world. My cousin introduced me to what I consider the most important music of my life: Tambora, Bullerengue and Sexteto. It is music rooted in the north coast of Colombia, music created in towns located right by the Magdanela River in the Atlantic. Later I discovered music form the Pacific. Afro-Colombian sound.
My biggest influences now, I would say are Etelvina Maldonado, Petrona Martinez and El Sexteto Tabala. This is the music I listen to daily, when I wake up and when I go to sleep.
I pretty much stopped listening to bands I used to like when I was 14 – You know, I live in a wealthy country now and I understand where their depression comes from, where their collective feelings are rooted and I am not interested. Not anymore. I got bored listening to Beth Gibbons cry about her break-ups. Being sad in a world so complicated is not what I am about or interested in hearing anymore. Don't get me wrong, she is genius and her voice is like a dream come true. But her message is over rated for me.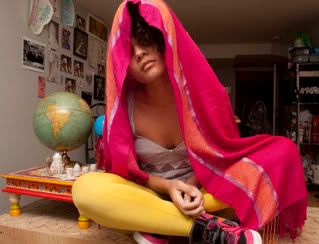 Photo – Stacey Croucher
I guess you are loosely aligned with the new cumbia 'scene' led by ZZK etc do you feel that affinity?
Yeah, I am definitely connected with that crew, on a personal and musical level. Although I don't feel they lead a new cumbia scene, I think they are strong representatives of this movement, and that what they do is not just new cumbia. They are a very versatile audio visual collective. They embody what I was telling you about making music for the world- it is very exciting. I feel there is a strong connection and recognition of our roots, our music, I guess it has to do with what I was telling you earlier about wanting to know where you are from and ultimately realizing that we are all influenced by life and that as Latin Americans, we are more open minded and receptive towards musics spoken in a different language. We have been doing it for a long time now, and thanks to globalization, English speaking countries or developed countries, whatever you want to call it, are catching on and are starting to be influenced by us…well, I feel they have always been influenced by us, but not as openly as now. So what people like ZZK, Uproot Andy, El Hijo de la Cumbia and Antonio Jimenez are doing is basically a response to a world phenomenon. It is a gesture of reciprocity in which the south of America mixes what happens in the north of America , and Africa and Europe and these places are mixing what happens in our side of the pond. It's a beautiful thing.
You have an interesting name, is there a story behind that?
Yes, my name is awesome!
Lido=Dad named me that way because of some rich man named Lido back in the day who owned car franchises etc. Mum says that when dad saw me he said "She is going to be rich and famous,her name is Lido"
Maria=All of my aunties and gramma are named Maria. It's the Virgin's name, my family is extremely religious on my mother's side-They are indigenous and Maria is an important name our an indigenous matriarch family
Pimienta=My fathers last name. His name comes from Jewish Portuguese who emigrated to Colombia and settled there and had babies with Colombians, One of those babies was my father who had me with my mom who is a…
Paz=One of the most important and historical Indigenous families of Colombia. My family on my mom's side is Wayuu. We live in the deserts of Colombia in the north coast, and some of my aunties cannot even speak Spanish. They live in a sort of magical land, which of course the government is turning into a nightmare. We get no respect, especially when being the one indigenous community in Colombia who stood up to and won against the Spanish when they wanted to colonize us and steal our land…
There you go, my complete Colombian name. In Canada my name is Lido Pimienta, but in Colombia my complete name is Lido Maria Pimienta Paz. My name says everything about who I am.
Well, I am still not rich though, I am poor as hell…lets hope that changes soon!
You and your geezer make all your beats right? What is his musical background and how does that work out as a collaborative process?
Michael Ramey is my music angel. He is very talented. We met about 4 years ago when he hired me to do the art for his album called Ephemera Blues. His solo project is called Golden Death Music. He is actually releasing a new album on which I am helping him with the art again.
At times we disagree on sounds and we walk through it all and end up with what we end up. I start with an idea and then he will follow me or he will have a part ready for me and I follow.
He is a versatile musician who plays various instruments, and the ones he can't really play, somehow he still manages to make them sound beautiful.
His background is well…white? He is originally from Columbus Ohio in the USA, and his mother's side is Japanese. He was raised by his mom, from whom I know he got the creative vein. He mainly listens to old psychedelic rock from all over the world, he loves Acid Mothers Temple for example, but also loves stuff like Okay (Marty Anderson) and adores Rythym and Blues – the real deal though-He opened up a whole new world of music to me, and I did the same for him, which is why our music sounds so rich and global when we do it together. I certainly know that the best things come out of collaboration and the integration of different points of view.
In Part Two Lido talks about the Color EP and soon come vinyl release, collaborations, terrible music, conscious lyrics and more.. much more. Up in the next day or two depending on how mad it gets…
YA BASTA (TODOS SOMOS IMNIGRANTES) – EL REMOLON FT LIDO PIMIENTA (thanks to ZZK)
>
The Color EP is still available on CD from Lido's myspace . Vinyl imminent from Ku Da Te, more about that in Part 2 and we'll keep you posted on bomb drop date of the wax round these parts. It's awfully simple SUPPORT & BUY!