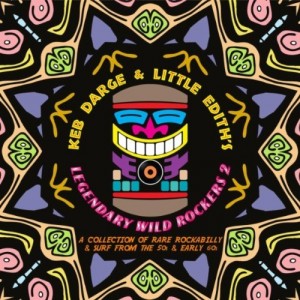 Keb Darge & Little Edith's Legendary Wild Rockers 2 (BBE)
Subtitled 'a collection of rare rockabilly and surf from the 50s and early 60s' – that, and the name Keb Darge should be all you need to know to go, Go GO! and get yourself a copy of this 21 gun salute to righteously rocking material. Have to be honest and say I wasn't even aware of Vol 1 of this series, but it's on the list now because this selection is tighter than a Scotsman's wallet passing through a gnat's chuff. A whole bunch of new favourites, a few I could swear I've rubbed up against before (but you can't always tell in these musically overloaded times) and really nothing that doesn't meet the high bar of that wee man Darge and his companion Little Edith. Come on now, dig out the drape and Catalina push PUSH! Yes indeed!
Highly recommendulated!!!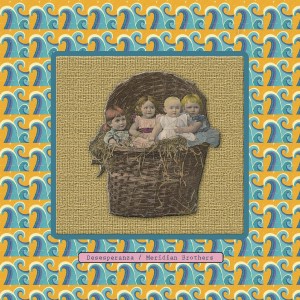 Meridian Brothers – Dessperanza (Soundway)
I only copped onto The Meridian Brothers and their excellent Escuchen el Grito single recently which probably means there's been a boat and I've been missing it … such is life. Still it's never really a race; but if it was Eblis Álvarez, who plays the whole damn thing himself, would be up at the front smoking big cigars and pooh poohing the rabble lagging behind. There's a Frente Cumbiero connect here, which is rapidly becoming a portent of exceptionally exceptional things – especially given gear like Ondatropicas straight out stunning album, or the Rompermayo tracks we've been running on Stinky Grooves of late. The mood is delightfully woozy with deep chicha (Eblis is a guitarist by trade) and cumbia currents and a 60s/70 meets right about now sound that is simultaneously old, fantastically fusty and evocative as well as feeling bang up to the minute. How does he do that? No se senor, pero me gusto mucho. Great songs, wicked treatments, wobbly wheels – what's not to love??
Investigate, capitulate and don't be late (….. and props to the Aorha Av audio artisans for the alert).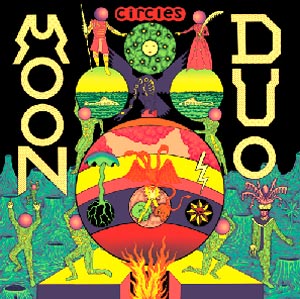 Moon Duo – Circles (Sacred Bones)
It's fair to say that I'm a straight out sucker for pretty much anything on the Wooden Shjips/Moon Duo axis, and have been for some time. If that wasn't a cold hard fact originally (it probably was), their show at the Kings Arms removed any doubt whatsoever. As much as Ripley could mumble the phonebook over an A-B-C- simple riff, as deep as the Romanche Trench, and I'd be happy – that doesn't mean a little progression, diversification and experimentation isn't worth putting the welcome mat out for. So I'm going to go out on a limb here and credit the other half of Moon Duo, Sanae Yamada, with the groovy influences that make Trails a big bowed up bundle of Spector-esque wonderfulness, Dance Pt 3 a boogieing behemoth and Free Action a rock'n'roll refinery explosion. It's not like they've dispensed with that poifect, well honed formula or anything, but it is darned pleasant to see them taking a step or two away from their comfort zone anyways. Not a duff track on there and it all washes over you like deeply rocking duvet of delight, extra points for having a cover that reminds me of a felt tip picture my brother did as a yoof many decades ago.
Pretty as pi, Circles is all round awesome!