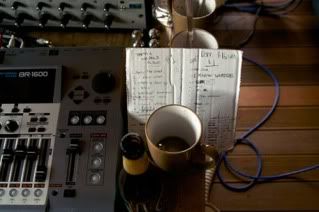 Unbelievably.. I'm looking at today, and there is some clear space ahead of me. After a chunk of fairly full on writing (Listener & Real Groove readers have a bunch of stuff on the way in July/August that I'm well excited about) and a lot of other stoof, that is magnificent news at the very least. So it's about time this here blog got a little more love, and even though I'm all written out, this is something I've been waiting to ravulate about for some time.
In the July Real Groove you can find my short interview with Kevin Parker of Tame Impala. I haven't been reticent in proclaiming my total fanboyship for the Perth purveyors of soft-psych-groove-excellence on the radio, round these parts and in print, and I suspect that will go on for some time as 'Innerspeaker' is pretty much running neck-and-neck with Lido Pimienta's 'Color' as my pick of the year thus far. Those two discs have certainly hogged the stereo round the Stinky gates in 2010, and rightfully so.
Hanyways the reality of doing stuff for print, word counts, mag styles and trying your damnedest to get folks interested and checking out the music, does mean that often the parts of an interview that most interest me are left out. So here for your edification and perusal, are the remainder of the answers from the interview I did for Real Groove. I'm pretty happy with how that piece turned out (and even happier with the Listener review) and that can be found on the news-stands (if such things still exist) and it makes sense in a way that these odds and sods don't, but you're grown-ups and smart folk so you dont need the mag soft soap. Have yourself a meal on the leftovers, and if you haven't already – give yourself a chance to be consumed by 'Innerspeaker', it's really frightfully good. Almost as good as Spain doing the Gemermans this morning, I'm not sure I could have got out of bed that willingly for a Germany vs Holland final, and I'm relived that at least one of the teams I picked out for the title has got close, at least.
As ever I digress (is there a term for digress squared? I think I may need it with my rambling ways). Q's and A's below and we'll be having a bit more of this soon with a Matt Shadetek piece (that isnt leftovers but specifically for the blog) and a whole heap of stuff from my upcoming ZZK/digital cumbia/Chancha Via Circuito/Tremor piece which will be in the August Real Groove…
Buy the album from
here
(adopts gothy Andrew Eldritch voice…) 'it's just a click away'… that's a weak 'Gimme Shelter' reference for any black-clad folk. You can cop it
here
in the physical
Innerspeaker is very different to the EP's.
"Exactly and it was doubly that because I've never really recorded a batch of songs all at the same time, it was always just song by song just for the hell of it. You know the EP was not in anyway recorded for an EP. The songs that were on the EP weren't even recorded at the same time, they were done over a bunch of years."
The close links with excellent Sydney by way of Perth deadly disco duo Canyons (check out their remix of 'Solitude is Bliss' here, it's fire!! and if you haven't already their remixes of HGFW etc from the early EPs are beyond essential)
"They used to run a label which Tame Impala used to sort of be on. We released a 12" vinyl with them once, on one side it had three Tame Impala songs and on the other it was the same three songs remixed by Canyons and that was realy cool, it was a really casual relationship. We always talked about releasing things but we never got round to it because I'd just go round to his house and talk about music for a while. So we never actually got anything pressed until we had signed with Modular and then we went back and did stuff with Canyons. They've remixed one of the songs from the album which is on the 12" single with 'Solitude'."
On recording their version of Blueboy's 'Remember Me' at the fabled Toerag studios in London and whether that was an option they considered instead of heading off to a house overlooking the Inidan Ocean to record with Death In Vegas's Tim Holmes.
"It wasn't a matter of going that's, cool, thanks but no thanks. It was just an opportunity to not be in control of everything. There was no-one really doing any producing, we just played the song how it was destined to be played and then Liam recorded it and just did his thing. We just wanted to do the Toerag thing basically and it was a really awesome experience, the sound he gets at Toerag are amazing its like no other studio in the world both visually and sonically."
On the record leaking, and how rubbish it sounded as a lo-fi leak.
"It leaked a couple of weeks before it came out, and it leaked in a really crappy quality, that was a real bummer. It was kind of bittersweet because I was glad that people could finally hear it, I wasn't that pissed off about the sales or release or whatever it was just the way it was in a bad form how it sounded you know how you can hear those kind of digital square noises, like squares coming out at you from the speakers."
By his own admission Kevin is a perfectionist and having played almost all of the instruments himself on 'Innerspeaker' whether there is a point where a record is actually finished and the fiddling can stop.
"I played a lot of the song to people while we were mixing it, while we were putting it together and I had all the tracks there and I could change the EQ and compression and everything. When I played it to someone I had to be constantly be changing something, yeah its difficult to listen to it with other people and not want to fidget with it and alter it in every way."
On Death In Vegas's Tim Holmes who engineered the record and whose idea that was (points and priuzes to Modular on that one, most of their gear doesn't bake my cake but when they get it right….respect!)
"It was a record label decision but Tim was such a good guy, so laid back and not absorbed in his own career, that he was happy to sit back and help when needed. You know he was not in any way trying to preach his ideas all the time, or trying to validate his being there, for him it was just basically a 7 week holiday in some remote location on the West coast of Australia…"
With a bit of mic placement?
"Yeah exactly, that's actually exactly what he said 'I'll just bring my fishing road and help out with mic placement every now and then.' He couldn't believe his luck!"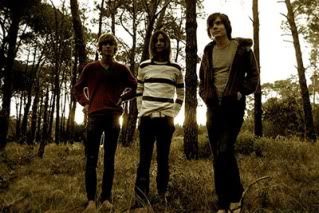 Are you in a place where you can listen to the album now? Have you gone past the "can't see the woods for the trees" and "everytime I listen I want to change something no-one else will probably ever even notice" stages yet?
"(laughs) Yes I know them. I am able to listen to it now, it will always be tainted with memories of putting it together but I can listen to it now, provided I'm by myself. If I'm with anyone else I get too absorbed by their headspace and I start thinking about how they're going to hear it. So if I'm with anyone else, then I'll often turn it off, but if I'm by myself I can listen to it all the way through and really enjoy it."
What's the story with Pond?
" Pond is one of the many congealings of noise that we make. Tame Impala is just another one, that's my kind of baby. We live quite communally , we live and breathe music and we make little musical projects every now and then that usually someone is the leader of. We've got many of them, Pond is one, Tame Impala is just one of them. Pond is Jay and Nicks main thing. Jay and Nick were off recording an album for Pond while most of the Tame Impala album was being done. It's a really amazing band actually, it started out as a joke and now they've got a really good album. So I'll have to watch out people are saying that Pond will catch up with tame Impala quicker than everyone thinks, which is probably true actually. Their new album is really good."
And finally here's a coupla vids for those of that persuasion, the first was made by our mucker Joel from Special Problems and it's scorchulating.