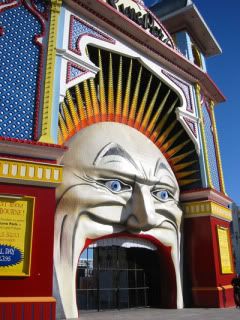 It's a long weekend treatathon round here at StinkInc acres, with a coupla clips I've been meaning to postulate and some mixes and tracks that have been burning a hole in my …err hard drive, I guess.
To kick off, I've been meaning to post the competition trouncing clip for James Duncan's 'The Cupboard's Bare' for a coupla weeks now, my procrastination knows no bounds. Without any assistance vid clip wise we have gone guerilla with his exceedingly excellent 'Hello-Fi' album enlisting talented, willing and frankly slightly susceptible folk to come up with eye magic beyond compare. For this track James suggested a step further, and we opened it up competition style and fashion. David O Gifford of Fielding, who came up with this brilliant interpretation, was a unanimous winner for his dusty, stop animation delight.
The best advice with me and Busy Signal is basically… don't start me. His duff tunes still rate higher than many of his contemps best, and as this video medley amply demonstrates he's not prepared to limit his talent stylewise. Seven cuts, several of which have featured up hear in the last year, flash past in record time and since the mark of VP is on this perhaps it means a follow up to 'Loaded' is imminent. Predictably the VP website reveals a fat load of fuck all, fingers crossed then. Enjoy.
In general I like to keep the nearest thing Stinky Grooves has to a vague rule type thing – if possible, why bother going through the same door as everyone else, when there are so many others to choose from – running on StinkInc. The exception is of course the exceptional, them things that shine so outrageously that to not play, post or draw attention to them would be downright foolish and self-defeating. So like the Busy vid above these next couple of bitses are well present elsewhere around the internets but more than worthy of a prod with the pongy pointer.
Some noise, in fact some riotously uproarious noise needs to be made about Sonido Martines's 'Nueva Cumbia Argentina' compilation for DJ/rupture's constantly probing Soot label. I first cropped up on this while searching for digital delights at Juno Downloads a few weeks ago, and having been fully primed by the utterly essential 12″ that pre-empted it a few months ago, had no hesitation in snaffling all of the tracks that I hadn't already got my grubby mitts on, instantaneously. In fact you can find one of those already unleashed on wax, Mr Martines's own stunning retool of Los Destellos, on 'Stinkbombs 808 – Heavyweight Honking', which can still be absorbed and what have you via this
post
(couple of the DL links are dead but there's a few still standing).
Hanyways Sonido Martines has had quite an effect on Stinky Grooves over the last wee while, with gear like his incredible Chicha mixtape, and the crazy Cumbia Rebajadas mixtape that required something a little stronger than Robotussin, to fully appreciate. It's pretty fair to say that if you see his name involved, then you're in for a quality ride, and you're going to be unlocking some gear that would probably be impossible to access otherwise. This album has many gems that have wafted their way across the Stinky Grooves airwaves including one of the veritable plethora of standout's from El Hijo De Cumbia's 'Freestyle De Ritmo' album (also on Soot, purchase without prejudice..one of the best albums of the year period), all four tracks from the aforementioned 'lady's on the mic/gents on the mixing board' teaser 12″, a non-album track from Chancha Via Circuito (ditto on his breathtaking mini-mellow-mal album 'Rodante') and some gear that hadn't reached me yet like DJ Taz's borderline brilliant/dreadful 'Danza Macabra' and finally something from the very very promising Fantasma (we've run their Jerry Dammers approved 'Ghost Town' cover on SG) that isn't un-usable 128kbps biz.
Basically it's a bobby dazzler, a crucial compile an exceptional excess essential item. They've accommodatingly made two tracks available for blogger type action and those are presented for you below. Then it is your duty to your own ears and sanity to follow the links, and support these marvelous machinations with some of your pristine pennies or pesos, ching chinging cents or durrty dollars..
Buy from Juno DL, available at plenty of other places too. CD on way I guess.
Mr Martines
Not the usual DIV embedded malarkey, control click etc
Before we leave the cumbia circuit you simply HAVE to check this free mental mix from Zurita. The geezer got some well deserved shine
here
for his brave and brilliant nuevo cumbia transpant of Suicide's 'Ghost Rider' so no big rants but his new mix 'The Great Cumbia Swindle' is simply stunning. Anyone messing with the acapella of Screechy Dan's 'Give It To Me', one of the many Kenny Dope productions that is grafted into the heart of any and every worthwhile DJ who was dishing out the damage 15 or so years ago, is potentially doodling in the sacred texts in my metaphorical book – but dang if Zurita doesn't absolutely slay it. The whole mix is an insane chop shop of Sud Amerikan flavour getting a vigorous workout courtesy of everything from Primal Scream to Daddy Freddy and all points inbetween. It ends with a Boredoms track fer chrissakes, this is gold. DO NOT DELAY YOUR DL. (ay?!) Is free.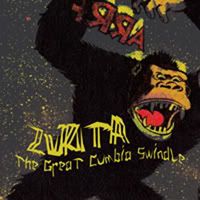 It is to my perpetual chagrin, that we never managed to make it to the dance that Heatwave were holding after Sunday's Carnival exertions. However – DJ gigs the two nights before, jetlag and a most excellent and different day of Carnivalising with the fam, put paid to the kind of energy I'd need to get my senses properly singed by the Heatwave crew. I had hoped to find some more inroads into the appeal or hype of UK Funky at Carnival, but that didn't really happen and short of pinching Kode 9's record box (not a bad idea really, he had gear that was intergalactic dark funk(y) genuinely on another level ) I remain a slightly bewildered observer to the whole malarkey. This 'Funky Bashment' set (commissioned by the ultra checkworthy
XLR8R
site) goes straight to the heart of the matter, with the most raggacentric slant you could possibly wish to find. True to form it's put together blindingly, undoubtedly mixed to buggery but still giving the tracks enough room, a heap of of un-inspiring net DJ folk could learn a lot from Heatwave. Funkywise I remain on the fence at best, naturally there's some downright charming shit on the mix and a few real standouts, but those happy hardcore-esque riffs and sounds and the un-challenging nature of most of it just doesn't reach me. Make your own mind up, enough of my wibbling.
This was intended as a quick couple ootubes and a shifty song on a quiet Friday night, and I was also intending to big up James Duncan's first live appearance, with a group rather than a laptop, for company. Well, by now, that was last night, and what a treat it was to hear the songs from 'Hello-Fi' resplendent in on-stageness. It began brilliantly, if a touch tentatively, with an intoxicating take on 'A Obvious' and concluded with a blissblitzathon '…Of Everyone Around You' rendition, with the band getting well open, dolloping out shards of mesmeric massiveness with scant regard for public safety, and unustainable amounts of jaw-droppery and chin-strokery, from a crowd that really seemed to catch the JD vibes. Top props to James, Sean, Chris, Chelsea and Finn alongside SP Cartier, Nick Rough'un and Paul McK for making that event happen. Watch it grow.
Finally on a straight track tip here's a couple to keep the wolf from the door and hopefully initiate some power of suggestion type shop-alopping arrangement. I'm (marginally) forgoing the usual lengthy meaningless ramble and links (you can all Google better than me no doubt) in order to not turn this post into a Monday, or worse, affair and to avoid epic postulatory proportions.
The most agreeable entry into the world of Traktor, and the ongoing dilemmas of how much space music takes up, has led me into going through the shelves of CDs and identifying those that demand entry into the NI klub/those that have only one decent track that can be siphoned off and sold/those that will be ulitmate keepers. As a result I can forsee a few joyful re-discoveries popping up on StinkInc, and to begin with here's a smidgen of indubstrial inspiration from Coil in 1990. I'm so chuffed that I located the CD as my 12″ seems to have disappeared amongst the rabble, this psych-dub bellathon is still so fresh, and has got me looking forward to dragging some more Coil bits out of the CD boxes. As far as I can make out this is no longer available and even the CD goes for a decent price (hmmmm) so it's up at 192 but if you want a 320 (the production is so good, every single sound is pristine and perfectly placed… you owe it to yourself) drop me a line or hail up in the much neglected comments and we'll get it sauteed.
WINDOWPANE (ASTRAL PADDINGTON MIX ) – COIL
Expect more odd delights from the past in the weeks and months, to come, in fact expect a fair bit as we are about to hit post #100 and not long after that StinkInc will be 1 whole year old. Usual scenario… you get the presents – I'll be writing them posts and uploading that hooha. Next up one of the many Japanese DJ's who I have a lot of time for, DJ Baku. It was a right delight to play alongside him a couple of years back, and like his buddy Kentaro he is a man who is mercifully free of herd like behaviour, choosing to find his own angle. He also doesn't do the English but managed to express plenty with bows, grins and gestures (especially when presented with little local vegetable matter to see him through his trip…. his eyes were like the Blackpool Illuminations!) Baku's records are another thing again and alonsgide the heavy-hop d'n'b metalising that laces his DJ sets, there always seems to be out of place, but spot-on, stuff like 'Satya Dream' – the track that really sent me from his 'Dharma Dance' album. In fact letting that album run, while I've been writing and musing and whatnot, has me fiending for his new'un '12 Japs' which looks a bit mighty, expect more on that soon. This track is very Sunday arvo really, enjoy, and hinvestigate.
SATYA DANCE – DJ BAKU
Turnaround this Friday with Maiden Hong Kong getting amongst it on the decks, flyer and fandangle soon come up here. Don't mess and don't miss.