As I'm sure, or at least I very much hope – all Aucklandites will be aware – the great Bobby Womack is touching down this Saturday night for a show at the mighty Civic – this promises to be something rather incredibly special. It looks like work is going to take me out of the picture for this gig personally, but that doesn't preclude me from having a rah about it and GIVING AWAY 5 FREE TICKETS..only and exclusively on stinkyjim.com. So read on because I'm not sure folks are quite ready for the calibre of band Mr Womack has with him, and at the end we'll let you know how you can score a name pon door for this momentous event!
First up.. check this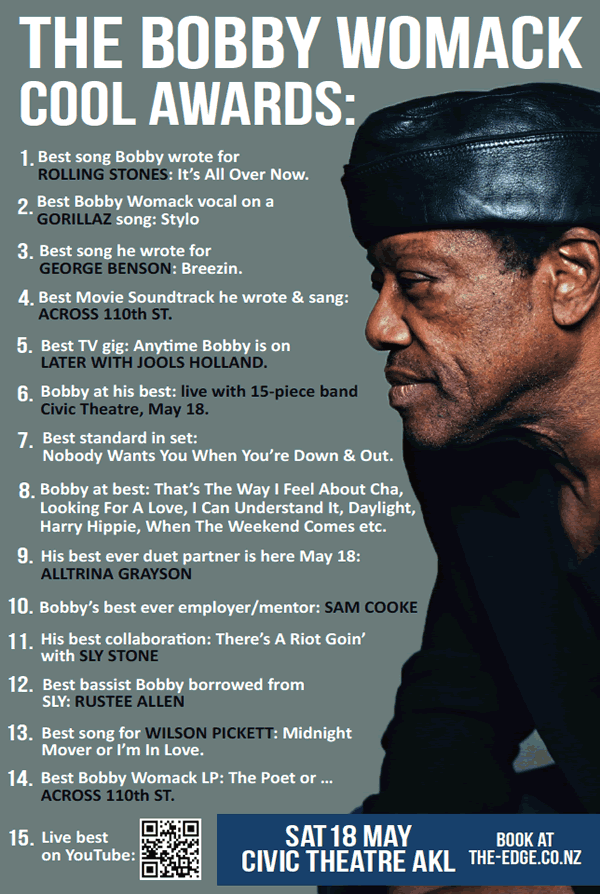 Now if that isn't enough food for thought to get your metaphorical gobs drooling – check out who is in the band and who they've played with…hold onto your hats and read on…Tickets to win at the conclusion protrusion.
Rustee Allen (born March 13, 1953 in Monroe, Louisiana, U.S.) is an American musician best known as the bass guitar player for the influential funk band Sly and the Family Stone from 1972 to 1975. Allen replaced founding Family Stone member Larry Graham, who was forced out of the band and went on to start his own, Graham Central Station.
Allen has also played bass with a number of other artists, including George Clinton, Lenny Williams, The Temptations, and Lighthouse for the Blind. He led his own group, the jazz fusion band Second Wind, from 1977 to 1978. Since 1994, Allen has played bass for Bobby Womack. In 2006, Allen performed with Sly & the Family Stone at the 48th Grammy Awards.[2] Allen is currently working on a solo CD entitled Psychic Change, to be issued on his own label, Rustee Nails.
William "Bubba" Bryant (Drums) Laying down a solid foundation is how drummer William "Bubba" Bryant approaches every musical situation from Funk to Rhythm and Blues, from Pop to Jazz. Bubba started playing drums at the early age of five. He later trained as a classical percussionist at Tennessee State University and Eastern Illinois University. His talents and musical style have been recognized throughout the music industry. Bubba has toured and recorded with many of today's major artists including George Benson, the Crusaders, Roberta Flack, Bobbie Womack, Norman Brown, Jermaine Jackson, Ronnie Laws and many others.
Tony Flores (percussion) Born in Benaguasil (Valencia). He studied music at the Conservatory of Music in Valencia with Manuel Thomas, Royal Conservatory of Music in Madrid with Enrique Llácer "Regoli" Joan Iborra, Javier Benet, and J. Maria Martin Porras and Rotterdams Conservatorium (Netherlands), Robert Van Sice marimba. He has collaborated with various orchestras and chamber ensembles Spanish. Founding member of Perku-Va. He has participated in recordings and radio and television programs in Spain, Croatia, Mexico and Argentina.
Altrinna Grayson (back up vocals)
This lady can sing, really sing, and indeed she did on the classic 1985 Wilton Felder / Bobby Womack collaboration 'No Matter How High I Get'. You no believe – best check these!
Nate Lapointe (guitar)
  Nate LaPointe began playing guitar at age 5. By age 9 he was playing solo at festivals and by age 14 he was playing clubs with his father in the band the 2 of them started. A combination of growing up in Laramie, Wyoming and his father's passion for music, Nate was exposed to a wide variety of music ranging from jazz to classical to rock to country. At age 15, he took the jazz road which eventually led him to California Institute of the Arts(1996-2000) where he earned his BFA in jazz guitar after studying with such greats as Larry Koonse, Joe LaBarbera, and Clay Jenkins. Currently Nate performs with various groups throughout Los Angeles and the world ranging from the Jeff Jensen Blues Band to Cubensis (a Grateful Dead tribute) to Roxy Especial (a latin/pop phenomenon) to (of course) 60's soul/R&B legend Bobby Womack.
Michael Davis (Trumpet)  Rahmlee Michael Davis, trumpeter, composer, arranger, producer, Chicago native, recorded early in his career as a studio musician with such labels as Brunswick, Chess, Dakar, Curtom, Columbia and Capitol Records just to name a few. Rahmlee has recorded with such noble artists as: Earth, Wind & Fire, Phil Collins, The Jacksons, Tyrone Davis, Frida (of ABBA), Jackie Wilson, The Whispers, Michael Jackson, Stanley Turrentine, The Sylvers, Side Affect, Rodney Franklin, B.B. King, The Chi-Lites, Barbara Acklin, The Artistics, Gene Chandler, Tupac Shakur, Curtis Mayfield, Snoop Dogg, Donny Hathaway, Ramsey Lewis, Young-Holt Unlimited, Minnie Riperton, Philip Bailey, The Emotions, Klique, Charles Earland, Macy Gray, Bobby Womack, Al McKay & The L.A. All Stars/The Earth, Wind & Fire Experience and countless others. Rahmlee appears on most of these recordings in conjunction with the ORIGINAL Earth, Wind & Fire horn section; independently known as "The Phenix Horns Esquire."
Chazzy Green (sax) A highly acclaimed international musician whose charisma and creativity captivates music lovers of all ages.
Detroit born Charles "Chazzy"   Green,   initially received classical training in CLARINET and FLUTE. However, something deep inside beckoned to his spirit. Later he switched to ALTO and TENOR SAXOPHONES and began to explore blues, rock, jazz and fusion. While attending   Howard University to study music,   Chazzy discovered that his musical roots extended back to his grandfather who had played trumpet in an all Black brass band in the 1920's. He subsequently found that his families artistic traits stretched out to include other family members who were   well known in the music industry. Specifically, Lester Bowie and Byron Bowie,esteemed musical legends and founders of   The Art Ensemble Of Chicago . Chazzy's musical influences included   Sonny Stitt, Cannonball Adderley and Eddie Harris on saxophone, as well as Earth Wind and Fire , Kool and The Gang , Ohio Players and Jimi Hendrix .
Having established his rich musical past and armed with a #2 hit as a member of the group Nature's Divine , Chazzy left Howard and headed for Los Angeles. Upon arriving there, Ray Parker Jr . took him under his wing and showed Chazzy the musical ropes, L.A. style.   Parker's unrivaled guitar work can be heard on Chazzy's new release The Funky Sax Man. Chazzy also met and became friends with Howard Hewitt . They hit it off so well that Chazzy played in Hewitts band. He also toured with the Brand New Heavies, Tracie Spencer, Caron Wheeler, DJ Quik, WAR, Johnny "Guitar" Watson, Cameo, The Brothers Johnson, and Bobby Womack whom he is currently on tour with.
Bernard Baisden (trombone)
Brian Mantz (trumpet)
Alex Marlowe (Keys)
Lisa K. Coulter (backup vocals)
I have no doubt there is plenty up on Mr Womack etc elsewhere so we'll leave that alone but how about that band!!!!!!! Incidentally if you want the ups on Bobby himself then unsurprisingly the guvnor of the land of the good groove – Mr Murray Cammick – should be your first port of call. Check Murray's natter with Womack Snr on 95bFM here it's well worthy of your time.

Soooo I have 5 tickets to give away to this very special one off event. All you need to do is send me a direct message (use the contact button up in the top right hand quadrant – under the search/above dropbox cobber) with your email address, and the names of your favourite 3 artists mentioned above out of the veritable legion of legends that the folks in Bobby Womack's band have played with. Priority will go to anyone who has left a comment on the site so if you have.. please remind me!
I'm very grateful to be able to give these tickets away courtesy of MuchMore Music so max respect in their direction, and please mail it up to me and don't miss out on this gig – win or lose –  and maybe we'll have more stuff to give away in the future.