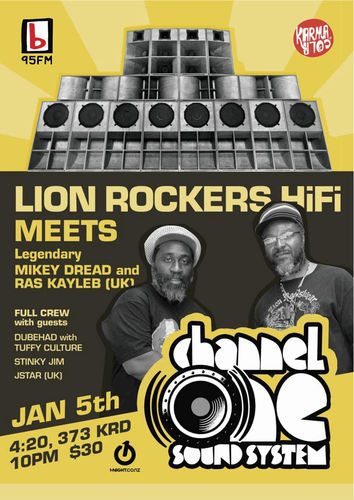 This should have gone up way earlier but then I got waylaid and had a a set to do at Libertine…so c'est la vie… Anyways I suspect that all those who should know and will go, already do – but just in case BIG THINGS on K Road tonight. Flyer below, Lion Rockers have the rig, seismically solid line-up – nuff said… Was unable to go to their shindig with JStar before Xmarse but he will be kicking off apparently, with a run time something like this.
9.30  JStar
10    Dubhead (& presumably Tuffy Culture)
11    yours truly, Stinky Jim
12    Lion Rockers (Josh & Tim)
1     Channel One
3     Lion Rockers (Heath)
There's a bit of presumption in there as a few things were getting shuffled around today, but I think that's pretty much it. I cannot wait , have a strictly vinyl set brewing – some version excursioning. Mudies mayhem for the heads, roots & culture to the fore etc etc. Anyways to repeat …… cannot wait.