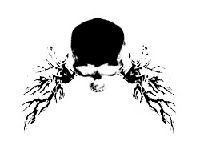 Growing up in the '70s, it was easy to be a little disenchanted by French music. All you really heard of it was Sacha Distel and other dinosaurs, and my prejudice was sealed when I did the traditional teen trip across the channel and tried to find a slab of local punk rock in various vendors du disque. The only option proffered was Telephone, a bunch of Rolling Stones wannabes, whose debut album I eventually bought and proceeded to be massively disappointed by, no matter how many times I spun it trying to find a reason for my wasted holidays Francs. I should have bought a flick knife, or some other illicit desirable to be smuggled home and shown off, like everyone else did.
Of course there was good gear out there and I was at the mercy of French shop assistants (who all seemed to want to dress like Telephone, who in turn wanted to dress like budget late-'70s Rolling Stones, so aesthetically it was clear there were already problems), my own schoolboy French and various other factors. It would be a good while before I would discover Serge Gainsbourg, Jean Claude Vannier et al, alongside other essential things I'd been missing and then the new school of supreme operators like Kid Loco, Air, iCube, Cassius, Le Funk Mob and others.
Proportionally I'd say that I buy more records by French artists than any other Europeans (outside of the UK, which is bleeding obvious) these days, and the classy way they approach the edits palaver shows why. Like the preponderance of unimaginative, but depressingly crowd pleasing blends that clutter the shelves these days, the whole re-edit gig is skating on very thin ice, at the best of times. However scene leaders, Paris's Dirty Sound System (Guillaume Sorge and Clovis Goux) have got their game totally sussed, selecting the juiciest, under-appreciated morsels and unlikely contenders, and then getting the surgeonic, scalpelised skills of their mainman  mucker Pilooski to deliver the cut-up coup de grace.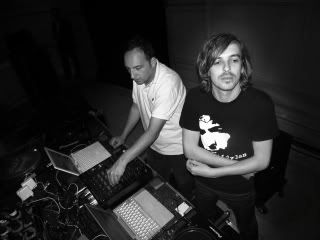 (The Dirty Sound System)
The Frankie Valli 'Beggin' Edit that became monstrously successful, originated on one of their highly limited Dark & Lovely, Dirty Edits 12″s, and they have just rounded up a bunch of cuts from them for their second collection CD. It doesn't quite have the fearsome impact of its predecessor, mainly because many of the tracks have already done the rounds on vinyl and are way more familiar (to these ears at least), but it's a decidedly solid listen nonetheless. Both sides of the most recent (and still available at the moment) 12″ are on there, Hell Vice (Elvis Presley and Kitty White) is 'Crawfish' originally from 1958's 'King Creole', which is one of my favourite Presley songs (of many) and not something I was sure I wanted to hear messed with. I shouldn't have worried, it's dealt to properly, and has been blogged extensively elsewhere. So instead lets chuck up the flip which is German electronic pioneer (Palais Schaumberg etc) and Mute Records guy, Holger Hiller's 'Das Feur', which originally appeared on Cherry Red (and Ata Tak) in 1984. Hiller is a pioneer, who in all fairness probably never got the recognition he deserved for his 'ahead of its time' business back in the '80s and '90s. Like many of his innovative ilk the idea's and invention often outweigh the enjoyment of tracks, left in the healing hands of Pilooski that is no issue. For good measure please do also check the extraordinary Del Shannon re-rub, 'Gemini' which I would have had on vinyl but for unfortunate and unpredictable hooha. The quivering strings, the bouncing bomb of a  beat, Del's horrorscopic vocal….genius! I shall cease my Dirty ramblings right now, as anything I can say has already been said better on their neato designed, informative and excellent website check the link below bro. Also check their excellent blog alainfinkelkrautrock (link just to your right) which is a constant delight for new discoveries and unearthed treasures,  furthermore don't be shy and  grab a copy of the disc (and/or vinyl) while you can, you can be sure they wont last!
(
Dirtysite
) refreshingly they have no truck with myface or spacebook
HOLGER HILLER – DAS FEUR (PILOOSKI EDIT)

(That man Pilooski, the Emperor of the Edit!)
DEL SHANNON – GEMINI (PILOOSKI EDIT)
Since it's Monday morning, and I've had the kind of weekend where this just never quite got finished, here's an odious extra from a couple of senseis of stereophonic spraypaint that I've been itching to get up here. Richard Sen is one half of DC Recording's soundbombers Padded Cell, and also a bit of a UK graf legend who has done time for his art. He's joined with fellow muraliser Cazbee, on his own label Mixed Blood Cuts label, to concoct 'AM:FM' a sweltering slice of pounding electro-funk for the deviant dancefloor that screams early '80s in all the right ways, and inspired me to dig out the 'Radio Clash' 12″ last week. Padded Cell's 'Night Must Fall' album was a favourite from this year, and is more than worthy of your perusal if this kind of thing floats your boat.
(Buy)
RICHARD SEN & CAZBEE – AM:FM
As you were….. and thanks to Guillaume for his permission and ting..