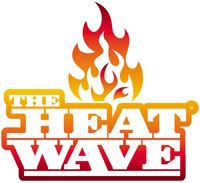 Most times it's hard enough to squeeze a half-legible post out of my own sorry self, let alone giving anyone else's trumpet a parp. However when the gregarious Gabriel from London nouveau-bashmenteers Heatwave slipped me a mail kindly asking if I could shine a light on their renkingly robust Rowdy Bashment 2008 mix…. well how could I resist?
It was their stunning (and still superior) mix for the Blogarhythms series that spawned Soul Jazz's mighty 'England Story' comp, and even though I wish someone would put the END in blend, their Punchline label has always had enough of a different angle to maintain interest. Quite simply they've got it going on.
Soooo it's a privilege to be able to link you to this little dose of rawkus reggaematical business they have put together, called Rowdy Bashment 2008. Typically it's chopped up like a samurai swordsman going for a productivity bonus, untypically the selection is tighter than a weta's battyhole, reminding me of when mixtapes were actually something you bought from dodgy fellers on the street, and shady shops in Fulton Mall, and the like.
Enough of my endless drivel, hit the links below and cop 79 tracks in 74 minutes, plenty of these were picked out for Stinky Grooves over the last year or so, and many that I passed on rub up just right in the truncated terrordome that is ……. ROWDY BASHMENT 2008.
Get Rowdy Bashment 2008
If you'd like to send me anything for potential posteration right here, or radio/review/etc, then please do.  Just check the newly installed button to my dropbox at SoundCloud on the right, it's ridonkulously simple, and much less messy than  all that share this and that fandangle.