This is truly last minute biz, it only cropped up last night at The Turnaround, where the ladies were positively on fire (especially MHK of course), and a rocking evening was had by one and all. Tomorrow evening I will be joining my fellow Club Sandwichees, Geezer Guy & Cian, from 5.30-11.30ish at the Ponsonby Social Club for a spot of sonic clarification and a sunday power-tune purge. Guy will be heading off to do his Greatest Show On Earth for a couple of hours across the road but I'm sure Cian and myself will be able to manage.
Not only will it be a certifiable treat for the lugs, the mince pies will also be well accounted for as the fine folk of Cut Collective will be showing some of their wonderful works, that's kicking off at 3.30pm. I rate this mob highly, and strongly suggest your check out their web action if you're not familiar.
Spy them out right here
or on the old murdoKKKspace
and maybe/hopefully see some of yous Aucklandites (amongst the cosmopolitan readers of StinkInc) there hopefully.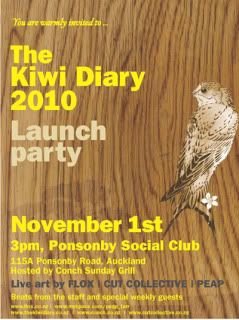 And having written this in the interminable breaks during the regulation dismantlement of the Deanis's Wobblys (am the only one missing the speedy crucial games of the ELVs compared to the dull penalty fest that the game has returned to?) That will definitely do as a warm-up for the Northern tour, and delightful to see a bench-warming George Smith getting the don't argue he always deserves, in the final minute.