Righto, couple of gigs very much on the horizon for all In-gland dwellers and London larrikins, in fact it's next week. This trip has seemed to come about with remarkable speed and I can forsee little sleep and riddiculous industry between now and the shitey flighty.
First up is an engagement near my old stomping ground of Stockwell, on Friday the 28th. The venue is Upstairs At The Ritzy, above the Ritzy cinema (funnily enough) on Coldharbour Lane, Brixton Oval. The guff is all below but briefly, gates at 6, I'll be spinning from 8.45 for a good spell – and it looks like a noice and decent bar for some righteous renkeration, I can hardly wait!! It's a fiver for all and sundry, or four for benefitos and concessionary types… can't say fairer than that. South styles in effect, so I'm expecting to be digging deep on the JA and related tip, but naturally exhibiting typical audiophonic ADD activity and genre gerrymandering of a most despicable and olfactory nature all the while.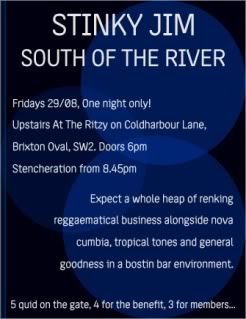 The following night Saturday the 30th it's all on at the Vibe Bar in Brick Lane, Tower Hamlets for NZLDN, an entire night aimed at eradicating vowels violently in some kind of hand-across-the-hemisphere syntaxical showdown. Well it's a koiwi gig, and in all honesty outside of Mz Coddington and the D's (Mikki and Nick(y)) I'm not familiar with the rest of, what appears to be, a wide swathe of the musical spectrum. So a bit of interest on the night there. The early talk was of an outside set from 5-6 and then indoors and downstairs from 7 till 10 but I'm not 100% on that so I'll update, as and when I know fer sure. It all kicks off at 1pm, and it's free…free i tells ya – before 8pm, four squiddly rankings afterwards. I have a feeling this will be one of those see what you play on the night scenarios, I've always had a gas playing at Spacific events and suspect scorcheration is on the cards.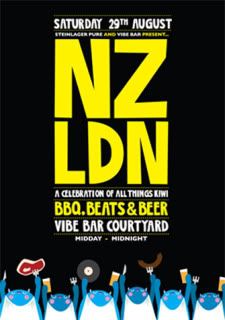 PSA over……………