With that pesky Top 100 tunes finally over, and a lesson learnt for this novice blogger, it feels like time for a few little low-stress posts, for a bit of balance. Well…. that's what I imagined, though typically it has got more complicated, divergent and long winded in the process.
There's been a few fresh gems touching down on wonderful wax this week, that have had me hanging around the decks like a man entranced. We spoke of 'Roots Garden Showcase 2' a week or two back, with the impossibly up-full Earl Sixteen cut 'Gold Dust' leaving purchase inevitable, well that and Nick Manasseh's veritably vital dub. None of the other vocals (Freddie McGregor, Danny Red etc) have really reached me in the same way, though somewhat predictably there's absolutely no complaint with any of the versions. With dub becoming an even more mis-used and overly bandied-about term (especially round these parts), it's refreshing to hear some proper modern tackle, from a man who knows his way around a mixing board, and has classical music training to boot.
That arrived with a bunch of cuts on Shane 'Jukeboxx' Brown's 'Dubwise' rhythm, which is a timeless treasure that is thankfully done justice with the quality of the vocal cuts. True to form it's Busy Signal's 'Spliff Tail' that has been getting the rub of the stinky green, but Assassin's 'Priority' is also a very tough contender, with Peetah's 'Warzone' and Beenie's 'Love Is Lovely' rounding out a package that is even stronger than the 'Nylon'. Particularly loving the little extended outro on 'Spliff Tail', and the version is sublime, but I aint posting that … so buy a 7″ or the series purlease.
(
buy
) or Beat Merchants would be the spot for local yokels
Signor Signal ponders…hmmm…find his myspace and web details all over this blog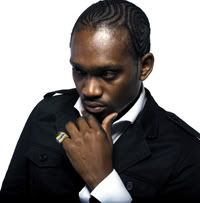 SPLIFF TAIL – BUSY SIGNAL
PRIORITY – ASSASSIN
Picking up that handsome little stack from the fresh shipment of Ernie B-age at Beat Merchants,  it looked like I'm far from alone in rating this one, with Jukeboxx 7″s in almost every lucky customers pile. 
Another popular selection will surely be Lady Saw's 'Bad Man Goin Cry' which comes with a choice pairing up of the veteran outlaw Josey Wales and that man Assassin again on the flip. The rhythm is of course little more than a whopping great chunk of 'La La Means I Love You' by the Delfonics, as used by Ghostface to stunning effect on 'Holla'. It's a long time personal favourite in the utterly sodden soppy songs department round at Stinky Mansions, and potty mouthed Mz Saw is just the lass to give its some estrogenic sass. For good measure have a slurp on the sumptuous original and the late Alton Ellis's sweet version for Treasure Isle. I have a few more versions up my sleeve, quite a few more, but let's try and employ some moderation for once.
(
buy
) yourself a little OG la la on cee dee
(
buy
) the brilliant Impalaville mix CD by NYC legend Johnny Paycheck which includes this cut and 27 other crucial portions of musical comfort food (soul, latin, r'n'b and other pertinent late night riding joints) done up as a rocking radio show. This is a  big Sunday favourite round our gaff, seriously.. seriously.. worth checking.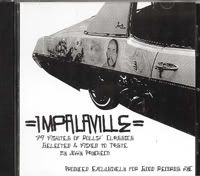 LA LA MEANS I LOVE YOU – DELFONICS
(buy) the Alton Ellis  7″ or
(buy) it on this crammed 3 CD Treasure Isle comp for a piffling price 
Right…. before I got off on that tangent, I had another tangent in mind which related to Assassin, an artist who just never seems to get the respect he should. As is witnessed on 'Priority', and his criminally under-rated and enjoyably wide-screen 'Gully Sitt'n' album from a couple of years back, he's often lyrically exceptional and far more flexible than many of his more celebrated contemporaries. I was supposed to interview him around the time of that album, but disappointingly it fell through. However moving further tangentially south I have been giving a bit of thought to the untouchable Madhouse supremo Dave Kelly and his spar Cham following an excellent post and robust discussion (which I chimed in at the end of) on
wayneandwax
. I had a natter with Cham from his Miami family home (replete with bawling pickneys in the background) prior to the release of the 'Ghetto Story' album, and after getting his diplomatic responses to the plethora of do-overs of the title track, and his less diplomatic but still well reasoned thoughts on Beenie and Bounty and their beef and grief towards him, the subject of Assassin came up. I rated his response, though I don't think it made it into the final piece.
"I've had people in JA say Assassin sound like you, people have wanted me to have beef with him, but yet still I've grown to know the individual and see that this kid has so much potential. We even recorded the man on two of our beats, we even called him on stage so people can see I aint dealing with none of that bad mind, trying to hold down someone. I reached out to Dave and told him, 'we need to get this kid on a beat, give him some guidance'. I don't understand the beefing, when them talk about personal things in songs, that isn't lyrics, that isn't competition. If you want that lets make crazy, big tunes, see who can do that for 5 years."
Even though Atlantic made a hot mess out of promoting his album, and it suffered a mild case of
Kardinalitus
with it's overstuffed guest list, he's clearly on another path to those he came up with. His phenomenally successful working partnership with Kelly has resulted in an artist who can come up with something as gully and sincere as Ghetto Story or Conscience that hits like a scud at street level, yet also speak easily and knowledgeably about radio PD's, marketing and reading books to get his mentality on a different level.
He said a lot of smart stuff, and reading back through it, I particularly like his response when I asked him whether it was hard to contain himself to a few releases a year in complete contrast to almost everyone else in the JA industry.
"That's the thing about it when I just started out because I had so many things to say it was a little hard, because you have so much inside you that you want to say two songs, three songs a day. Until I bought into the system, I saw that the system was really working,  separating me from the pack. At the end of the day what I got to realise was, I went to do a song for this producer and meanwhile I was recording he wasn't even giving me pointers. Like nothing, he wasn't even telling me to stop. When I finished recording I said to him 'are you going to listen to it again to make sure it's alright?' And his remark was 'nah that's cool you were bought up by the great Dave Kelly'. That means if something gone wrong you're not even going to hear, you're just happy that you've got a Cham on tape and you can bargain a certain amount of money for that. So from thereon then I never even look at producers, whether they're going to serve me good or not I just stick to the one because Dave is the type of guy who if I'm in the studio, and it's not right he will send me home with it. No matter how famous or popular I got, that's the same from day one. We do it again and again, until it right. Next producer's not going to bother with that, he just knows it's Cham, 'I know I can sell a couple of units, I can bargain X amount of money with a distributor for that'. I'm afraid of people hearing stuff out there that's not up to the par that I'm really capable of doing."
There was a lot more worthwhile stuff and I would consider tidying up the transcript and posting the whole fandangle but I reckon thats more (like several thousand words) than most folks would want to read, let me know if you don't think that's so. So just to be contrary to what Cham just said I'm posting a brand new, non-Kelly, Cham track with him riding the young genius McGregor's 'Adovcate' rhythm. This ones a grower, unlike the clips below which were both instantaneous love at first site biz.
DEM FI KNOW DAT – CHAM