You would think by now that I would have learned that I shouldn't promise anything on the blog, yet I keep doing it in some vague hope that it will make more accountable..at least to myself. So I did promise a review of the Mulatu's Australian appearances, and I've given it a fair bit of thought (not really too much of a fan of reading or writing live reviews for various reasons) without any concrete action.
There are very few living artists I can think of who would tempt me across the Tasman these days, aside from RTM gigs I have been getting pickier and pickier overall, and that suits me just fine. However when Mulatu told me he was going to be playing at the Melbourne Jazz Festival while interviewing him for this very blog last year, rational thought went out the window. After establishing that getting him over this way wasn't looking likely, it was a simple stumble through plane tickets and alerting fellow Mulatee's in Melbourne to the ticket release etc.
When a bonus performance in Fed Square was announced a few weeks for the Saturday afternoon, well things just kept getting better and better. That three song workout was sublime, though noticeably a touch nervier and less assured than Monday night's full set. The Black Jesus Experience became just the third international band band to get Mulatu's seal of approval (alongside The Heliocentrics and Boston's Either/Orchestra) to back him, after he checked them touring Ethiopia last year, and actually asked them, to do him the favour of playing his music. With three months of practice (it's all about the threes innit, he played three shows in Melbourne..spooky) and the assistance and direction of the Heliocentrics multi-instrumentalist James Arbon they, they were comfortably tight, on the Saturday and fully blistering on the sold out Monday night show (with an extra performance tucked in for those that were beaten by the uptake for the original appointment).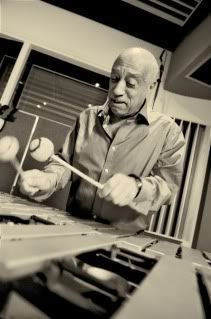 My insurmountable enthusiasm about not missing out on this show meant that we actually ended up with front row tickets pretty much right in front of Mualtu. Usually I'm not keen on the first few rows, the sound is rarely at its best, the view can often be similarly restricted and there's a ton of other reasons it's best left to rabid devotees and those who want to be close. In this case the sound was absolutely fine, and the experience of being so close to the action and being able to see musicians expressions and the minutiae was absorbing. Hearing Mulatu hum as he played the vibes, or seeing him slightly sticking his tongue out on the tricky bits was priceless, so were the occasional looks and chats exchanged by the band members as they nailed it time and time again.
RRR's DJ Johnathan Alley kicked the night off with a relaxed set of vital roots, afro gear and whatnot before The Black Jesus Experience opened up with a brace of their own songs, including vocals from Enushu Taye and MC one sixth. When Mulatu appeared, made a beautiful humble introduction and they all launched into Dewel with it's slithering horn lines and resoundingly funky rhythm, well lets just say that special doesn't begin to cover it. For what must have been the best part of regulation time with no stoppages, they fired through a set that took in material from Mulatu's recent recordings (Cha Cha, Chik Chika) his New York period (Dewel in a version that I preferred to his take with the Heliocentrics, and the song he introduced so touchingly – Mulatu) and that classic Golden Age business (the rest).
Mulatu predominantly veered between the vibes and his trusty snares, with just one song at the keyboard and a blinding conga solo that justifiably drew much appreciation. His mana and charisma were well evident throughout, and it was a privilege to see him smiling to himself, playing away obviously getting a huge charge from hearing his music being played so passionately in this furtherest of spots. Picking members of The Black Jesus Experience out for special mention would be cruel as every single player was on the money, with no overplaying or superfluous fluff throughout. It was pure quality seeing how well James Arbon fitted in and vice versa, and if the rumours of a rematch later this year prove founded then I think we must ensure at least one New Zealand date.
There's a great interview here on the ABC site
here
, which I can't embed but does include footage from the Federation Square gig too. This is well worth watching. There's a video of them rehearsing at The Horn (where you can eat Ethio nosh and check The Black Jesus Experience weekly) also from the ABC (bless 'em)
here
.
Setlist and players below. Props to the Melbourne Jazz Festival for making this happen and doing it right, and Peter Harper from The Black Jesus Experience for the info, set lists, and some righteous saxophone and whatnot. The shots from the venue are from
The Black Jesus Experience myspace
, please do check them out and friend 'em up.
THE PLAYERS
Alto Peter Harper,
Trumpet Ian Dixon,
Drums Pat Kearney,
Bass CassaWarrior,
Percussion Souren Chakerian,
Keys Thai Matus,
Guitar Nash Lee,
Tenor etc James Arbon (Heliocentrics)
Vibes, Keys, Percussion Mulatu Astatke
SETLIST