Here's a couple of records from people I know next to nothing about, which is often the way with Japanese gear, and in this over-saturated information age where every shred of everything seems to be accessible to everyone, a bit of mystery is not necessarily a bad thing. Both of these tracks slightly remind me, in different ways, of 'Sandanista'-era Clash, and I'm certainly not mad at that. Without the power of Japanese script and via a little stenchworthy sleuthing I have managed to ascertain that Dubdub On-Seng are Yasuhiko Tanaka aka Marron on guitar and vocals with Manabu Sakata taking care of drums, electronics, acoustic guitar, mukkuri (a tension jaw harp of the Ainu people of Hokkaido in Northern Japan, generally played by women… so they say) and vocals. At least that's what they were on their 2006 album 'Spring',  which is pretty standard fare, and not a patch on this steel drum fuelled gentle stomper. Buying this, alongside a pile of recent dancehall sevens, I couldn't help but notice that the 120ish militaristic drums are not so far away from a lot of the better gear coming out of JA, I'm definitely looking forward to lurching out, or in, to some Jam 2 or SSMG rhythms at some future engagement with this pan-tastic, distinctive depth charge designed for the deviant dancefloor. 
Conversely Dachambo have their own website and allsorts, and I kind of wish they didn't. The DJ Quiet Storm (great name, makes me think of Mobb Deep and soulful slow-jams from the white suit days of yore) remix of the curiously titled 'Brrrrrappi!' just sits on the right side of indulgent (especially in the guitar department), while the original definitely doesn't. The revelation that they're a jam band (uh oh) and a right bunch of far eastern hippies isn't too much of a surprise, yet I can still get with Quiet Storm's mix, especially when it slides into some sampled 'Swing Easy' towards the end. The vocal snippets are delightfully kitsch in the way that only Japanese reggae vocalists can get away with, and have caused me to wander around the house inexplicably muttering 'ragga lagga' (whatever that means) 'pam pam' etc for a couple of weeks. Luxuriate in these lengthy mp3's, then please click your way to a purchase. I have found Jet Set's service to be excellent (they also have their own label as well as three shops, check them out) and their prices pretty reasonable, but Juno are also good on the Japanese biz if you can handle the bill. 
(Buy) from Jetset
(Buy) from Juno
(Japonicaspace)
(Website)
(DubMarronicsspace)


DUBDUB ON-SENG – CALYPSO ON-SENG
(Buy) from Jet Set
(Buy) from Juno
(Dachambaspace)
(Website)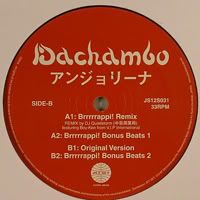 DACHAMBO – BRRRRRAPPI! (DJ QUIET STORM REMIX)
More oddities from up there to come….