Awful lot of hooha going on in the next few days, and without the usual Stinky Grooves post I thought I should wang something up about the imminent kerffuffulation. The picture above shouldn't relate too much (apart from a fondness for confusing food packaging) to the upcoming activities,  but lets not go counting chickens.
First up on Saturday (which is like now) is the Cuba Street Carnival, and a full length, heavyweight outdoor session of Marty from Vital Sounds' rig. They've been stringing it up  since June of last year, and all reports have been positively blooming… and booming. I've been itching to run some tune through this beast of a system, with its positively pungent 18″ scoop bins, since I was spirited off for a viewing when it was still in the testing stages early last year. Thats when I took this shonky phone photo with Marty Man Ray and Danny Lemon justifiably adopting the 'get orf my land or I'll disnitergrate your eardrums' pose.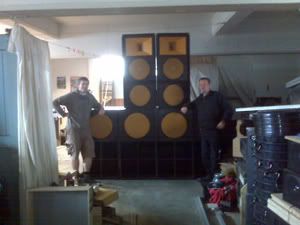 The line-up is solid, though the weather may have the biggest say in the day.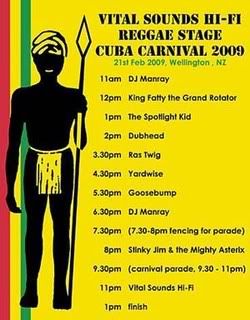 Asterix and myself have been fortunate enough to cop a prime slot, and we intend to provide something a lot more solid than the Hurricanes did tonight (though I may have to be as adept as them at dodging bullets, tomorrow, for saying that).
All sniping aside I'm bubbling about this assignment in the capital, and had a veritable ball down there on the Bug/Rhythm & Sound trek a few weeks ago. Topknot was talking then, about having a jerk stall running and if that's the case I'll be running off the plane and hailing the first taxi, licking my chops. Maybe just a little festival bread too?…
Also coming up next week is the commencement of Splore's Living Lounge series with Mr Shoot Out himself, Mykal Rose. Support comes in the shape of Dubhead, FJ, Grafta and yours truly, who'll be bookending the evening in the lonely guys slots. All of this in a marquee in the park by Ponce-off-by Road has got to be a serious must. Flyer below.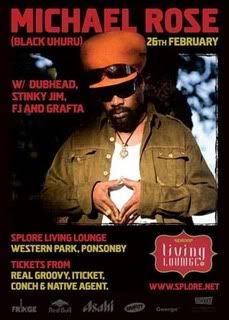 A mid-period gem from Mr Rose on Star Trail, this got a solid thrashing for a very long time back on original release (and I think ended up on playlist on bFM for a spell too), a masterful lick of 'Full Up' … enjoy.
STALK OF SENSIMILLIA – MYKAL ROSE