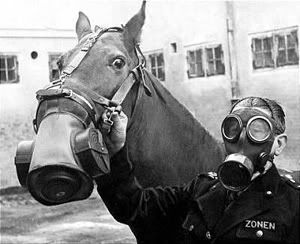 This began as a relaxed couple of tunes post, before an inability to decide, and a trailerload of procrastination took over….. and hence a meaty, eight song ramble. Up for no more than a week or two max, so don't delay on the dl and please do follow through with purchase power.
It's been a malodourous minute since we flung a Busy Signal track at you and we have standards to downkeep so have a chip at the high-energy 'Step To We'. Brilliant flow as ever and lyrics that reveal no problems for Mr Gordon in the self-esteem stakes, guess that's the adavantage of all that warm cranium business. Busy's been on a release crusade of late with a few fromagey question marks (the Phil Collins cover fer fucks sake and that Mothers Day song, NO!) and a veritable armoury of ballistic sureshots. I'm really digging the call and response Afro-soca of 'Da Style Deh' and the jaunty, anti-oral '
Nah Go Dung Deh
',
Heatwave
are up on the former so pay them a visit.
The 'Birthmark' rhythm comes from Madmen Productions out of T'n'T who are big news in the soca world. They play it fairly straight bashment for this, and while the rhythm might not be super stand-out (how many really are currently though?), it does carry that enveloping, hypnotic buzz that's an irresistible lure on a well put together uptempo dancehall winer. Couldn't resist slinging in Bunji Garlin's sturdy 'Badman' too. Alongside Machel Montano he's right up there amongst the off-islanders in my book, sure his style may be watered-down Warlord but that's not the end of the world when Rodney Price's strike rate is still sporadically impressive, but realistically a shadow of its former self. Don't know where you can cop this rhythm from kosher and above board so sadly no buy links. Insert brrrrrt's and hotheads from here at will.
Little article on
The Mad Men
who produced this port-wine-stain power punch
Bunji


Hothead himself… Busy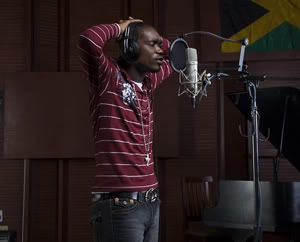 Huge tune and my pick of the dancemove action (marginally better than a still image)

What to say about Joker? He knocks em out like a Bristolian Busy Signal, and he doesn't seem to miss a step. The 'Do It/Psychedelic Runway' single on Kapsize is outrageous, and so is this Tectonic treat that comes on a 12″ with Flying Lotus's substantial 'Glendale Galleria'. I kind of miss the really busy, messed-up beyond recognition ADD stuff that his first 'Kapsize EP' for Earwax indulged in, but when he's making such a riddiculously good job of sleek, distressed, futuristic machine funk…well it would be churlish to complain. He's picking up the props all over the shop too, and rightly so.
This is available on DJ Pinch's second, double CD, juggling of the 'Tectonic Plates' and listening to the mix disc as I type… man is it good. It was hard not to fret that this sophomore round wouldn't be as potent (and pungent) as the premier selection, especially as that was released at a time when the music was in a really exciting, unique, focus-pulling stage. The gear Pinch is pulling out is way deeper than the rash of cookie-cutter wobblers and irritatingly clean, technoid blueprints that litter the weekly release sheets. The mixery is sublime, with only a few tracks getting more than a couple of minutes but in a very un-jerky, immaculately schmoov way. The disc of standalone tracks sounds nae too shabby either, from the one play I've managed in a musically overgrown week. Out right about now, no excuses – hands in pockets business…purchaserate!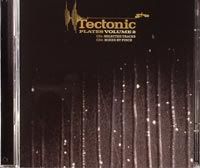 Undoubtedly the dominant disc amongst the pile at Chez Stench since it touched down a couple of weeks ago the Moderat album is a real grower. First collaborating on a 12″ seven years ago the Teutonic trio of Modeselector dudes ( ) and Apparat (Sascha Ring, gaffer of the superbly monikered Shitkatapult label) have conjured up something really special with this crucial collabo. Ring sings on a a few of the tracks, and I have to confess that until I was able to treat the album as a whole, I wasn't 100% convinced about that… now I'm well and truly sold. The trademark Modeselector vipers net of bubbling analogue synths and driving Herman German rhythms is in full effect, with definite doffs of the cap to the likes of The Bug and most obviously Burial amongst the varied beatstyles and woodblocky widdims. Alongside Ring on vocal duties is Eased from Berlin dancehall collective Seeed and Paul St Hilaire (Tikiman), both giving it some ragga chat that doesn't disturb the vibes but doesn't massively add to them either. With so much tat touted on the interwebs I can't understand why records like this (and the magnificent last Modeselector album 'Happy Birthday') don't get much, much more shine. This is my small part to redress that and join the discerning blogerators who urge you to investigate this one further. There's no local distro in NZ for BPitch Control which sucks but it's a global marketplace and you could do a lot worse than going and getting yourself some. Go on!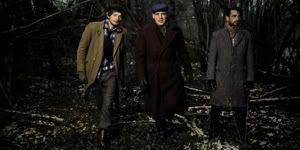 Les Grandes Marches

'A New Error', MODERAT Record Release, Visuals: Pfadfindere (phwoar.. looking good)

It's a bit disappointing that ZZK Sound Vol 2 doesn't match up to the virtually spotless standards of its predecessor but there's still a whole heap of well worthwhile tackle on there for the cumbia crazed cut crusader. El Trip Selector had one of the highlights on the first edition and he's back up on it sophomore style and fashion with 'Cumbiancherita'. Big up Buenos Airies and henjoy.
Here's an odd one. Scarily proggy, rear mirror watchers and teepee builders Yellow Moon Band are not my cup of herbally infused char…. that is unless some bright spark hauls in Richard Norris in his Time & Space Machine guise to remix it all away to some place else. It's actually the Xela (John Twells) mixes on the other side that have been getting tongues a wagging with their Goblinoid ambient touches, and that's well understandable. However Norris's bossa nova country prog honk is a little gem in itself, apparently there's a Time & Space Machine 7″ coming up on Tirk, look out!
Despite much hyping from The Fader and select other outlets whose opinions I rate, Miles Benjamin Anthony Robinson didn't win me over until I'd heard his entire album, a few times. It is, I suppose, the modern dilemma, with access to so much music, so many people shouting in your ear and trying to catch your intention – some gooduns inevitably slip past. You hope to rely on the 2nd line of defence (closer to home than the global-ninnynet) and that fantastic whimsical notion (or outright lie) that the cream will rise to the top (nay it's usally the scum that does that).
So my initial summation of Miles Benjamin Anthony Robinson was annoying name, excess hype and a tad too much wailing Dylan-esque ex-junkie, hobo business for my liking (not that I'm not partial to a heaping helping of that from time to time). Names – you get used to, the hype – is out of the artist's (anyones?) hands, though there are a few songs that do over-do the agony addict moaning-and -groaning a touch. But it's a debut, and in most ways it's a glorious one, I can forgive a bit of self-indulgence when the reward is songs as solid as 'Boneindian', 'The Debtor', 'My Good Luck' and the throughly addictive 'Buriedfed'. Like our hairy friends below you could fling a fistful of obvious influences at Miles Benjamin Anthony Robinson and he'd probably just wear them on his sleeve, and then wipe them on his metaphorical snotty cuff. Still coming to grips with the album to be honest, and it will be interesting to see whether it's a fleeting fancy, or a genuine long-term contender, but this song is just fire.
If you're not familiar with Wooden Shjips already, you may want to step back from the computer when approaching this MP3. With a hefty helping of kraut, definite traces of The Gun Club and The Cramps, let alone The Stooges or Loop, these West Coast wonders are ticking enough boxes to require a clipboard. As much as you can sink the signifiers left, right and centre, the four piece do have a definite sound of their own and the recently unleashed 'Dos' on Holy Mountain, shows ample evidence that it's developing in delicious ways. It's become a bit of a soundtrack to everything round our way, making it hard to pull out a single song, as the entire package is best swallowed whole, probably with instant repetition.