I have a serious problem with restraint when it comes to music, and it seems to have extended to posting. A couple of tunes, a little blather – I think to myself. Then I head into the cavernous pit of my digital music folder or iTunes, and before you know it there's the best part of a dozen contenders bustling it out, shooting me sneaky glances and 'just a little bit of blog love, guvnor…' and that small, rapid, manageable post is out the window.
It's happened yet again, so reluctantly I'm going to split up the proposed postulation into a trio of family-fun-sized, more svelte outbursts over the next week or two.
Kicking off has to be Kode 9, aka Steve Goodman, who will be here in just a couple of weeks. I can think of few people I'd rather have on the upcoming musical calendar, and I'm also looking forward to warming the room up from 10.30 on the night. That early slot should allow a chance to stretch out the styles and wang in some weird ones, and there is so much goodly gear around at the minute I'm fully forecasting a pleased as a porcine creature inna faeces scenario from my end, even if there may be tumbleweed on the dancefloor and cobwebs at the bar.
Hanyways Mr 9, front cover starlet of a recent Wire magazine, should need no introduction. If there is a more consistent and progressive artist to have emerged out of the latest branch of London's bass culture tree…. well the chances are, they are recording for his Hyperdub label too. I can't help feeling that the success and relentless strike rate of the label (and of course, obviously Burial) has resulted in the actual Kode 9 releases not quite getting the shine they should. That was certainly the case with 'Memories Of The Future' which is an album that simply gets better with time, and as a result is never far from the stinking stereo. I've blathered on about Kode 9
previously
, so we'll leave it at that but AK and surrounds readers – you simply MUST come to hear what the man plays. Word is tickets are shifting apace and it would be wicked to see it sell out in advance, so don't sleep.
I'm hoping that his set will give me a gateway into the 'funky' fandangle that is literally setting hipsterati bloggers on fire (oh I wish) and causing much media frothing and DJ dapping in (and outwards from) the UK. I have dutifully DL'd tracks that are raved about as the cats' pyjamas (danger – we could be an an unintended animalist syntaxethetic slew here) but aside from a few cuts that seem to me be pleasingly hypertweaked, klub-ground soca, I have yet to find my way in. I'm hoping that in the hands of a sonic adventurer like Goodman, and with a club system as the natural environment I will catch the drift that has been rapidly turning into an avalanche.
Whatever newly created genre umbrella it falls under, this remix of Lee Perry and Samia Farah's 'Yellow Tongue' is the proverbial flaming stuff, there is a sense of deliberation with every sound used and the overall momentum that is countered by deft dubbing on the vocal snatches. Brilliant stuff, go and buy the record or high quality files if that's your fancy and if you're a local get down to Beat Merchants for a ticket.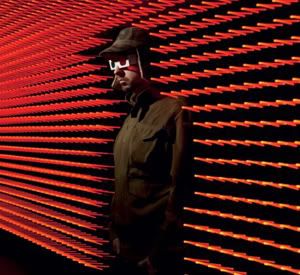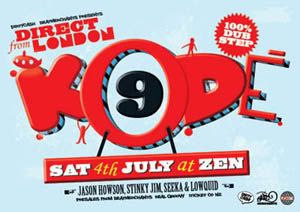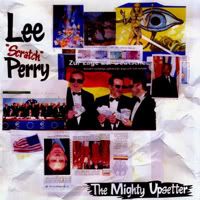 YELLOW TONGUE (DUB) – LEE 'SCRATCH' PERRY vs KODE 9
Londoner Jack Dunning, better known as
Untold
made his presence well felt last year with his soundsystem worrying, Kingdom on the mighty Hessle Audio – from memory both of the selections on the flip copped an airing or few too. I was also really taken with his less celebrated remix of
Dark Angel's
ruff and ragga'd 'Cool & Humble' on Boka, Iwhich was anything but template raggastepper.
This tune is stupid – stupid as in fresh, and stupid as in stupid! Almost Jean Jacques Perrey-esque in it's unapologetic, choppy style and bountiful quota of excellent squeaks, squiggles and thuds, the vinyl of this touched down today and it's positively seismic. Alongside forthcoming hooha on his own Hemlock label, he's also got a remix coming up for Moderat's 'Sea Monkey' and I'm expecting fireworks on that score.
You can check a recent mix (I haven't had time yet, but it looks positively sultry) of his from the ever excellent FACT magazine
here
and the Martin 'Blackdown' Clark has words (nice ones, not the other kind of 'having words') with his Untoldlyness over at the hipsteroid hub that is
Pitchfork
. No need for me to regurgitaterate the guff on the geez so get your stinking linking fingers on.
Buy the 12″ from Boomkat or locally go to a retailer who stocks Samurai
Untoldspace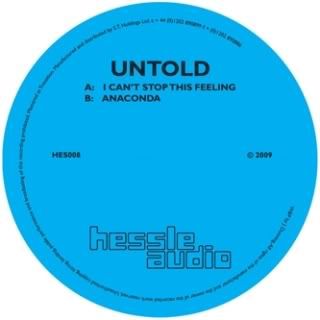 ANACONDA – UNTOLD
This track is priceless. For those that don't know
Terre Thaemlitz
is a transgendersing tonal terrorista who has released a veritable trailerload squared of some pretty amazing, and also pretty severely fucked-up music and noise since the early 90's. His/hers 1999 7″ for A-Musik, the snappily titled 'A-Musik Presents A Program Of… A-Muzak' is a top chart smash around our gates, and has been for a decade now I guess.
Under the superb nom-de-disque DJ Sprinkles, Thaemlitz makes immaculate, truly deep house music that is pretty much guaranteed to take you back and remind you of how awfully wrong it's gone (with notable exceptions), and how incredibly right it can be. This track and much of the album tells the hidden story of house, the entire lyrics/text can be found
here
(scroll down to the bottom for that, or check samples from the rest of the album at the top before the gobbledygook). It begins with 'House isn't so much a sound as a situation. There must be a hundred records with voice-overs asking, "What is house?" The answer is always some greeting card bullshit about "life, love, happiness….". Amen to that (though it's alright if it's DJ Pierre or someone else exceptional).
By the end of this gem, on the highly discerning Japanese label Mule Music, Thaemlitz says 'Twenty years later, major distribution gives us Classic House, the same way soundtracks in Vietnam war films gave us Classic Rock. The contexts from which the Deep House sound emerged are forgotten: sexual and gender crises, transgendered sex work, black market hormones, drug and alcohol addiction, loneliness, racism, HIV, ACT-UP, Thompkins Sq. Park, police brutality, queer-bashing, underpayment, unemployment and censorship – all at 120 beats per minute. These are the Midtown 120 Blues.'
Not half!
If my fiendish plan works this short slice will encourage you to investigate the rest of this album, which in some ways is hardly revolutionary, in other ways completely is. It's mainly considerably less vocal than this introductory scene setter, and it's all incredibly personal, unfathomably deep house of the very highest order, that is rigid in terms of the classic architecture, but flexible in its approach and content. This is 3am Harry's couch NYC business from the days of yore, I can shower no higher praise on Sprinkles.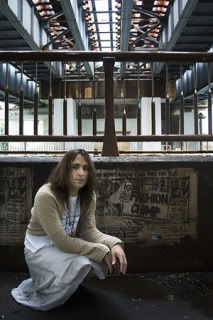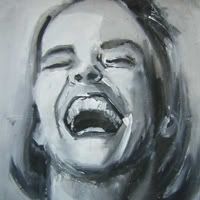 MIDTOWN 120 BLUES – TERRE THAEMLITZ
I need a late pass on this one, Gabriel from Heatwave sent through the details a while back but I've not managed to muster up a post to put it in, and then forgot late last night, post-show. You should know the dilly (how quaint) with Heatwave by now, as in running things and what have you. This is their latest roots/one drop mix, and as ever it's well worthy of yer bandwidth. They reckon it's perfect for blazing out of car windows and listening to on hot sunny days, I'd add it's nay half bad in front of the fire or wandering up Balmoral Road with what feels like an Arctic originated blast to contend with. Make merry with your clicking devices.
The all important tracklist..
Laden – Really Like You
Gappy Ranks – Gyal Mi Love
Voicemail – Ride Mi Bike (Gold Mine Riddim)
Gyptian – Money Man (Gold Mine Riddim)
Buju Banton – Buy Love (Gold Mine Riddim)
Richie Spice – Soothing Sound (Indiscretions Riddim)
Konshens – Straight Forward (Indiscretions Riddim)
Busy Signal – Beep (Indiscretions Riddim)
Mavado – Neva Believe U
Equiknoxx & Gerusalem – Cobba Cobba Riddim
Lil Joe – Wine (Cobba Cobba Riddim)
Tifa – Single (Cobba Cobba Riddim)
Spice – Badmind (Cobba Cobba Riddim)
Cecile – How It Feels (Hot Peppa Riddim)
Anthony B – Roll Mi Gal (Hot Peppa Riddim)
Mr Vegas – Mi Believe (Hot Peppa Riddim)
Mr Vegas – Old School Hustling (Heavenless Riddim)
Major Lazer feat Mr Lexx & Santigold – Hold The Line
Gappy Ranks – Put The Stereo On
Erup & Nature – Trample Dem (Multipurpose Stadium Riddim)
Beres Hammond – I Feel Good (I Feel Good Riddim)
Beres Hammond & Donovan Germain – I Feel Dub (I Feel Good Riddim)
General Degree – Jah Will Provide (I Feel Good Riddim)
Delly Ranx – Pleasure Pain (Comfort Zone Riddim)
Buju Banton – Pretty Every Time (Comfort Zone Riddim)
Cornadoor – Chocolate Fudge (Rougher Yet Riddim)
Some very sad news,
Eon
aka Ian Loveday passed away last week. Tracks like 'Spice' and 'Fear:The Mindkiller' were massive in AK across a bunch of scenes, and justifiably so. It's hard to go past those early classics because they were so iconic and yet strangely timeless, but he continued to make his own distinctive scifi techno/electro including a couple of stonkers for lomg time compardre J Saul Kane's Electron Industries. Sadly great producers and musicians are hitting their mortal run-off groove all the time and I dont want this to become an obituary page, but I really felt this deserved a mention, and a chance to celebrate an amazing musical life with the video below.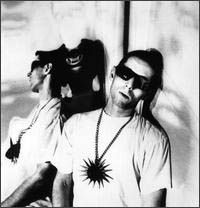 Aaaaand finally, there's a nice and decent tribute to our fallen comrade Big Matt, to mark two years since we lost one of the powerhouses and architects of our scene, and one of the most positive, upfull people you could ever wish to meet.
It's this Sunday, the 28th at the Ponsonby Social Club from 5, free entry, with Peter Mac Selecto, Mikey Sampson, Megan and The Chaplin will all be playing the music that Matt loved, and he loved a LOT of good music, see you there.