Mego – Nabowia (Jetset)
Brrrrrappi! (DJ Quiet Storm Remix) – Dachdambo (Jetset)
Eye On The Dub – Richard Phoe (Phoe Love)
Trading Places – Busy Signal (Jukeboxx)
Serious Woman – Richie Spice (Jukeboxx)
Hustle – Collie Buddz (Columbia)
Babylon In Helicopter – Mr Williamz (Necessary Mayhem)
Endurance (Ft Shugga) – Propa Tingz/Breakbeat Buddha
Done Wid War – Busy Signal (Busy Signal Productions)
All About My Money – Busy Signal
Gun Fandangle – Burro Banton (Massive B)
Bust It Pon Dem – Collie Buddz, Burro Banton & Choppa (Massive B)
Hard Grind – Bobby Konder ft Mimi (Massive B)
Not Far From Nothing – Jay Electronica (FMJW)
Exhibit A (Transformations) – Jay Electronica (Control FreaQ)
I Could Be President – Novel ft Joel Ortiz
Man On The Moon – Kid Cudi (Mixtape)
Head Hang Low (Depth Charge Rmx) – The Oscillation (DC Recordings)
Stop Parching Yourself (Fulgeance Rmx) – Kelpe (DC Recordings)
Super Genesis (ft Hazel) – Onra (Favourite)
Shipwreck Glue (Architeq Rmx) – Kelpe (DC Recordings)
Epic & Donuts (Mungolian Jetset Remix) – Altz (Lastrum)
Das Feur (Pilooski Edit) – Holger Hiller (Dirty Edits Vol 2)
Euros Vs Dollars (Pilooski Edit) – Octet (Dirty Edits Vol 2)
Bread Machine Bred (Zombie Zombie Rmx) – Kelpe (DC Recordings)
A Manha Na Praia – The Alps (Type)
Motorik – Kontakte (Mind Exodus)
My Window – SJD (Round Trip Mars)
Kill Her With Kindness – David Holmes (Mercury)
Nadiya Nice – Onra (Favourite)
Calypso On-Seng – Dubdub On-Seng (Japonica)
Crawfish (Pilooski Edit) – Elvis Presley (Dirty Edits)
Gemini – Del Shannon (Dirty Edits)
No Silver Bird – The Hooterville Trolley (Stoned Circus)
Sweet Love For Planet Earth (Andrew Weatherall Remix) – Fuck Buttons (ATP)
Starlight (Deepchord Rmx) – Model 500 (Echospace)
In The Void (Rupture Remix) – Shackleton (Skull Disco)
I can forsee a stonking post of nouveau nipponese niceness in the future as them rekids I hauled in from the land of the rising fader are quite untypical and generally large. In the meantime a bit more Busy-ness is well overdue and here's a couple of very different sides to Mr Reanno Gordon of Tivoli Gardens, as his Mum knows him. 
First up 'Trading Places' is Busy Signal at his verbal best, imagining the switch with JA politicians and corporate players swapping roles with sufferers and vice versa, over the naggingly familiar 'Nylon' rhythm from his manager Shane Brown (Jukeboxx Records) Listen to the titanium tough tune, check the
lyrics
. These aren't new themes, the amount of DJ Governments that have been lyrically formed over the past four decades must run into triple figures. However Busy has a consistently crisp turn of phrase and his flow is mercurial, the message is all inclusive and universal, and this 45 is glued to my turntable.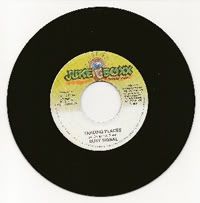 BUSY SIGNAL – TRADING PLACES
Against my better judgement, and every shred of the reasonable taste I'd like to think I have some of Busy's truly cheezy tunes end up worming their way into my affections. A case in point is 'Done Wid Di War' an admirable statement, a Christmas tune no less and as schmaltzy as they come. I have little or no info on this tune, having only seen it credited to Busy Signal Productions and not from the most reliable source, but I do know that it's indefensibly brilliant. While most of the current crop have difficulty mastering one pattern, Busy is forever changing gears verse to storming verse. Dweeby dodgy BVs? Sappy rhythm? Unimaginative autotune over-usage? Yus, it ticks all of those dastardly boxes and yet it slays (sleighs?) me everytime.
BUSY SIGNAL – DONE WID DI WAR
This one still does my nut in… everytime. New school fast chat JA style respect to the Saxon architects.

Busy's 'These Are The Days' vs South Park… This is actually really good!

And finally at the last Notting Hill Carnival, check the reaction, HOT HEAD!

Sound the big thing…..