Ghostship – Beat Pharmacy ft Spaceape (Wave)
Nuclear Race – Beat Pharmacy ft Paul St Hilaire  (Wave)
Youth Man – King Tubby (Greensleeves)
Jazzbo Have Fe Run – I Roy (Pressure Sounds)
Gal Boy I Roy – Prince Jazzbo (Pressure Sounds)
Dub From The Roots – King Tubby & Observer All Stars (Pressure Sounds) 
Jerk Pork – Cardopusher (Lo Dubs)
Lady Dub – The Widdler (Studio Rockers)
The Lie – Zomby (Ramp)
Test Me For A Reason – Zomby (Hyperdub)
Give Me Up (LD Remix) – Sully (2nd Drop)
Texas Rangers – Zombie Zombie (Versatile)
Quadrant 3 – Harmonic 313 (Warp)
Darlin' (Andrew Weatherall Rmx) – XX Teens (Big Billy)
Happy Up Here (Holy Fuck Rmx) – Royksopp (Wall Of Sound)
Epica! – Altz (Lastrum)
Moon Song (Mungolian Jetset Rmx) – They Came From The Stars I Saw Them (This Is Not An Exit)
Mambo – Wally Badarou (Strut)
Cha Cha – Mulatu Astatke & The Heliocentrics (Strut)
A Town Called Ivanhoe – Mountaineers (Claremont 65)
El Patuleco – Jose Barros
Soy El Control – El Hijo De La Cumbia (ZZK)
El Bottelon – Uproot Andy (Bersa Discos)
Viajante (Cumbia Cosmonauts Rmx) – Tremor (ZZK)
Liftoman – DJ Harvey (Black Cock)
What's Happening In The City – Zombie Zombie (Versatile)
Do Your Best – John Maus (Upset The Rhythm)
The Illumanoids – Higamos Hogamos (DC Recordings)
Watamu Beach Rework – Moritz Von Oswald (Desolat)
Hope & Frustration – Beat Pharmacy ft Ras B (Wave)
House Of Love – Beat Pharmacy (Wave)
Hallucinations – Alps (Type)
Big Smack & Flies (Mungolian Jetset Rmx) – Ronny & Renzo (King Kung Fu)
Well soaked in dubular types vibes of all stripes across the show tonight, and you'll hear no complaint from me on that. This week, I will mostly be posting this little gem from the latest Pressure Sounds heater 'Once Upon A Time At King Tubbys', which collects together the entire I Roy/Prince Jazzbo war on record, plus extras. For the first time this is apparently the proper-oper sounding ,entire beef in a 3-course stereophonic smorgasbord. There's a link to the Pressure Sounds site below, that explains it far better than I ever could. 
I did get to meet I Roy a couple of times over a couple of years, at Derrick Harriot's record shop in Twin Gates Plaza on Constant Spring Road, where there always seems to be some vintage legend lurking around, passing the time of day with the ever affable Mr Harriot. The second time I bucked up on him he wasn't looking in such great shape, and though he didn't want to do an interview, he did have a vitriolic blast at a list of labels and producers who had done him wrong, which would have been great to have on tape. When I asked him if his verbal parry with Jazzbo was for real, he just chuckled, which could mean anything but was the only smile I saw from him that time. Not long after, he tapped me for a few dollars.  I had no qualms about giving alms as he really did look like he was suffering,  and after he left Derrick said he had a raft of children and was not in a good situation. 
As is well reported, those kind of circumstances are far from uncommon in JA, and he's by no means the only revered artist I've encountered on the skids (and fortunately his head was still reasonably together), but the memory of a true DJ legend in such a desperate state, still chills me to the bone. When he passed a few years later in 1999, I hoped that he really had gone to a better place, because he surely deserved it.
The Derrick Harriot comp on Pressure Sounds is also a blinder, you can purchaserate right
here
at PS central.
(
buy
) 'Once Upon A Time..' direct from Pressure Sounds, immediately!
You can read all about it
here
I-Roy


Prince Jazzbo & son with Joe Lickshot, taken from Beth Lesser's superb Dancehall book available through Soul Jazz. Check it…. seriously!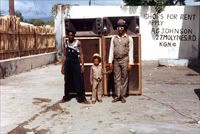 JAZZBO HAVE FE RUN – I ROY