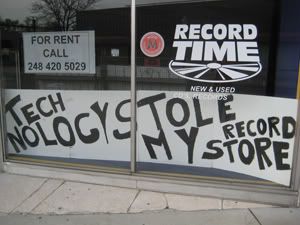 Lost At Sea – Truth (Aquatic Lab)
Layin' In Bed – ? (War)
Bubble Bubble – Zomby (Ramp)
Godzilla – Zomby (Ramp)
Purple City – Joker & Ginz (Kapsize)
Heartbroken (Noah D Rmx) – Liondub, Jahdan etc (Earwax)
General (Noah D Instrumental Rmx) – Liondub ft Jahdan (Liondub)
General (Original Instrumental) – Liondub (Liondub)
Violence In The City – Julian & Damian Marley
Good Girl Gone Bad – Tarrus Riley ft Konshens (VP)
Hand Inna Di Air – Assassin (Daseca)
Hot Hot – Mykal Rose ft Dada
Herbs Promotion – Tarrus Riley, Demarco & Vybz Kartel (VP)
Zion In Dub – Sly & Robbie (Greensleeves)
Sneeze Off – Unitone HiFi (Round Trip Mars)
The Creeping Tings Of The Earth – Jefferson Belt (Round Trip Mars)
Antes Que Nadie – Chico Sonido
Let's Do The 7 Again – Andrew Weatherall (Rotters Golf Club)
Fail We May, Sail We Must – Andrew Weatherall (Rotters Golf Club)
Creepy – Mungolian Jetset (Smalltown Supersound)
Anything Worse – The Gaslamp Killer (Brainfeeder)
Discosong (Pilooski Rmx) – Jarvis Cocker (Rough Trade)
You Are The Sun – James Duncan (Round Trip Mars)
Rendezvous – James Duncan (Round Trip Mars)
(I Know) A Girl Called Jonny – Rowland S. Howard (The Passport Label)
A Pox On The Pioneers – Andrew Weatherall (Rotters Golf Club)
Coaster (Idjut Boys Rmx) – Mendes & Alcada ( Claremont 56)
Murky Lambada – Mungolian Jetset (Smalltown Supersound)
PLSN – Ramadanman (Hessle Audio)
Mescaline Cola – Zomby (Ramp)
The Coconut Kestrel – Neil Landstrumm (Planet Mu)
You Know – Burnkane (Planet Mu)
Stumble Groove – Make Do
Way You Make Me Feel – Guido (Punch Drunk)
In System Travel – Jamie Vex'd (Planet Mu)
We Could Be Skweeroes – Eero Johannes (Planet Mu)
Officer Nuh Kill Him – Queen Ifrica
Picante – Busy Signal
Confort – ?
Borracho y Deseinao – Doma Tornadoes
La Cumbia Es Un Tango – El Hijo De La Cumbia (Soot)
Las Mil Caras (Instr) – Fauna (ZZK)
Hay Guey – Tzochitl Soundsystem vs Toy Selectah (Bersa Discos)
We have
told
tales on
Zomby
before
, so there's nae need for a full fandangle… but this new 2×12″ on Ramp is as undead as they come – in fact it's completely alive with creeping squelches, angular blips and totally, totally gone rhythms. Loving it to pieces, except every track feels shorter than it need be, I'll stop moaning about with these wonkanauts once they start to fully resolve their bleepscapes for longer than a couple of minutes, three at a stretch.
Enjoy the track and then make like a ship-shape shopper and follow the links for the EP/MiniLP stinkstravaganza, flanking you mildly.
There only seems to be one releiable pic of Zombie and we've run it… so I googled 'shit zombie' and found this instead.
MESCALINE COLA – ZOMBY
And yes (parp of trumpets optional) the James Duncan album is out, and blowing peoples socks off…justifiably. Next week it's the turn of JD on 45 and also the brand new and exceptionally fruity Unitone HiFi/Jefferson Belt 7″, maybe we'll post up snippets for you sooooon.
James Duncan release type celebratory shenaniganisations at DOC on the K on Saturday night. Flyer below and check that DJ line-up!! Last week supporting The Specials (with Felix Hall and that gent Trevor Jackson), then this week Messrs Duncan, Donnelly, Cartier and Grattan behind the deckage alongside yours truly, blessed and spoilt is how I feel.
There will be blog love when the dust settles…promise.