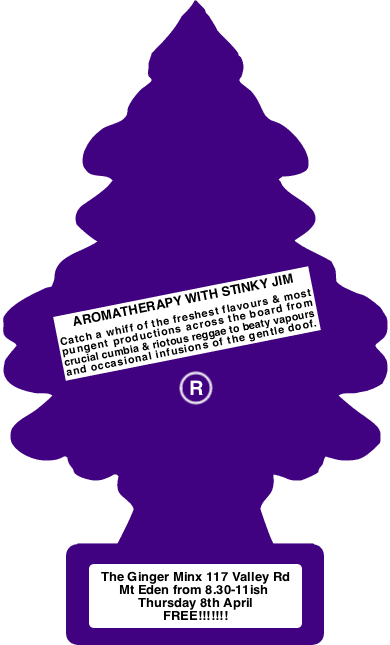 Hold up. before you devour the playlist don't be forgetting the Ginger Minx who not only bring you Stinky Grooves but also is where the Thursdays are getting ridiculously renking on the regular. See you there?!
Te Metiste con Migo Pajarito (Pernett Rmx) -El Hacha (pernett.soundcloud.com)
Progreso – Lido Pimienta (LidoPimientamyspace)
Antiguos Duen Os De Las Flechas – Doma Tornados ft Mercedes Sosa (Hipi Duki Muzik)
Doble Troble (Chico Mann Rmx) – Copia Doble System (Urban World)
Gun Dance – Tapes (Jahtari)
Wonderland – Black Chow (Jahtari)
Pass Out (Wrongtom Rmx) – Tinie Tempah
Puff That Weed – Soom T (Jahtari)
Mars (Reprise) – Clause Four (Jahtari)
Shreveport Shuffle – John Frum (Jahtari)
Detroit Falls – Pariah (R&S)
Start Something – Pursuit Grooves (Tectonic)
Shutterbug – Big Boi (Def Jam)
America – K'naan (A&M)
Ole – The Black Santiagos (Soundway)
The Lords Prayer – The Don Issac Ezekiel Combination (Soundway)
Lindo Sonho Delirante – Fabio (Stones Throw)
Soloina (Pernett 3 Cruces Rmx) – Lulacruza (Lulacruza bandcamp)
Cumbia Boima (Sonido Del Principe Mash) – Chief Boima (generationbass)
Alta Yama – Miss Bolivia ft Ali Gua Gua (Cabeza!)
Cumbiandero – Super Gauchin (Cabeza!)
Neo Bailongo En El Club – Lagartijeando (ZZK)
Kiko De Galo (SDP Edit) – Sonido Del Principe (generationbass)
Cumbia Squares – DJ Lengua (Discos Unicornio)
El Jardinero – Manzanita (Virrey)
No Me Busques – Los Corraleros De Majagual (Discos Fuentes)
Rhythm – Major Lance (BBE)
Honey Child – Bobby Bland (BBE)
Come On Back – The Brothers Of Soul
Gunship – Locossolus (International Feel)
Jamlock – SBTRKT (Brainmath)
It's Yesterday Already – Cardopusher (On The Edge)
At Least (Instra:mental Rmx) – Mount Kimbie (Hot Flush)
Maintain (Ikonika Rmx) – Computer Jay (Ramp)
Tropic Thunda – J:Kenzo (Argon)
Antiguos Duen Os De La Cura – Doma Tornados ft Mercedes Sosa (Hipi Duki Muzik)
Tube – Flying Lizards (Virgin)
In Forest Flesh – Nowa Huta (TriAngle)
Aqui Conmigo – Lido Pimienta (LidoPimientamyspace)
Cumbia Colegiala (Mezcla De Soleo) – Copia Doble System (Urban World)
Bombon Asesino – La Repandilla (Leader)
Cumbieton Rutero – Axel K Soundsystem
Can't Take No More – Brinsley Forde & Blackout JA (Maroon)
A plethora of pertinently perky, powerful plays this week with the new comp from Jahtari ('Jahtarian Dubbers Volume 2') running particularly hard with their most widescreen and promising selection yet. Could easily have played a bunch more from that, but the competition was fearsome, and it's always good to have some ready-cut gems for next weeks dropathon. Also on the collection tip and similarly crucial is Keb Darge & Paul Weller's 'Lost And Found…' on BBE, the diminutive jock jockey (of the discs not the steeds) comes ultra correct with a vigorous bluesy R&B set while Weller is predictably on point with a soulful slew of Modfather morsels. I can vouch for it's complete Sundayness having roadtested on this Easter Sunday and it's ensuing Sunday-esque Monday and I'm pretty sure this is required rhythmic reading for any day of the week.. investigation (across the nation, and at the station without hesitation) is strongly suggested.
There's also Brinsley Forde's, Curtis Lynch Jnr generated revisiting of the 'Babylon' classic 'Can't Take No More Of That' which is crisp, but only managed to slide in as last track, Stones Throw's 'Fuzzy Bananas' Braz-psych set, Soundway's latest Nigerian excursions and freshness from the mighty Cabeza net label. And so much more, I know I say it ever week but there really was a trailerload this week, and the whole first set (especially the first three tunes) made me feel like rewinding and starting it all again. The eagle eyed amongst you may notice more links in place of labels on the playlist, we'll see how we go with that, it's time consuming but if it's useful or appreciated please let me know, and I'll continue. Some weeks the empty spaces after the title and artist statutories were becoming overwhelming, so we'll see how this runs.
This week the focus is on the inscrutable Doma Tornados, Barcelona's blistering beat bandito who seems to grow and surprise with every release. His latest EP 'Toba Rey' is a total mindblower conceptually, musically and lyrically.
The vocal from the great Argentinian folk protest singer Mercedes Sosa, who passed last year, is one of those performances that you don't need to understand the actual words to fully get the feeling. 'Antiguos dueños de las flechas' means 'The Ancient Owners Of The Arrows' and tells of the persecution of the Toba people. Rather than me regurgitating charmlessly, check the link for a depressingly familiar story of oppression, colonization, environmental fuckery and economic strangulation. You can hear it all, translation required or not, in the song and the video of a live version of the original below, but the way Tanox has created a new song around it is astonishing.
Sneakily he flipped the instrumental out to his mailing list a week or two ago, it's a standalone pearler, and it might have easily been overlooked when cosied up to two versions with the riveting, haunting vocal. From the first chance to run it out and on the radio I had people asking me 'what is this?', 'The Owner Of The Skunk' (Antiguos dueños de las skunk) would be my reply, and I'd get 'that' look before a brief explanation and espousal of the wonders to be found in the Doma Tornadosphere (who has many priceless tracks available for free pon them internets for those with a touch of search nous).
Alongside the archetypal DT percussive panorama there are guitar and bass swells that (and I hesitate to say this) carry a genuine 80's flavour, not in the usually touted cliche way, more like something that could have been a b-side on Rough Trade in 1982 or Keith Levene and Jah Wobble might have cooked up on their mellowest of mellow days. Oh and his distinctive favoured guitar sound always reminds me of that Fleetwood Mac tune that was the theme tune for the F1 in the UK for like forever, and I'm not mad at that neither. It's one of those 'it shouldn't make sense but it completely does' tracks … and that's just the instrumental. I was sold, home and hosed, before I even knew the point, the focus and the key to the whole thing.
It's downloadable for free from Hipi Duki Muzik and while you're there, get familiar. The Asaduki comp last year was a total stunner and trust me, it hasn't got old.
Keep an eye on Doma Tornados soundcloud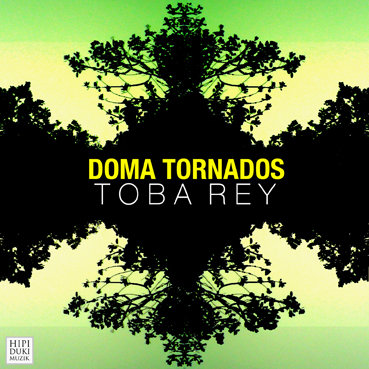 "TOBA REY", Doma Tornados (hdm05) tracklist:
01. Antiguos dueños de las flechas
02. Antiguos dueños del skunk
03. Antiguos dueños de la cura
.Produced and arranged by Doma Tornados/
.Bass, guitars, synths, drums and percussion performed and recorded by Doma Tornados/
.Mastered by Daniel Jeffs/
.Cover & Wallpaper by G.Piacenza/
."Antiguos dueños de las flechas" was released in 1972as part of the album "Cantata Sudamericana"/
.Original music writted by Ariel Ramirez, lyrics by Felix Luna/
.Vocals by Mercedes Sosa, backing vocals by Los Arroyeños/
ANTIGUOS DUEÑOS DE LAS FLECHAS
Indio toba
Sombra errante de la selva
Pobre toba reducido
Dueño antiguo de las flechas
Indio toba
Ya se han ido tus caciques,
Tus hermanos chirihuanos,
Abipones, mocovies . . .
Sombra de kokta y noueto
Viejos brujos de los montes
No abandonen a sus hijos
Gente buena, gente pobre . . .
Indio toba,
El guazuncho y las corzuelas,
La nobleza del quebracho
Todo es tuyo y las estrellas.
Indio toba ya viniendo de la cangaye
Quitilipi, aviaterai, caguazu, charadai,
Guaicuru, tapenaga, pirane, samuhu,
Matara, guacara, pinalta,
Matara, guacara, pinalta . . .
Indio toba no llorando aquel tiempo feliz
Pilcomayos y bermejos llorando por mi
Campamento de mi raza la america es
De mi raza de yaguarete
Es la america, es . . .
Toba dueño como antes del bagre y la miel
Cazador de las charatas, la onza, el tatu
Toba rey de yararas, guazupu y aguaras
El gualamba ya es mio otra vez
Otra vez, otra vez . . .