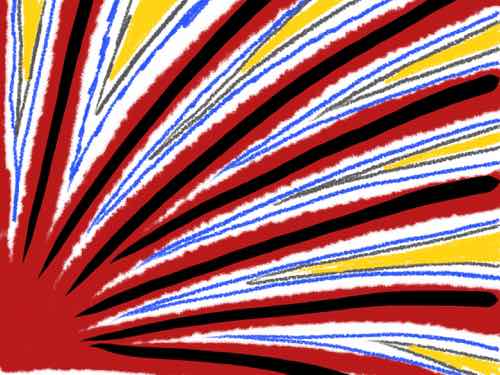 I Came I Saw (SKRS Remix) – The Bush Chemists (Bokeh Versions bandcamp)
Barriers Dub – Ojah, Hiroshi & Rudey Lee (Steppas bandcamp)
Heart & Soul – Cheshire Cat (Ram Goat)
Freedom Skank – Nat Birchall & Al Breadwinner (Nat Birchall bandcamp)
Thunder Dub – Chip Tanaka (Chip Tanaka bandcamp)
Psidium Guajava – Ibu Selva (Tropical Twista bandcamp)
Saudade (Jin Yerei Remix) – Barrio Lindo (Shika Shaka bandcamp)
Vibr – Skia (Tropical Twista bandcamp)
Huanáco (M.RUX remix) – Barrio Lindo (Shika Shaka bandcamp)
Chuklla (Tribilin Sound Remix) – Waskar Amaru (soundcloud)
Millions and Millions of Palastinions – Duckett (Berceuse Heroique)
Just a Moment (O$vmv$m Version) – Trux (Office Records)
Gilive – DJ Oil (Les Disques de la Mort bandcamp)
Kimono – Benoit B (Wisdom Teeth bandcamp)
Vague à l'Âme – Benoit B (Wisdom Teeth bandcamp)
More to Enjoy – HTRK (Ghostly Intl)
Spear-Thrower Bucket (DJ October Dub Mix) – Walrus (9300 Records)
Pulse – Trux (Office Records)
Dolo 11 – Dolo Percussion (The Trilogy Tapes)
Just a Moment – Trux (Office Records)
Beyond Control – O Yuki Conjugate (Emotional Rescue bandcamp)
Tyrant – Kincaid (Disco Halal)
Whitney Houston and I – Insecure Men (Fat Possum bandcamp)
It's Always Something – Purling Hiss (Drag City bandcamp)
Beat Quest – Oh Sees (Castle Face)
So Deep (Instrumental Version) – Arvo (Strange Love bandcamp)
Mentions – HTRK (Ghostly Intl)
Flutes & Rain: Sunrise Storm – Gulls (Boomarm Nation bandcamp)
March Down Babylon (Version) – The Chosen Brothers (Wackies)
March Down Babylon (Dub) – The Chosen Brothers (Wackies)
36 Oaths – Gaika (Warp)
Come Again – Miss Red (Pressure bandcamp)
The Safest Dub – Jay Glass Dubs (Bercuese Heroique)
Pajaro de la Montaña – IntiNahual (Tropical Twista bandcamp)
Lasers – Bial HClap (Folcore bandcamp)
Addis – Red Axes (!K7)
Friday, like clockwork, I'll be dishing out the damage and playing my kind of hits at Love Bucket from 7. Before then from 6 I'll be spinning an hour down the road at the Thirsty Dog in memory of the great Duncan Campbell. In all honesty I'd be way happier if I never had to play another wake, it's a huge privilege and I'm already searching out – hopefully – just the right dusty records, but it's a miserable business that hammers home what a huge loss his passing is. On the other hand – that hugeness is reflected in a DJ line-up that kicks off at 5 with Blind Mango Chutney for an hour, the Rt Thoroughly Dishonorable Slowdeck !!!!! and (even) Russell Brown (agrees) will be doing 7-8. I shudder to think of the mightyness Dubhead has in store from 8-9 and I shall be expecting to feel the vibrations from Danny Lemon (coming up expressly for this from Wellington, bless) down t'road at LB for an hour from 9. Benny Staples will be heading south for 10-11 and Miss Dom (who deserves some sort of award for all her good doings in this and other DC related matters) & Mark E see things off till 12…. I know Duncan would approve – that is a spectacular DJ line-up and even though I enjoy my Fridays at Love Bucket to the max I'm gutted to miss most of this. Thirsty Dog Tavern, 469 K Road from 5 – come and remember Duncan and the massive legacy he has left in our music, town, culture and country.