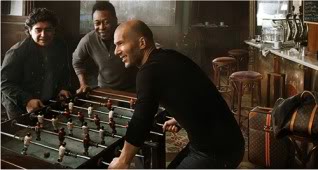 (3 days to go, then game over …or game on)
As Mi Forward – Busy Signal & Million Stylez (Necessary Mayhem)
London – Mr Williamz (Necessary Mayhem)
Better Medz – Tony Curtis & Mister Williamz (Necessary Mayhem)
Jam 1 Riddim – Da Grynch (Necessary Mayhem)
My Walk – Bunji Garlin (Jukeboxx)
Summan' A Gwaan – Bounty Killer & Busy Signal (Jukeboxx)
Let Dem Know – Buju Banton (Jukeboxx)
So Clean – Wayne Marshall (Jukeboxx)
All Who Nuh Kno – Bunju Garlin (Jukeboxx)
Shadow Of Death – 77 Klash (Trouble & Bass)
10 out of 10 – Badness, Gappy Ranks & Maxwell D
Space Dance – Rude Kid (No Hats, No Hoods)
Steelz – LHF/Amen Ra & Double Helix (Keysound)
Black Eyed Susans – Matt Shadetek (Dutty Artz)
Beenie Eyes – Matt Shadetek (Dutty Artz)
Manhattan Timeslip – Matt Shadetek (Dutty Artz)
You Don't Wash (Dub) – Kode9 (Hyperdub)
Luna – Geiom (Soul Motive)
Get Low (Chico Ye Rmx) – Lewis CanCut (Scattermish)
No Need To Run – Kwes (Young Turks)
Cherry Moon – Lorn (Brainfeeder)
Wrong Place – Lorn
Somewhere Else – Ras G & The Afrikan Space Program
Rasquet El Fada (Dance Of Space) – Omar Khorshid (Sublime Frequencies)
Sawah (The Wanderer) – Baligh Hamdi
Dance of The Rice Tresher – The Leon Symphionette (Weltraum Disc)
Jaaneman Jaaneman – Charanjit Singh (Weltraum Disc)
Cumbia Pop – Los Beltons (Vampisoul)
Lobos Al Escape – Los Orientales de Paramonga (Vampisoul)
El Lobo – Wganda Kenya (Soundway)
Guajira Sicodelica – Los Destellos (Vampisoul)
Unicornia (Micachu & The Shapes Rmx) – Connan Mockasin (Phantasy)
Runway, Houses, City, Clouds – Tame Impala (Modular)
Drunk Girls – Wooden Shjips (DFA)
Rachel – Sleigh Bells (N.E.E.T.)
In & Out The UK – Kwes (Young Turks)
Heart (Daedelus Rmx) – Baths (Anticon)
Dust Storm – Clubroot (Lo Dubs)
Sweet Tooth Dub – Jazzsteppa (Studio Rockers)
Mushrooms & Roses – Janelle Monae (Bad Boy)
Every Breath – Paul White (One-Handed Music)
Professional Criminals – Paul White (One-Handed Music)
Wake Up Fucked Up – Lorn
Cumbia Theme – Lewis CanCut (Scattermish)
Ta Travudia (Trapiggio Ciones Rmx) – Rootsman (soundcloud)
Cumbia Rockers 9 – El Sonidero Quilombo (soundcloud)
Roots & Reality (Mykol Orthodox Rmx) – Bounty Killer (Cabeza!)
Juego De Shabba – Joelito
Nonsensical (Uproot Andy Rmx) – Forro In The Dark (Nublu)
Mumbai 2Step (rehashed) – MasCultura Music (bandcamp)
YES INDEED , BEFORE YOU ASK … AROMATHERAPY IS ON THIS THURSDAY, KICKING OFF SOMEWHERE BETWEEN 8 & 9 FOR A SOLID 3 HOURS OR THEREABOUTS… AS EVER FREE, AND THE NICE AND DECENTEST SPOT TO BE ON A CHILLY THURSDAY NIGHT.. T'WOULD BE LOVELY TO SEE YOU…… …. DON'T BE SHY…..
I could have just about done a (I think rather entertaining) whole show of Middle Eastern madness and awesome Arabian styles tonight, but as ever that would have excluded far too much other essential quality tackle. So just a little…. for now.
To continue on that thread and trust me I will be ( gear up listeners because I've been feeling a small obsession coming on with this for a minute), .. here's a primer from the uncredibelievable Omar Khorshid. You can find out more about him here and here and here and here so I'll save my tapping fingers and let you sniff out them links but what you really, really need to know is there is a raft of his material out there, and every album I have by him has delivered at least a fistfull of scorchers… at the very least!
The Sublime Frequencies comp is an ideal kick off (they're out of stock right now but I'm sure resourceful types can resource resourcefully) and don't even start me about some of the other treats in this vein I have stored up for the weeks to come, all hibernational like, for these wintery eves.
Would love to put a buy link but i can't find anywhere that isn't sold out.. there's a reason for that! Check the usuals (Juno, Boomkat, Rush Hour, Turntable Lab etc etc) in a week or two and see if they've got a shipment of goodness 'pon the way. In case you hadn't picked up on it, this gear sends me, big time.