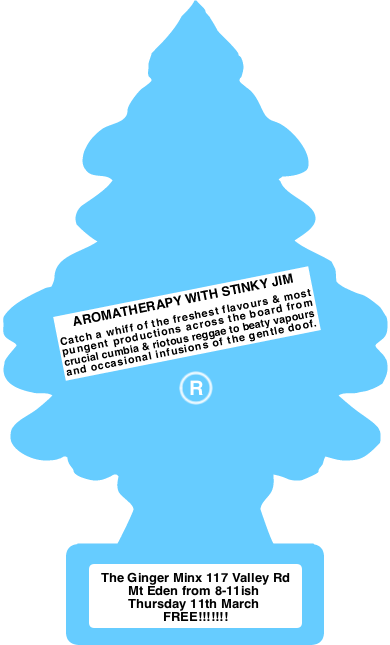 Dem Call The Police – Busy Signal (Kirkledove)
From Nuh Wey – Busy Signal (Kirkledove)
Overall – Busy Signal (Kirkledove)
I Miss U – Karl Morrison (Kirkledove)
Badmine People – Mr Vegas (Kirkledove)
Wey Yu Come From – Degree (Kirkledove)
Rude Boy Remix – Rihanna ft Agent Sasco
Jehovia (Watch Over Me) – Aidonia (Big Ship)
House Top – Mavado (Rose Gold)
Move Dem Up Instro – Jam2 (Jam2)
Rub A Dub Style – Alborosie (Greensleeves)
I Don't Want To Lose You – Paul Whiteman (Pressure Sounds)
Should'nt Say No – Prince Jazzbo (Pressure Sounds)
Columbo – Augustus Pablo (Pressure Sounds)
Rock And Come On Ya – Johnny Osbourne & Papa Tullo (Soul Jazz)
Trenchtown School – Johnny Osbourne (Soul Jazz)
Fiesta En El 23 – Territorio Comanche (Cambuche)
Half Columbian Half Mexican Bandit 2 – Toy Selectah
Saturday Night (Linstead Market) – Carlito Headset
Mi Camino – SDP vs DJ Lengua
Agua E Nieve (Cumbia Cosmonauts Rmx) – Radiokijada (March Music)
Cumbia Colegiala – Copia Doble Systema
Manetro En Menor (Tremor Rmx) – Radiokijada (March Music)
Al Caribe Volveré o La Canción del Náufrago – Pernett
Darker Billy – The Maximalist
Multidial – Starkey (Planet Mu)
Going Down – MRK1 (Studio Rockers)
Wet Wipe Riddim – Ginz & Kool Money Kwame (Earwax)
Out Of Control – The Bug ft Hitomi (Swamp 81)
Resealable Friendship (Slugabed Rmx) Rudi Zygadlo (Planet Mu)
E10 Riddim – Rossi B & Luca (Planet Mu)
Police a Come Run – Rossi B & Luca (Planet Mu)
E10 Riddim – Rossi B & Luca (Planet Mu)
Contact – Wooden Shjips (Sick Thirst)
Escapee – Moon Duo (Woodsist)
Dino – Harmonia (Soul Jazz)
Filmmuzik – E.M.A.K. (Soul Jazz)
The Big Search – George Garanian with The Melodiya Jazz Ensemble (Stones Throw)
Lindo Sonho Delirante – Fabio (Stones Throw)
Biya Bar-e Safar Bandim – Mohammad Nouri (Finders Keepers)
Trip Sideways – The Time & Space Machine (Tirk)
Paradise Rings – 1000 Names (Team Acre)
Discoko – Falty DL (Rush Hour)
White Flag – Gorillaz ft Kano, Bashy etc (EMI)
Plastic Beach – Gorillaz (EMI)
41 Mosqitos (Canyons Rmx) – Tame Impala (Modular)
10000 CCs – Don Froth
See Birds – Balam Acab (TriAngle)
DstryPrfts (Shackleton remix feat Vengeance Tenfold) – Badawi (The Index)
It is a gigantuan week of gigs this week as you can probably tell as this here blog becomes literally littered with fancy flyers exhorting you to come hither and make merry with the finest tunes in your ears.
In short – Thursday is Aromatherapy at the Minx. I missed doing this one last week, even though I did nip in for a swifty on the way home from work and Geezer Guy was doing a most excellent job, as one would expect. Sooo I'll be back on Thursday with tunes a plenty, a double week bonanza of excess freshness, can hardly wait.
Friday is round two with the long awaited return of Bubble Up at Tabac. Star studded line up for this one with Maiden Hong Kong, Gwaan Gal, Jahred and FJ. Expect lashings of JA biz with a side dish of Cumbionic crucialities… delicious.
Saturday ramps up the heat with a double header kicking off with San Francisco's mightiest Wooden Shjips alongside The Expressive Men at Whammy Bar, all being well I'll be wanging down some light footed yet thoroughly leaden gat blazers inbetweens. Expect the best band of psychkrautrocking West Coasters imaginable, at the very least. Will be pranging up the full interview I did with them last year on StinkInc in the next day or two… promise.
Finally the Solid Steel endorsed duo of Boom Monk Ben and DJ Cheeba will be dispensing some A/V THC at Zen, also on Saturday. My good mucker Geezer Guy will also be spinulating as well as Mr Randomplay… should be swell, flyer below.
Will try to drop a post with set times as and when I have 'em.
So all of this prevarication leads me to the track from tonight's show, which in all honesty I know next to nothing about. I do know that Mohammad Nouri is a big cheese in Iranian music, in fact his was just about the only name I had the slightest clue about on the mind bogglingly brilliant Pomegranates on Andy Votel and pals Finders Keepers label. Unless you've got a fully rabid case of diggermylitis I'm sure your jaw will drop, as mine did, at how unmitigatedly groovy and western psych/pop influenced these cuts from Shah-era Iran are. There isn't a duff track on the entire comp and it comes with the highest recommendation I could possibly give. As ever the 192 below is up for a week and the strong suggestion, or possibly implied threat is… this album MUST be bought and perused, it's beyond essential.
Buy CD & Double Vinyl from Finders Keepers
Digital also from FK
FinderKeeperSpace