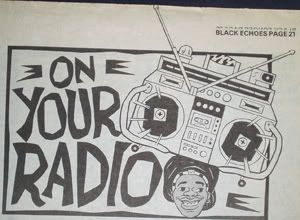 Strange Things – John Holt (Irie Ites)
Strange All Over The World – Trinity (Irie Ites)
Shake It Woman – Junior Kelly (Irie Ites)
Revolution – Sizzla (Irie Ites)
Strange Things Riddim – Mafia & Fluxy (Irie Ites)
Hustler – YT feat Skinnyman (Sativa)
Credit Crunch – YT (Necessary Mayhem)
No Cigarette – Mr Williams (Necessary Mayhem)
Ganja Smoke (In The Air) – Ziggi (Necessary Mayhem)
Hungry – Busy Signal
Gun Class – Aidonia
Country Rum – Bunji Garlin & Hitman (Rum Shop Chutney 8)
Hot Girls – Cutty Ranks (Fat Eyes)
Bad Ras – Major Mackerel (Fat Eyes)
Inna Di Bush – Red Dragon (Fat Eyes)
Tie & Dye Face – Busy Signal
Summer Bounce – Jammy Jam2 James & Stephen McGregor
Forever Dirty – Ghostface Killer
What Do I Do – Raekwon
Dayless Night – K'naan
Death Of Autotune – Jay-Z
In The Space – Janko Nilovic & Dave Sucky (Montpamasse 2000)
Blue Nile – Mulatu Astatke & The Heliocentrics (Strut)
False Flag – Pinch & Moving Ninja (Tectonic)
Junktion (The Shed Remix) – Peverelist (Tectonic)
Forward Youth – RSD (Tectonic)
Bad Mind – Hoodz (Lo Dubs)
Nr. 22 – Moderat (Bpitch Control)
Night (Sonido Del Principe Dub) – Benga & Coki
Broadcaster Version – Lee Perry vs Moody Boys (On-U Sound)
Give It To Me Right Now (Moody Boys Dub) – Melanie Fiona
Kunta Kinte (Kentaro's Tuff Cuts Version) – The Revolutionaries (Pressure Sounds)
Beware(Kentaro's Tuff Cuts Version) – The Revolutionaries (Pressure Sounds)
One Eye Open – Paul White (One Handed Music)
The Offbeat – FLYamSAM
Temper – Dabrye (Ghostly International)
Hustle (Bullion Rmx) – Paul White (One Handed Music)
Pillow – New Folder (Planet Mu)
Ball'r (Madonna Free Zone) – DJ Sprinkles (Mule Music)
Edit Amadou Et Mariam Izotrope – Dakunt
Verdad (Vompleud Rmx) – Fedaden (Nacopajaz)
Don't Let Me Down – Charlotte Dada
Dreams – The Duncan Brothers (Soundway)
Descarga Superior – Los Superiores (Soundway)
Juck Juck Pt 1 – Sir Jablonsky (Soundway)
There are classics… and then there are records that exist in another stratosphere altogether, somewhere beyond. John Holt's 'Strange Things' is one such record, and there was more than a little trepidation (and as a result, delay) in listening to this re-cut version of the Phil Pratt monster original lick. With Mafia & Fluxy on the case I really shouldn't have worried, there's some tasty vocalisers to join the still honey voiced Mr Holt too. I interviewed Mafia a good 15 years ago-ish (for Planet magazine from memory), and he was quite the loveliest bloke with a really interesting viewpoint as a truly intergrated JA/UK producer and in-demand session musician, spending a good chunk of his working time in both places.
I shall spare you the tales of Holt's magical, well after dawn, set in Montego Bay in August 95, and how it will always remain one of the best ever (despite sleep deprivation, and the rest) . However if you can send a track out to someone on a blog, then I shall to Irene, Slowie and Matt in memory of that mighty morning and that whole bizarre week. All the cuts on this rhythm are easily gettable so hit them links and fuck the credit crunch… we all need tunes, more now than ever.
Check the youtubery too, choice to see the Rt Hon Holt still making like a vintage bolt and I love the clip of Mafia, Fluxy, Earl 'Chinna' Smith and Bongo Herman laying down the rhythm, at least until they plunge into cheap&nasty vid fx for a retina retching, mercifully brief passage. There's videos for a whole bunch of the other cuts too on IrieItes channel, nice work!
Buy
the 7″ from Juno or even better check
IrieItesnet
for label direction ackshun and then some.

MafiaAndFluxyspace
Another great shot stinksclusively bought to you by Jason Burgess. This may well have been Sunsplash 94 at Portmore, or possibly a year or two before
.