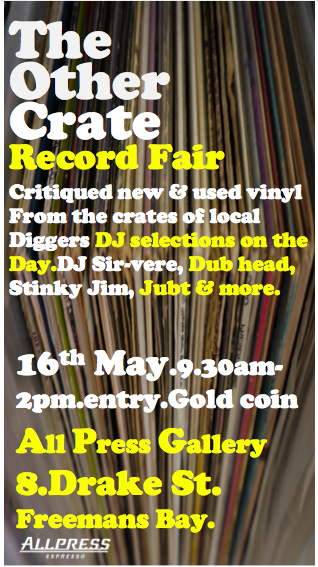 Yes indeed Record Fair this weekend and this should be a good'un. As you can see below we have been digging deeper into the stinking rekid stacks and mining some beauties. I've got quite a few more to go through so this is just the tip of the iceberg. Amongst those in the below pic are 12″s from A Guy Called Gerald, Radiohead, Phuture, original gears on labels like Moving Shadow and Good Looking, box sets from Ninja Tune, Amon Tobin, Howie B and all sorts…
Also LPs from Ennio Morricone, Four Tet, Peter Thomas Sound Orchestar, Studio One in Dub, U Roy, Nigo and DJ Krush alongside 12″s Spritualised, KRS One, Analord (Aphex Twin) and Hexstatic – this is just a sample selection I took out to make a quick snap before heading off to my show, there is plenty more and by Saturday I reckon it will be 3 or 4 crates of (old) newness that I haven't put out for sale before…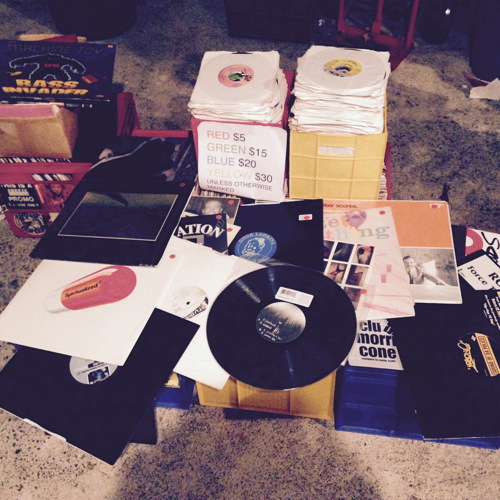 And there's 7″s, 100 or so thus far – I reckon will be 2 or 3 times that by Saturday. As ever they are priced to sell so most 12″s are $5, most single LPs are $10, 7″ will be cheap as chips too. There are a few more pricey items as we've worked through the chaff and this is definitely some wheaty wickedness….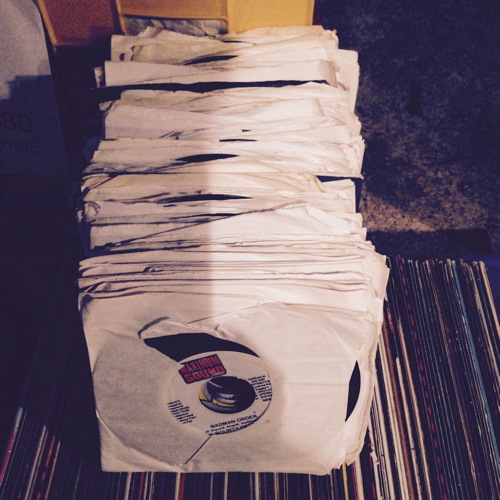 Give Thanks – Mykal Rose (Icedrop)
One More For The Road – Lutan Fyah (Icedrop)
My Confidence – Prezident Brown (Icedrop)
Pass me The Grades – Ward 21(Icedrop)
Judge & Jury – Echo Minott (Icedrop)
Crime Don't Pay – King Kong (Icedrop)
Finally – Jesse Royal (Biggy)
Soundssytem (Version) – Reggae Roast (Reggae Roast)
Pressure – Vybz Kartel (Real Youths)
No Gangsta – Agent Sasco (MLMG)
Rock My Body – Tifa (Mixpak)
Always – Busy Signal (DJ Tropical)
Manolo (Uproot Andy Remix) – Los Gaiteros De San Jacinto (soundcloud)
Arroyo En El Barrio – Uproot Andy (soundcloud)
Kaleidoscopio (Tribilin Sound Remix) – Coconutah & KayGee (bandcamp)
Kumbia De San Juan – DJ GECKO (soundcloud)
BHO (Señor Chancho Remix) – Coconutah &KayGee (bandcamp)
Corazon Enamorado (Tribilin Sound Edit) – Calixto Ochoa y Los Papaupas (soundcloud)
Up High – Cy Gorman (Heard and Felt)
140 Jabs Interlude – Prefuse 73 ft. Milo & Busdriver (Temporary Residence Ltd)
Green Light – Jonwayne ft Anderson Paak (Stones Throw)
Carmen San Diego – Cy Gorman (Heard and Felt)
Jungle Voodoo – Peter Power (Multi Culti)
Dub Of Noise – The Casual Sexists meet Wrongtom (Rongorongo)
First Light (Wrongtom Dub) – Django Django (Because)
Vacation – The Casual Sexists (Rongorongo)
Gyal Cicuit – SEEKERSINTERNATIONAL (Boomarm Nation)
GyalCircuit (Gulls meets SKRS inna BORDERCLASH VERSION) – SEEKERSINTERNATIONAL (Boomarm Nation)
cooltempoDemo2 – user48736353001 (soundcloud)
Cruel Sport – Blanck Mass (Sacred Bones)
No One Is Looking At U – Nicolas Jaar (Other People)
Me And Abra In Ruanda – Red Axes (Hivern)
Mary Louise Lefante – Palmbomen II (Beats In Space)
Playa Los Muertos – Natural Magic (bandcamp)
Wack Wack – Tim Love Lee (Tummy Touch)
Too Hai Phool Main Dali – M. Ashraf & Nahid Akhtar (Finders Keepers)
French Movie Theme – The Holydrug Couple (Sacred Bones)
The Train – Rodion G.A. (BBE)
Swami – Monster Rally (bandcamp)
Breathe Us – Annabel Lee (Ninja Tune)
Annie Gun – Hamacide + ChaCha (bandcamp)
Sao Sakit Mae – The Paradise Bangkok Molam International Band (Zudrangma Records)
Colombe (Polo & Pan Remix) – Turzi (Record Makers)
Jungle Junk – Peter Power (Multi Culti)
Friday night at Verona is back to normal …almost. I will be doing 5-9, Dub will be 9-12 and Timmy Big Stuff is 12-3…. Last week was a scorcher, see you there..