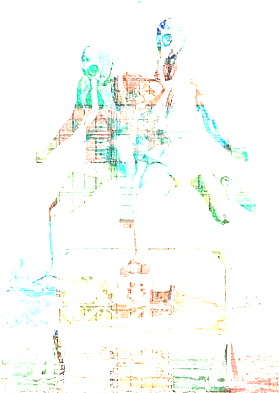 Sweet Collie – I-Wayne (Thriller)
Long white Cloud – Israel Starr ft Awa & Lion Rezz (Bless Up)
Wonder When – Racquel Jones (Rorystonelove)
Jah Jah Solve Dem – Sizzla & Suns of Dub (Iron Gate)
Don't Get Weary – Pinchers & Bounty Killer (XTM. Nation)
Gaia (Prince Fatty dub) – Natty (Vibes And Pressure)
Coming In Hot Dub – Marshall Neeko (Idlers Corner)
Red Hott – Kayla Bliss (XTM. Nation)
And I Love Her (Discomix) – Alton Ellis (Island)
Only A Smile (Discomix) – The Paragons (Island)
Soul Rebel Cumbia (Mr.Landero Remix) – Bob Marley (Cassetteblog)
Chucusteady (Dub Version) – Frente Cumbiero (World Music Network)
Bola Bola en el Tres – Los Wembler's de Iquitos (World Music Network)
La Danza del Mono – Los Orientales de Paramonga (World Music Network)
Geometer (Jonwayne Remix)- Slidecamp (soundcloud)
It's Time For Fun – Goat (Sub Pop)
Diadema para Catalina – Romperayo (Discrepant)
Flex (Zomby Rework) – Gwilym Gold (Hymn)
Shockshock – Umfang (1080p)
Boundary Regulation – Kuedo (Knives)
Kitty Wu (Machinedrum Remix) – Jaga Jazzist (Ninja Tune)
Wagonnist Riddim – Om Unit (Cosmic Bridge)
Ability To Gain Access (Pye Corner Audio Remix) – Not Waving (Emotional Response)
Sacred – Jah Wobble (30 Hertz)
Theme to the Persuaders – Jah Wobble (30 Hertz)
La Visite (Low Jack Remix) – Etienne Jaumet (Versatile)
Stars Shine Like Eyes – Pye Corner Audio (Death Waltz)
Watching You (Extended 3D Mix) – Jean-Michel Jarre & 3D (The Vinyl Factory)
Bonus EMT Beats – AFX (Warp)
Sway Vacay – Potions (100% Silk)
Trust Is Key – Chaos In The CBD (Rhythm Section)
Trains Don't Stop In Brunnen – Francis Juno (Mystic & Quantum)
Bong Ja Bong (Pipe, oh Pipe) – Dao Bandon (EM Japan)
Num Lam Nam Chi (Man from River Chi) – Dao Bandon (EM Japan)
Požuri Polako – Pridjevi (Trouble In Mind)
Ako Je – Pridjevi (Trouble In Mind)
Kantarion (Ili Gospina Trava) – Pridjevi (Trouble In Mind)
Hypnophobia – Jacco Gardner (Trouble In Mind)
Time Loops – ROSCO aka Sterling Roswell (bandcamp)
French Movie Theme – The Holydrug Couple (Sacred Bones)
Saraabe Toe (Your Mirage) – Kourosh Yaghmaei (Light In The Attic)
Sometimes 3 hours isn't nearly enough, tonight was one of those. Should have some exciting Stinky Grooves news by this time next week, in the meantime lap up those sounds and if you are so disposed unscramble the following for Friday frolics – 5-9 14th Roundabout with August Dubhead Verona Magic …. Tricky, eh!