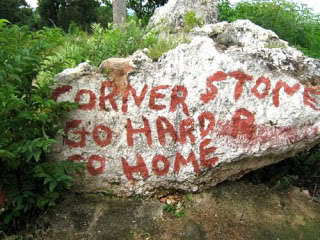 Smiley Culture Tribute – YT & Mr Williamz (Necessary Mayhem)
Drink N Merry – Assassin (Boardhouse)
Give It To Me Proper – Tifa (DJ Frass)
Bam Bam The Sequel Riddim – (Clifford Ray Music)
Cyaan Stop Yuh – Mr Lexx (Clifford Ray Music)
Black & Proud – Mr Vegas (Clifford Ray Music)
Yea Yea – Gyptian (Clifford Ray Music)
Bam Bam The Sequel Riddim – CR Crew (Clifford Ray Music)
Sweet Home – Willi Williams (Dug Out)
Melody Maker – Keith Hudson (Summit)
The Tribulation With Dubulation – Earl Sixteen (Dread At The Controls)
Why Did You Leave Lover – Barbara Jones (GG's)
Pretty Looks Isn't All – The Heptones (Studio One)
A House Is Not A Home – Soul Vendors (Studio One)
Del Puente A La Alameda (Dengue Dengue Dengue Rmx) – Lizandro Meza (soundcloud)
津波神風ーTsunami Kamikaze – Dolomites (soundcloud)
Clandestino (The Peronists Hippie Bass Rmx) – Mano Negra
Di Que No (den5hion Rmx) – Pedro Infame (soundcloud)
Los Poderes (Atrolpolis Rmx) – Rita Indiana (Sony)
Ani Riddim ft Mumdance – Toy Selectah (Mad Decent)
The Goddess (Quiet Village Rmx) – Bubble Club (International Feel)
Cold Hands – Scratch 22 (Round Trip Mars)
Medicine Man Revisited – Scratch 22 (Round Trip Mars)
In The Sun (Purling Hiss Remix) – Moon Duo (Sacred Bones)
Fredag – Dungen (Subliminal Sounds)
Falkenberg (Pilooski Edit) – Discodeine (Dirty)
Graffiti Girls – Parallel Dance Ensemble (Permanent Vacation)
Magnetic Devil ft Afrika Bambaata – Black Devil Disco Club (Lo)
Distrust ft Faris Badwan – Black Devil Disco Club (Lo)
The Biro Pen – Cornershop (Ample Play)
Lima Blues – Bronx River Parkway (Truth & Soul)
Nora Se Va – Bronx River Parkway (Truth & Soul)
Hung Up On My Baby – El Michels Affair (Truth & Soul)
Cocktel Margarita – Los Pancho 5 Hippie
El Alegron – Rosendo Martinez y Su Orquesta (Soundway)
Orchestra Of Spheres (Caribou Edit) – Orchestra Of Spheres (Sound Explorers)
Closer (Pictureplane's No Body Rmx) – Becoming Real (Cold World Industries)
Ribble To Amazon – Julio Bashmore (3024)
Surfer's Hymn (Actress Rmx) – Panda Bear (Paw Tracks)
Casual Diamond (Lauel Halo Rmx) – Sleep ∞ Over (Hippos In Tanks)
Does Frankie Ever Call My Name – Tyrone Ashley's Funky Music Machine (Truth & Soul)
There was a time, just a few years ago when a Stinky Grooves show could barely be considered complete without at least one ludicrously elongated and highly percussive Quiet Village mix of something or other. Then that activity slowed down as they headed towards their Silent Movie album, which seemed like the utter business when it came out, but somehow hasn't proven itself so well in the long run. Still good and all, captures a moment, but not a shade on their distinctive and downright deadly remix style.
So this little gem on Uruguay's invariably on point Interational Feel is welcome relief. It's QV back at their luxurious best, soaking in an extended hot bath of bubbling effects, sub aqua rhythms and a natural ring of subtle sonic dirt. You know the M.O., up for a week lo-fi but you' be doing us all a favour if you just visited Juno and sprung for a copy, like I did, by following this link….