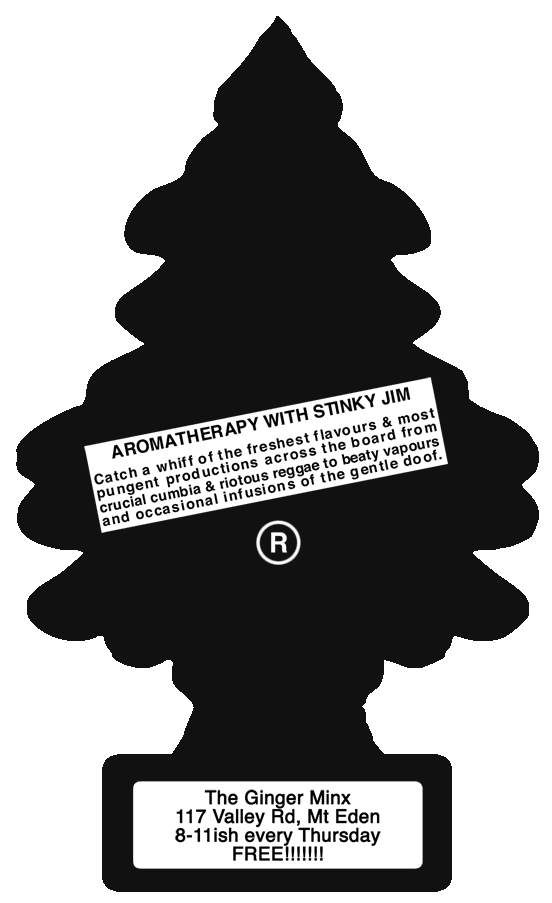 Dun Wid Dem – Busy Signal (Jukeboxx)
Skull Inna Belly – Demarco (Jukeboxx)
Criminal Lawyer – Bugle (Jukeboxx)
Bam Bam – Assasin (Jukeboxx)
Call The Hearse – Busy Signal (Jukeboxx)
High Grade – Busy Signal (Jukeboxx)
Ghetto – Romain Virgo (Jukeboxx)
Mi Homeland – Tarrus Riley (Jukeboxx)
Far East Dub – Penthouse All Stars (Penthouse)
Hold Yuh – Gyptian (VP)
Abrazame – Los Rakas (LosRakasbandcamp)
MIEL – LosRakas (LosRakasbandcamp)
CentroAmerica (Dj Ranks Rmx) – Los Rakas (LosRakasbandcamp)
Bedroom Bully (Mykol Orthodox Rmx) – Shabba Ranks (Cabeza!)
Lots Of Herbs (Mykol Orthodox Rmx) – Junior Kelly (Cabeza!)
Land Of Promise (ft Dennis Brown – Nas & Damian Marley (VP)
Still Splendid – Lotek HiFi
Zions Gate – John John (John John)
Love You To Life (Digital Mystikz Rmx) – Grace Jones (Wall Of Sound)
Shades Of Blue – Guido (Punch Drunk)
Cat In The Window – Guido (Punch Drunk)
I'll Stay – James Blake (R&S)
MmmHmm – Flying Lotus ft Thundercat (Warp)
Coffee – Swindle (Planet Mu)
Hot!!!! – Turbo Sonidero Futuristico (free at XLR8R)
Turbo + Cumbia = Tumbia – Turbo Sonidero Futuristico (free at XLR8R)
Cumbia Del Sal – Cumbia En Moog (Vampi Soul)
Marado Dios – El Hijo De La Cumbia
Stylo (disqueDJ Guarapero Rmx) – Gorillaz
Let's Go Trippin' – Balkan Hot Stepper (BHSsoundcloud)
No Tears To Cry (Leo Zero Rmx) – Paul Weller (Universal)
Blind Alley – Emotions (Fantasy)
Again (Scratch 22 Rmx) – Electric Wire Hustle (Scratch22soundcloud)
Mandy – Ratatat (XL)
Techno Rumba (DJ/rupture & Matt Shadetek Rmx) – Cheif Boima (Dutty Artz)
Forest Of Evil (Dusk) – Demdike Stare (Modern Love)
Ibhithi Wobble Rmx – Doma Tornados (Hipi Duki Muzik)
Dutch Boyz Dancefloor (The Canyons Rmx) – Return To Sender (OTPX)
41 Mojitos Poolside Dub (Canyons Rmx) – Tame Impala (Modular)
Jeffery's Storm – Tame Impala (Modular)
The High Chaparal – Los Holys (Plustapes)
Tango – Guido (Punch Drunk)
Purple Splazsh – Actress (Honest Jons)
Art & Cash (SBSTRK Rmx) – Modeselektor (Get Physical)
Best intentions and all that, I really did intend to update last weeks utterly knackered post…AND do a little review of the two incredible performances we saw by Mulatu Astatke and Melbourne's own Black Jesus Experience…but things took over. A much needed tidy up of the Traktor banks and iTunes stereophonic sprawl, actually ended up taking several days of fairly intense, predominantly dull listening, deciding, tagging etc etc. It threw me and it had to be completely sorted by today for the show, so promise to have that Mulatu review up in the next week…promise!
This week have a little nibble on that latest from Shane Brown and the Jukeboxx camp who've done over the Stalag in a way that's kind of hard not to love. What else needs to be said about this timeless, evergreen rhythm…nowt really. With a full complement of predominantly quality vocalists (though I wouldn't have minded hearing Ward 21's TNT ladies over this too) this is basic rhythmic arithmetic in the very best way possible. Have a graze at my pick (today at least) of the 3 Busy cuts on there (his name is no joke business), and also check out Romain Virgo who continues to impress. This will all be available on iTunes etc so check it when it hits..