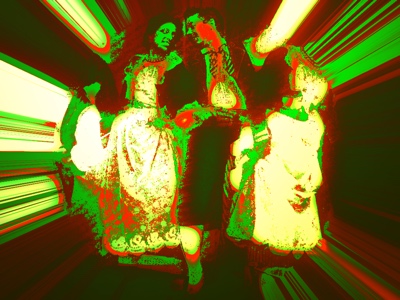 Cats and Girls – Superpitcher (Kompakt bandcamp)
Whats Up Bad Cat – Lloyd Hemmings (Legsman)
Conquer Yuhself – Blind Prophet + Rider Shafique (Dub Stuy bandcamp)
Journey – Zion Train (Universal Egg bandcamp)
Down Like The Ground – wzrdryAV (wzrdryAV bandcamp)
Eko Bay – Ekoplekz (Ekoplekz bandcamp)
Hyperacousis (for Miles) – Jay Glass Dubs (Bokeh Versions)
TINIEBLA DE MEDIA NOCHE – Satanico Dr Trvza + El Cifickzer (soundcloud)
Zombie Dance – Sonido de la Frontera (va31g. bandcamp)
Sabado Cultural – Dick El Demasiado (Staalplaat)
El camino – Digital Hair (Pakapi bandcamp)
HAYABUSA – Ground (ESP Institute bandcamp)
Apres Le Villa 3 – The Woodleigh Research Facility (Rotters Golf Club)
The Universe Is Indifferent – Amarcord (Ombra Intl bandcamp)
FUNGI DANCE – Ellll (Femme Culture bandcamp)
Body Series – BOA (Styles Upon Styles bandcamp)
Wolf (John Talabot's Materia Dub) – Darkstar (Warp)
Night Train (Peza Dub) – Martin Eve + Jon Fugler (Tici Taci)
WAKUSEI Y – Ground + SINKICHI & KABAMIX (ESP Institute bandcamp)
Necula (Pigmaliao Remix) – Billy Bogus (Pizzico Records bandcamp)
Bells – Blame (Resources bandcamp)
Inside – Lack (Livity Sound)
Extra Warm – Upsammy (Nous'klaer Audio)
Noise Water – Ido Plumes (Livity Sound bandcamp)
Palmas – K-Lone (Wisdom Teeth bandcamp)
Concrete Pony – ghostpoet (Play It Again Sam bandcamp)
Venus Alice in Dub [Mikrokosmos Remix] – Kid Loco + Crayola Lectern (Wagram Music)
Human Fly – Zeus! + Mike Patton (va31g. bandcamp)
Until We're Done – Jonathan Bree (Lil Chief bandcamp)
Don't Leave Me Baby – Dino Bazan & The Dell Tones (Numero Group)
Juicy Fruit – Christine Lewin (Athens Of The North bandcamp)
Ghostland [2008] – Kode9 + The Spaceape x Mala (Kode9 bandcamp)
Heavy Lies the Crown – Pugilist (Trule bandcamp)
Tanka Riddim – Blazer Sound System (Efficient Space bandcamp)
Eternal Ballroom – The Woodleigh Research Facility (The Woodleigh Research Facility bandcamp)
Lockdown 01 (Low Swung Duster) – The Woodleigh Research Facility (The Woodleigh Research Facility bandcamp)
Stase aiff.