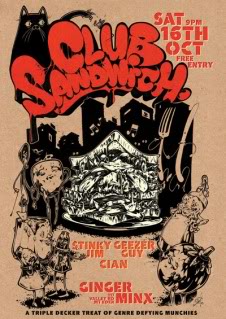 THAT'S RIGHT!!! CLUB SANDWICH THIS SATURDAY AT THE GINGER MINX FROM 9PM. GEEZER GUY, CIAN & YOURS TRULY SLANGING THE TUNES AND SLINGING THE RHYTHMS.. ABSOLUTELY FREEEEEEEEEEE… LOVE TO SEE YOU THERE (AND AROMATHERAPY AS EVER THIS THURSDAY FROM 8.30-ISH)
As Mi Forward – Busy Signal, Etana, Netna etc (Necessary Mayhem)
Breeze (Goldplate) – General Levy (Necessary Mayhem)
Dash It Better – Joey Fever (Necessary Mayhem)
Done Brutality – Glmma Kid (Necessary Mayhem)
Sess Weh Yu Want – Top Cat (Necessary Mayhem)
Jam – Da Grynch (Necessary Mayhem)
Shaolin Temple (Ugly Dub) – Da Grynch (Necessary Mayhem)
Keep It Real – Cocoa Tea ( J Rod)
Get Real – Capleton (J Rod)
Under Fire – Konshens & Tifa (Fat Eyes)
Anything – Natalie Storm (Fat Eyes)
Like A Gypsy – Kenyatta Fire (Kenyatta Fire)
Hush (Iggy Iggy) (Douster Rmx) – Tim Turbo ft Spoek Mathambo/Gnucci Banana (Big-N-Hairy)
Pengeleng – Busy Signal (Loud Disturbance)
Matty Belly – Kimanda (Loud Disturbance)
Oye Pappi – Mercci (Loud Disturbance)
Yengeh Riddim – Mafia McKoy (Loud Disturbance)
Gaeton – Collateral Soundtrack (soundcloud)
Stanley & Stuff (Copia Doble Rmx) – System (Rump Recordings)
Cumbia Kikuchi – Greenwood Rhythm Coalition (Names You Can Trust)
Capricorn One (Mixterpan Rmx) Anti-Pop Consortium (soundcloud)
Not Paid Enough (DJ Kentaro Rmx) – Coldcut (Ninja Tune)
Only You – Dam Native (Heart)
Shapeshift (Instrumental) – The Dells (Big Dada)
Archipeligo – Teebs (All City)
One Question Remains – $.99 Dreams ($.99 Dreams)
Broken Fingers (Original Version) – Ronny & Renzo (King Kung Foo)
Hearts – oOoOO (Tri Angle)
Kadermin Oyunu – Adja Pekkan (Bazouki Joe)
Dokus Sekiz – Okay Temiz (Bazouki Joe)
Bardo Thodol – Demdike Stare (Modern Love)
Deliver The Weird (Dorian Concept Rmx) – Clifford Gilberto (Ninja Tune)
Bozak – Frisvold & Lindbaek (Full Pupp)
Spak & Spenning – Frisvold & Lindbaek (Full Pupp)
Electric To Me Turn – Bruce Haack (Stones Throw)
Meteorite – $.99 Dreams ($.99 Dreams)
Neko – Rustie (Warp)
The King – Bruce Haack (Stones Throw)
Don't You Think I Do – James Blake (R&S)
Golden Moments – Kyle Hall (Ninja Tune)
Hang On (Kinky Electric Noise Chicha Rmx) – Unitone HiFi (Round Trip Mars)
Hang On (Unitone Remix of K.E.N. Chicha Rmx) – Unitone HiFi (Round Trip Mars)
Ofterschwang – Juergen Paape (Kompakt)
Like A Chicken – The Witch (Now Again)
Cumbia y Guitarra – Los Mirlos (INS)
El Hueleguiso – Manzanita y su Comjunto (Barbes)
El Platanito – Los Dinamicos Del Ritmo (Safari)
Free To Funk – Sub Version (Soul Jazz)
Had hoped to have Lloyd Miller and Malcolm Catto interview stuff up here by now, not to mention an Aloe Blacc natter that was scheduled for Real Groove (RIP) – but life has a habit of getting in the way. I vow that I'll have at least a chunk of one of them up tomorrow come rain or shine (not that weather has anything to do with my promiscuity on the procrastinatory tip).
To keep you nourished in the meantime here's something that ties in rather nicely to the Malcolm Catto biz, as the nearest thing I can think of to compare $.99 Dreams to is the stunning and elusive 10″ project MRR-ADM he was involved in a year or two back. This Brooklyn duo, Matt Crane and Adam Diller, are similarly al fresco when it comes to song structure and seismic synth squiggles over terrifyingly tasty drums, and there's just a relaxed (not to mention space bound) vibe to their gear that frankly… me gusto mucho. As you might guess from their name and the stratospheric slice below, there's also a touch of the op shop and dusty digulatory doings in their sonic stew, and that's as welcome as a proper oper, no clauses, summer's day round these parts right now. As in very.
They have a few releases which you can find through their bandcamp or website or even their myspace, so you know the M.O., dip your toe in with the treat below then fully submerge …avec le wallet…and support the bleeding artists dem.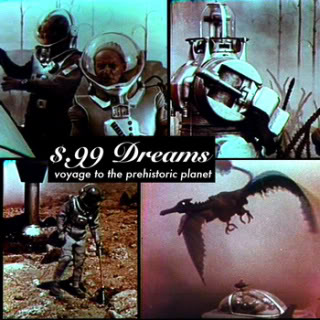 Hopefully see you Saturday for a crust-free, crucial cracker with Cian and Geezer Guy, or Thursday for the regular administration of Aromatherapy- or failing that, back here for a dose of Lloyd Miller/Heliocentrics hoo-ha, chattery and stuff on Wednesday (which it already is).