Wow Its Now – Luke Vibert (Speed Of Sound)
Rubiscube – Fulgeance (Musique Large)
One Ting (Dabrye Rmx) – King Midas Sound (Hyperdub)
Sleeping Bear Lament (James Pants Rmx) – Architeq (Tirk)
Concertina Turner – Luke Vibert (Speed Of Sound)
200 – Diplo (Big Dada)
Powder Room – The Knux (Interscope)
Follow The Leader – X Rabit & DMC$ (Big Dada)
Geek To The Beat – Zion I (Gold Dust)
Cruise Low – Thunderheist (Big Dada)
Graffiti Girls – Coco Solid (Coco Solid)
I Got Da Feeling – Sweet Tee (Soul Jazz)
Slept On Tony – Ghostface Killer (Def Jam)
Bombs – Onra (Favourite)
Wise Up – Busy Signal
All About My Money – Busy Signal
I Slept With Your Sister – Sadiki
I Fucked Your Girl – Busy Signal
Brooklyn – MC Lyte
Tickle Me Dub – Stromba (Fat Cat)
Sweet Love For Planet Earth (Andrew Weatherall Rmx) – Fuck Buttons (ATP)
Spread The Hot Potato (Andrew Weatherall Rmx) – Radical Majic (Rotters Golf Club)
3 'Dudes' On A Harbour – Rune Lindbaek (Drum Island)
Hai Samurai (Pilooski Edit) – Tony Carey (Dirty)
Green Ranger – LV (2nd Drop)
The Lie (LV Rmx) – Zomby (Ramp)
Bad – Kode9 & LD (Hyperdub)
Brooklyn Anthem – Shadetek ft 77Klash & Jahdna Blakkamore (Sound Ink)
Go Round Payola – Jahdan Blakkamore (Dutty Artz)
Payola Riddim – Sahdetek (Dutty Artz)
Indian Summer – Chicha Libre (Barbes)
Lamento En La Salva – Los Mirtos (Mixtape)
Popcorn Andino – Chicha Libre (Barbes)
Aki Special (Uproot Andy Rmx) – Uproot Andy
Brooklyn Cumbia – Uproot Andy
Incoming – Cumbianauts
Septic Skank – Stromba (Fat Cat)
Fuersattel – Boozoo Bajou (K7!)
Memories – Noel Ellis (Light In The Attic)
Kingstep (Unitone HiFi Dub) – Overproof Soundsystem
And this weeks morsel-ette is not quite the track that I played, it is instead the original of  'The Lie' rather than the stonking LV remix that I spun with much delight this evening. I'm not sure if I'm down with Zomby's rave influenced tackle but he is certainly stirring my pot with his recent 12″s on Ramp and Hyperdub. This scorcher made a big initial impression and hasn't let up, it just gets better…Enjoy.
(
buy
)
(
Zombyspace
)
(
RampRecordingspace
)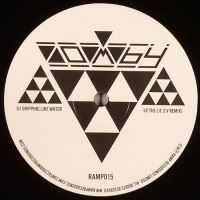 THE LIE – ZOMBY