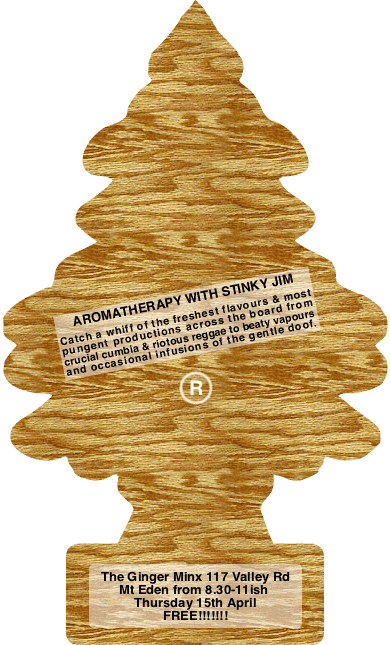 Lost/Early Mob/Your Coat – LV & Josh Idehen (Keysound)
Maybes (James Blake Rmx) – Mount Kimbie (Hot Flush)
The Only Way Up (Ikonika Rmx) – Egyptrixx (Night Slugs)
Seas Of Disease (LV Remix) – El Rakkas (Lo Dubs)
Come With Me (Sabbo Rmx) – Jahdan Blakkamoore (Dutty Artz)
Life – Gappy Ranks & Million Styles (Macro Beats)
Clarks – Vybz Kartel (Head Concussion)
Dem A Pree – Mr Lexx (Ward 21)
Me A Go Fi Mine – Agent Sasco (Ward 21)
Reject – Tifa (Ward 21)
Barbwire – Nora Dean (Trojan)
Angie La La (Ay Ay Ay) – Nora Dean (Treasure Isle)
AAA – Pilooski (Rvng Of The Nrds)
Antiguos Duen Os De Las Flechas – Doma Tornados (Hipi Duki Muzik)
Te Metiste con Migo Parajito (Pernett Rmx) – El Hacha (pernett soundcloud)
Blue Monday – Pernett (pernett soundcloud )
Soloina (Pasternak Rmx) – Lulacruza (Lulacruza bandcamp)
La Rata – Lido Pimienta (Lido Pimienta myspace)
Township Funk Cumbiero – Nice Noise/DJ Mujava
Anchor Records – Paul White (One Handed Music)
Start Something – Pursuit Grooves (Tectonic)
Me Gusto ft Chico Mann – Mexicans With Guns (Stones Throw)
Listen – Space Invadas (Invada)
Skies Over Cairo – Django Django (Django Django Bandcamp)
Solitude Is Bliss – Tame Impala (Modular)
God Save The Queen – 14Bis (Stones Throw)
Tema De Batman – Celio Balana (Stones Throw)
The Big Search -George Garanian with The Melodiya Jazz Ensemble (Stones Throw)
Walk It/Face Of God – LV & Josh Idehen (Keysound)
Fallen Hero (Mark E Dub) – Nu Frequency ft Ben Ono (Rebirth)
You – Gold Panda (Notown)
The Lonely Moan – Besnard Lakes (Jagjaguwar),
New Chugga Freestyle Instrumental – Chanes (Chanes bandcamp)
The Bright Future – Paul White (One Handed Music)
Doble Troble (Chico Mann Rmx) – Copia Doble System (Urban World)
10000 CCs – Don Froth (Phonica)
Me Gusto (Ghosts On Tape Rmx) – Mexicans With Guns (Stones Throw)
Up for your perusal and adoption this week is a pearler that I've been itching to get my hands on for a Sandringham minute (well if New York can have a minute, why can't we?). It's that man Pilooski, the French, in fact let's broaden that and say European… Rey de Edits. This time around he's taking his trusty stereophonic scalpel to a personal favourite of mine, 'Angie La La (Ay Ay Ay)' by Nora Dean. Originally issued on Treasure Isle in 1969 as the b-side to U Roy's staggering 'Tom Drunk', you simply have to wonder what Nora (and everyone else) was on that day. Actually talking of Treasure Isle I had a well interesting chat and interview with Duke Reid's nephew, Errol Brown last week. You might expect a bit of attitude from a feller who has engineered and mixed stuff like Treasure Isle In Dub and albums from Culture, Prince Fari etc etc and some bloke called Bob Marley and progeny, but he was ultra delightful and had a few good yarns to spin. He was over here producing House Of Shem's album, and that was the connection for the interview so it will be appearing in print later this year, after that we'll have some directors cut, unexpurgated business up here. Naturally I plugged him on the activities of his son Shane who runs the excellent Jukeboxx label and manages Busy Signal, amongst others.
But I digress. Pilooski has dealt to 'Angie La La' proper, spinning it out into a right old odyssey and since this is from a sold out vinyl pressing (with no legit downloads I've been able to find) and the last record in the 'Rvng Of The Nrds' series, I've wanged up the 320. For good measure there's also Norma's tripped out Treasure Isle original below but thats a middling manky 192kbps artefact because you can and should buy it on the 'Queens Of Jamaica – The Ladies Who Made Reggae' album on Jah Slams which is easily the match of many more celebrated comps on fancier labels. Seriously… search it out and you will not be disappointed.
7″ repress of Nora Dean original at Phonica
There's a couple of copies at Conch but 'Rvng Of The Nrds Vol 10' is pretty much sold out most places, so snooze and lose!
Pilooskispace
Below- Pilooski looks like a man who can't wait for Movember, how French. Look out for his Discodiene album which is imminent and includes Jarvis Cocker on the guest list.