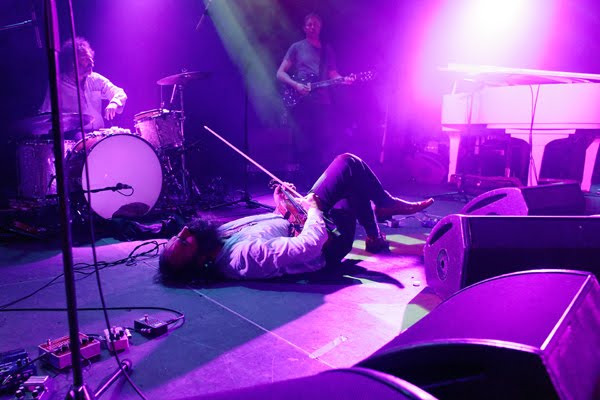 Tun Up – Cham (First Name Music)
Hot – Agent Sasco (First Name Music)
Body Great – Spice (First Name Music)
Bubble Gal – Bling Dawg (First Name Music)
Tun Up Riddim Instrumental – Dave Kelly (First Name Music)
Drop It (Like U Doin It) – Cham (Coppershot)
Real Spenders (DJ Theory Rmx) – Busy Signal (soundcloud)
Royal Night – Busy Signal (VP)
Nuh Dead – Lady G (Joe Frasier)
Every Way – Courtney John (Joe Frasier)
School Days – Gappy Ranks (Joe Frasier)
In My Arms – Beres Hammond (Fat Eyes)
Di Cheese – Mungo's HiFi ft Skweeka Mouse (soundcloud)
Brest Bay – Stand High Patrol (Stand High)
Midnight Walkers – Stand High Patrol (Stand High)
Fanfaria (El Barba Dub Rmx) – Circo Vulkano (free)
Copenhagen (Trentmoller Rmx/Copia Doble Systema Cumbia Fix) – Sods (soundcloud)
Un Pirata Soy (El Timbe Rmx) – Super Gauchin (soundcloud)
A Tale Of Life Pt 3 – Ghost (bandcamp) released Monday March 19th
Nightmares III – Open Mike Eagle ft Illogic & MarQ Spekt (free)
Auntie Maria's Crib (The Neapolitan Remix) – Nitty Scott, MC feat. Action Bronson & The Kid Daytona (Just The Way I Was Raised Music)
Sh*t Got Crazy – A.Dd+ (soundcloud)
The Full Retard – El-P (Fat Possum)
Shorty Swing My Way (BALAM ACAB Remix) – K.P. & Envyi (Fader)
MARS – Cormega ft Action Bronson, Roc Marciano & Saigon (Clockwork)
The Microphone – The Alchemist (Decon Inc)
The Radcliffe (King Britt's Smoke Out Rmx) – Mulatu Astatke (Mochilla)
The Chase – Fhloston Paradigm (Hyperdub)
Jumping Balls – Klaus Weiss (Fat City)
Metrotopy – Mouse On Mars (Monkeytown)
Unforgotten Town – Belbury Poly (Ghost Box)
Supreme Architecture – Double Helix (Keysound)
Rising Below – Dirty Three (Drag City)
Ashen Snow – Dirty Three (Drag City)
Memory Band – Rotary Connection (Cadet)
The Salt Of The Earth – Rotary Connection (Cadet)
Moonlight Mile – Lee Fields & The Expressions (Truth & Soul)
Country Song – The Men (Sacred Bones)
Hole In My Hand – Doug Jerebine (Drag City)
I Don't Like – Lee Jung Hwa/Shin Joong Hyun (Light In The Attic)
Light Stakeout Pt1 – New York Trouble (Tummy Touch)
Apache – Rod Hunter (Fat City)
Splot – Karl Jenkins & Soft Machine (Fat City)
Baustellenmusik – Bruno Spoerri (Fat City)
JS8 – My Panda Shall Fly & Benjamin Jackson (Five Easy Pieces)
Syncropticians – Mouse On Mars (Monkeytown)
Candy – The Men (Sacred Bones)
Well as you may have detected – somewhat excited about the prospect of Dirty Three and Endless Boogie tomorrow night at the Powerstation. This one is as they say a no brainer!! Shame that Doug Jerebine's free gig is on at the Kings Arms on the same night but… such is life and as wicked as his finally released album is the action on Mount Eden Road promises much muchness..Hurrah!! see you on the headnod floor.
Next week Gin takes the controls as I'll be away…… you're in safe hands.