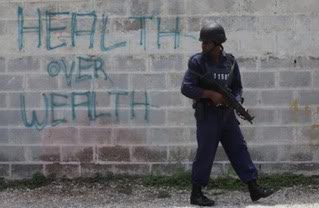 Rome, Rome – Sugar Minott (Black Roots)
Come Sister Come – Sugar Minott (Black Roots)
Wicked Ago Feel It – Sugar Minott (Wackies)
Herbman Hustling – Sugar Minott (Taxi)
Front Line – Sugar Minott (Greensleeves)
Africa Is The Black Mans Home – Sugar Minott (Jabba Roots)
Africa Is The Black Mans Version – Sugar Minott (Jabba Roots)
Rub A Dub Style – Sugar Minott & Hollowpoint (Loud Disturbance)
Mr Landlord – Admiral Tibet (Loud Disturbance)
Money Train – Gappy Ranks (Loud Disturbance)
Dubplate Style – Hawkeye (Loud Disturbance)
50 Pound – Richie Brema (Loud Disturbance)
50 Pound Riddim Dub – Mafia McKoy Tha Blaqk Sheep (Loud Disturbance)
Opera – Busy Signal (VP)
Stink Ah Road (Platta Soca Refix) – Konshens
Bacardi Cola (El Hijo De La Cumbia Remix 1) – Irie Maffia (Shiftin' Gears)
Los Poderes – Rita Indiana Y Los Misterios (Dutty Artz)
Deportes – Chancha Via Circuito (ZZK)
Basta Ya (Todos Somos Inmigrantes) – El Remolon ft Lido Pimienta (ZZK)
Quimey Neuquen (Chancha Via Circuito remix) – Jose Larralde (ZZK)
La Colorada (Super Guachin Rmx) – Pibes Chorros (soundcloud)
Los Pajaritos (Feeling Edit) – Erick Rincon (soundcloud)
Mujeres – El Remolon (ZZK)
Stop The Party (Remix) – Busta Rhymes ft TI, Cam'ron, Ghostface & DMX (The Conglomerate)
Get Wild – Kano ft Aidonia & Wiley (Bigger Picture Music)
Karibu Ya Bintou (ft Konono No 1) – Baloji (Kraked)
Yaya ft Larose (Chief Boima Rmx) – Mr OK (Malacism)
Bonus Beat – Onra (All City)
Postcards From The Edge – Ghost (Musicforheads)
Ode To AMDM – Ghost (Musicforheads)
Foundational Dub (Headhunter Rmx) – Dubkasm (Sufferahs Choice)
Dem Outtta Here – Process Rebel (Subinfinity)
Strength In Numbers – Matt Shadetek (Dutty Artz)
Eyez – Digital Mystikz (DMZ)
Crosseyed – Albert (Studio Rockers)
The Slump – Parriah (R&S)
Looking In – LA Vampires Meets Zola Jesus (Not Not Fun)
No No No – LA Vampires Meets Zola Jesus (Not Not Fun)
Traffic Jam – Toog (Karaoke Kalk)
Lord What A Wonderful World – Luie Luie (Companion)
Ghost Riders In The Sky – Dan Bau Vietnam (Trikont)
Ill Equipped And Assimilated – The Drab Doo Riffs (Drab Music)
Seven Down Six Across – Allez Allez (RVNG Intl)
Future Echo – The Oscillation (All Time Low)
Hokay before I start need to mention that there's a couple of additions to the Tame Impala post below, found the original original transcript and there was a couple of things I'd missed that were worth including. (Oi chucked 'em in at the end being the delicate artiste Iyam)
The photo (from the recent JA unrest/curfews/madness) is a little appropriate as I could do with a bit of health right now, the wealth wouldn't go amiss either. I've thrown all me crook energies into getting the Matt Shadetek interview sorted out which is in the post below with a track from 'Flowers' that I played tonight and a little bonus too (thanks to Matt for letting us do that).
Enjoy and I'll be back when I'm right, or at least a bit weller ( though I'm more of the Phlegmphather than the Modfather right now).
Jolly good , as you were……