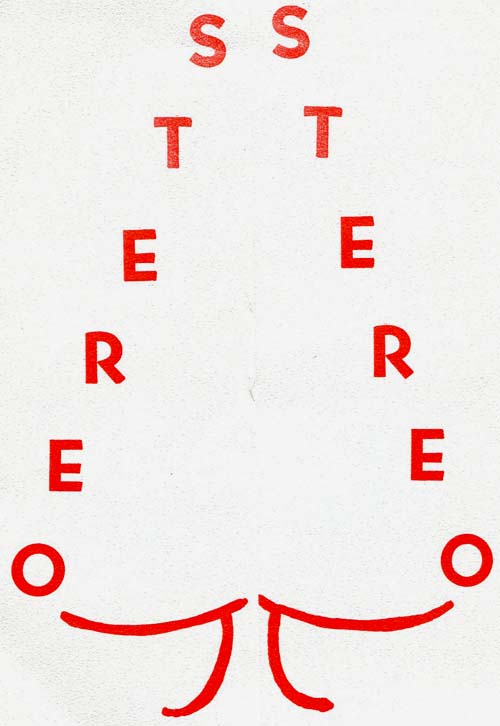 Jah Army – Stephen Marley ft Damian Marley
Bill – Tifa
Girls Dem Love Me – Erup (Bread Back)
Stinkin Rich Rmx – Gappy Ranks ft Kibaki (Daseca)
My Sound – Skarra Mucci ft Weedy G Soundforce (Weedy G Soundforce)
Mack Daddy's Girls – Mikey Jarrett (Mercury)
Bullit – Seanie T (suspectpackages.com)
Benefit (Scratch 22 Club Mix) – Homebrew
Int'l Players Anthem (Instro) – UGK ft Outkast (Zomba)
Amatuer – Unitone HiFi ft Coco Solid (Round Trip Mars)
Skylurking – Jefferson Belt (Round Trip Mars)
Sideshow Viewing – Mycroft Holmes (Round Trip Mars)
Plastic Beach – Gorillaz ft Paul Simonon & Mick Jones (EMI)
To Binge Gorillaz ft Little Dragon (EMI)
Twice – 16Bit ft Little Dragon
Phaseone – Rightwrong (Lefse)
Abeng Dub – Scientist vs Kode9 & Spaceape (Tectonic)
Shottas (Camo UFOs Remix) – Munchi
Galang So – Wildlife! ft Major Mackerel (bandcamp)
Revolution Riddim – Ove Naxx (Metro Dub)
Triple Agent – Stinky Jim (Round Trip Mars)
Lam Plearn Toh Lom Nhao – Yenjit Porntawi (Soundway)
Fai Yen – Ream Darano (Soundway)
Cmby'ah – Pwedza (soundcloud)
Desire (Moodymann Rmx) – Jose James (Brownswood)
New York Is Killing Me (Jamie xx Rmx) – Gil Scot Heron (XL)
There's A Hand/Forcefields Of Love – Lonely God (Round Trip Mars)
Young Montana ? Version – Astro Nautico (bandcamp)
How Would U KNow – LA Vampires ft Matrix Metals (Not Not Fun)
Silver Bells – Moon Duo (Holy Mountain)
Mavi Septet – Hayvanlar Alemi (Sublime Frequencies)
Window Rattle – Scratch 22 (Round Trip Mars)
Queen Of Puddings – Moon Wiring Club (Ghost Box)
The Queen Speaks – Moon Wiring Club (Ghost Box)
Acker – Mr Hayday
Push Am – Banana Clipz (Bersa Discos/Ghetto Bassquake)
All me saying is being said over at www.roundtripmars.com so head on over Rover. Normal service will be resumed soonish.
Aromatherapy going on this Thursday and on Saturday it's the Minx's Summer Party… biiiiig line-up. Check out the flyer below, I'll be spinning 9-10.30..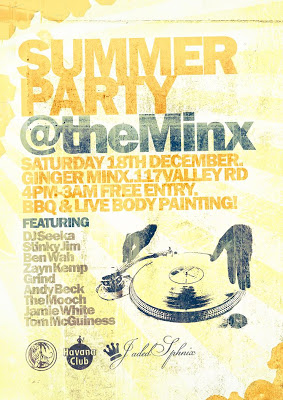 Next week, for once I don't think you should be listening to Stinky Grooves if you're a domestic, local AK type person. Instead you should be repairing yourself to the Vector Arena to check out the stagestravaganza that is the Gorillaz live show. The fact that Little Dragon are supporting (as well as featuring later on) should be a major enticement and then when you throw in Mick Jones & Paul Simonon (!!!!!!!!!!!!!!!), the Hypnotic Brass Ensemble guys, Kano & Bashy, Gruff Rhys, Bobby Womack, Shaun Ryder, National Orchestra for Arabic Music… oh yeah and De La Soul, well it's almost a bit silly.
Got to say my respect for Damon Albarn grows with every project he's involved in and interviewing him and Jamie Hewlitt about their Monkey opera/album/ting for the Listener a couple of years back, was a real privilege.
This will be a stormer, and I strongly suggest you don't miss out and regret it later…