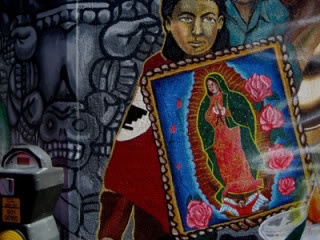 The General (Ticklah Rmx) – Jahdan Blakkamoore (Lion Dub)
The General (Ticklah Dub Rmx) – Jahdan Blakkamoore (Lion Dub)
Good Enough – Major Lazers ft Collie Buddz (Mad Decent)
Siddung Pon It – Tanya Stephens
Food Fi The Pot – Busy Signal (Penthouse)
Guilty Mouth – Mr G (Penthouse)
Duck Rhythm – Steely & Clevie (King Jammys)
Duck Rhythm – Steely & Clevie (Penthouse)
More Fire From Colombiafrica – The Mystic Orchestra (Riverboat)
Nacido En Palenque – Luis Towers (Palenque)
Poquito de Amor – Maria y Jose (Grabaciones Amor)
El Sonidito Rmx (Maria y Jose Rmx) – Hechiceros Band
Por Que Me Mientes – Barbero 507 ft Tsunami Ossua (Monobeat)
Cumbiar – Knight Magic
Kalima Shop Titi (Lagartijeando Rmx) – Poirier ft Boogat (ZZK)
Tamborito Breaks – Barney Iller
Half Colombian Half Mexican Bandit 2 – Toy Selectah
Chicha Love (Toy Selectah Rmx) – Los Chinches
Poppin Corn Guaracha – Spike Devil Disco
Chase The Cumbia Devil – Tupolev Soundcrash
Jewish Experience (Mexican Institue Of Sound) – Gershon Kingsley
Holy Are You – Rakim (Ra Records)
Me And The Devil – Gil Scott-Heron (XL)
Treacherous Disciple – Scalper (Like Water)
Changement – Debruit (Civil Music)
One Of these Days – The Q4
She's Gone – Gonjasufi (Warp)
Tricky Turtle – Blockhead (Ninja Tune)
Chemise (The Time & Space Machine) – Sorcerer (Tirk)
Rushing To Paradise (DJ Harvey Streets Rmx) – House of House (House Of House)
Peap Svm I Hsim I -Hrdvsion (Living Records)
White Wish – Secret Circuit
Timekeeper (Dave Aju Rmx) – Clouds (Ramp)
Un Dimanche Sans Fin – I Cube (Versatile)
Snake (Mexicans With Guns Rmx) – Oy (Creaked)
Maria Purisma – Maria y Jose (Grabaciones Amor)
Rotolock – Daphne Oram (Paradigm Discs)
My Way – jj with Lil Wayne (Secretly Canadian)
Voi Parlate, lo Gioco – jj (Secretly Candian)
Hamada -Easy & Centre Of Universe (Harmonia)
Automating – Darkstar
Skylarking (Instr) – Jefferson Belt (Round Trip Mars)
Horiz Kru – Don Froth (Funky Fella Crew)
Starfox – Kuedo (Planet Mu)
Sketches (SBTRKT Rmx) – Fantastic Mr Fox (Black Acre)
If I – Fantastic Mr Fox (Black Acre)
Zx81 – D Bridge (Fat City)
Os Veix3 – Autechre (Warp)
Wild Things – Richard Sen & Cazbee (Mixed Blood Cuts)
Diabolic Man Instrumental – Diabloic Man (Light Sound Dimension)
Run – Parallel Dance Ensemble (Red Bull)
51 tunes in 3 hours tonight which is a fair bash for a muggy old night in AK town. So much else that I wanted to play, including a bunch that I bought last night that simply got the snob amongst tonight estrellatatsique excellence.
I'm going to fling a track downstairs (as it were) but this whole album is available for nix, so take a taste but please do take the hint and check out the whole record.. it's a pearler. The work of mucho talented Mexican Antonio Jimenez 'Espiritu Invisible' is a right tardis of a record -there's a lot more in there than you first think. There's a whole heap of South American currents running through it, but in a very untypical way with African rhythms, indie, glo-fi (can't believe I just said that) and well contemp. electronic flavours, all battling it out with the kitchen sink and the crucifix.
I love it, even if I'm not doing a great job of describing it.
In the process of writing this I've decided it's mandatory to stick at least a couple of tracks up, as that will only give you the merest hint of the all-over-the-shop yet strangely coherent hoo-ha within. The artwork is worthy of the DL alone and check his Soundcloud page where I first bucked up on his gear, there's an altogether different new track streaming that he whanged up just today.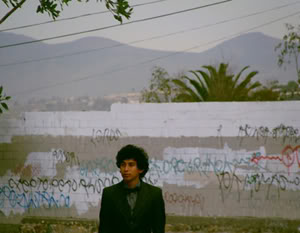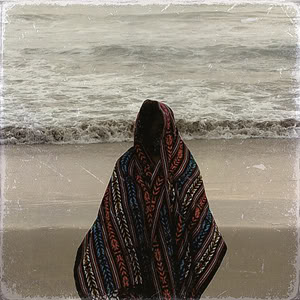 Download the whole album here or also FLAC style as well here