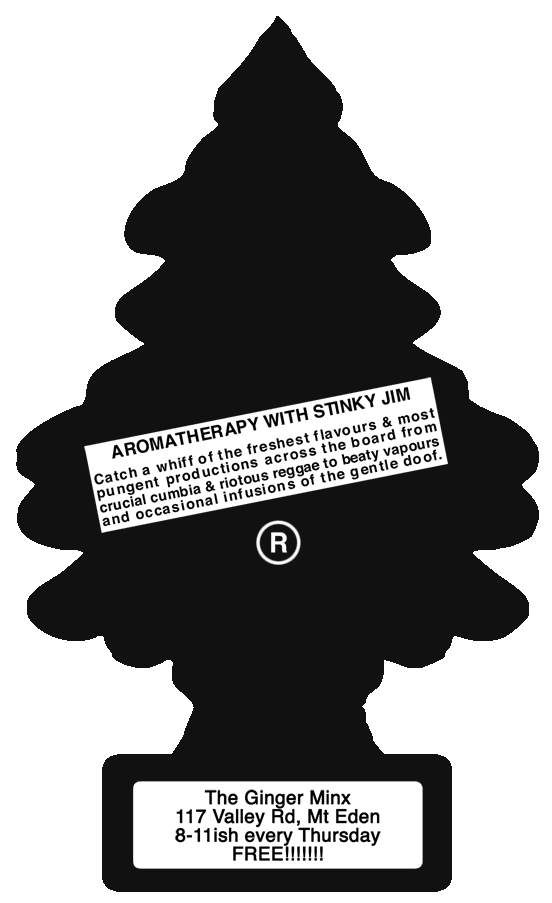 Colour Barrier – LeRoy Brown (Makasound)
No Dub Like Dis Ya Dub – Selassie I Rockers (Makasound)
Take Us To Africa (Lewis Can Cut Edit) – Lewis Can Cut (Congo Tardis)
Top Ranking – Knight Magic
Fiesta en el 32 – Territorio Comanche (Cambuche)
Linda Mariposa – Sonido De La Frontera
Mariposa Dub – Sonido De La Frontera
Bombon Asesino – La Repandilla (Leader)
Cumbia de los Barrios – Grupo Sonador (Loudes 68 Urban)
La Venganza de los Nerds – Los Humanoides
Cuando Lo Negro Sea Bello – DJ Dus
Himno De Cucumelo (SDP Edit) – El Chavez
Cumbia Colegiala (Maga Bo Rmx) – Copia Doble Systema (Urban World)
Soy Yo! – DJ Dus
Cartesian Space Dub Mix – Suizen (dub45.bandcamp.com)
Beacon (Mount Kimbie Rmx) – L.V. & Untold (Hemlock)
Soundboy Shift – SBTRKT (The Young Turks)
Venus Project – Ruckspin (Transistor)
Police Ar Come Run – Rossi B & Luca (Planet Mu)
Nightmare (Mensah Rmx) – Badness ft Skepta & Lil Nasty
Citizen Dubs – Bok Bok (Ft Bubbz)
Bakers Dozen – Simon Sound (Project Blue Book)
Plastic Beach – Gorillaz (EMI)
Most Wanted – Cults
Go Outside – Cults
Motorcycle I Love You – Moon Duo (Woodsist)
Heisse Lippen – Cluster & Eno (Soul Jazz)
Geradewohl – Roedelius (Soul Jazz)
10000 CCs – Don Froth
41 Mosqitos (Canyons 41 Mojitos Poolside Dub) – Tame Impala (Modular)
Peap Svm I Hsm I – Hrdvsion (Living Records)
La Estereofonica – Afrosound (Discos Fuentes)
Perso Fra I Mesquites – Grupo Fantasma (Fantasma)
Al Caribe Volveré o La Canción del Náufrago – Pernett
Maneto En Menor (Tremor Rmx) – Radiokijada (March Music)
Mi Vida (Carlito Headset Rmx) – Manu Chao
Baby (Architeq Dub) – Phenomenal Handclap Band (Tummy Touch)
Chinatown (Architeq Acid mix) – Cruisin' Gang (Tirk)
Wax The Van (Jon's Dub) – Lola (Strut)
Paradise Rings – 1000names (Team Acre)
Lose My Fuse – Muhsina & Flying Lotus (All City)
To Binge – Gorillaz & Little Dragon (EMI)
Many many things worth following up from this weeks show but please do check out the bandcamp address next to the Suizen track. Tim Prebble is a long time friend of the Stinky Grooves radio show, Round Trip Mars and people with a pair of dicerning ears and it's real swell to hear his music again, peruse and purchase popkids. He's going to be flinging up a couple of new tracks every month up at his bandcamp page until he has an album looming, sounds like a stroke of geniusy to me.
However I aint posting that because there should be some wallet separation involved with any listening to that brace of gems. None is required for checking out New York based, San Diego outfit Cults who have three tracks available for the sharp eyed penniless punter at their bandcamp page. You can read about 'em at Pitchfork here if you need some kind of hipster re-assurance but on the strength of their tonetastic trio of tunes, it shouldn't be necessary. While we've had a a lifetimesworth of male/female duos and I think we're going to be hearing a lot of bandwaggonists talking about drag and dreampop this year, I reckon this pair have potential beyond the usual attention span and stylistic hotspots. So there.
Cults on bandcamp .. 3 free tracks bro, so the one here is 320