Cool Out – King Midas Sound (Hyperdub)
Flying – The Bug ft Ricky Ranking (Ninja Tune)
CCTV – LV & Dandelion (Hyperdub)
The Untitled Dub – F  (7even)
Vancouver (2562 Rmx) – Martyn (3024)
Slept On Tony – Ghostface Killer (Def Jam)
Run (Rmx) -Ghostface Killer, Raekwon, Jadakiss, Lil Wayne, Freeway (Def Jam)
Brooklyn Girls – Charles Hamilton (Interscope)
Rollin' (Remix) – Jackie Chain feat Kid Cudi (10 Deep)
Word? Aaite! – Charles Hamilton
High Grade – Busy Signal
Hustle – Busy Signal (Birchill)
Baddaz Version – Christopher Birch (Birchill)
From Afar – Busy Signal
Mi Nah Look Nu War – Cutty Ranks
Say What You Wanna Say – Mavado
Judas – Bounty Killer
Peace Treaty  Put Off – Busy Signal
Drop Bomb (Loudmouth Rmx) – Mz Bratt ft Griminal
Witness The Day – Moody Boys (White)
Bad – Kode 9 & LD (Hyperdub)
Hungry Ghosts – Filastine  (JFX Bits #3)
3KLane – Jakes vs Joker (Terrorhythm)
Sabacco – Quarta 330 (Hyperdub)
Natural Selection (Flying Lotus Rmx) – Martyn (3024)
Revenge Of  The Nerds – Fulgeance (All City)
Chrome Plated Elbow (Grounds For Divorce) – Chrome Kids
Moonshake – Fulgeance (Musique Large)
The Legacy (Weatherall Remix) – E.S.C. (Rotters Golf Club)
Through The Robot Chicken Shed (Weatherall Remix) – Le Sarge En Board (Rotters Golf Club)
Epic & Donuts (Mungolian Jet Set Rmx) – Altz (Lastrum)
Tropical Waste (Idjut Boys Edit) – The Emperor Machine (DC Recordings)
Shine Again – The Knux (Interscope)
Man On The Moon – Kid Cudi (Mixtape)
Special Request – Chronic Sonata (Tip Of The Iceberg)
Incoming – Cumbianauts
La Danza Del Lorito – Los Mirlos
O Morro No Tem Vez – Tira Poeira
Seasons bleatings to all and one
Good to have some freshness on the predominantly wobble free 70bpm malarkey, especially those new Hyperdubs, with the new and frankly flattening  Zomby 12″ to follow in a couple of weeks, oooh wee.
Have picked out the sublime cut 'Special Request' from Chronic Sonata for a bit of mp3 I-push-you-pull this week. Based in Toronto and NYC, I cottoned on to the trio of tweakerizers with their remix of  Subatomic Soundsystem's 'Our Father, Our King' earlier this year, which has enough of its own atmosphere to rise above the usual standard dub sludge and BBQ beats. Spotting this six track 12″ in Turntable Lab I was blown away by this track 'Special Request' which, though it has the politeness that permeates/plagues the rest of the EP, has something special going on. Tip Of The Iceburg is apparently an offshoot of Brooklyn/Japan label Concent which is run Chimp Beams who have also done an alright track or two, enough of my yakking, on with the music.
(Buy) USA
(Buy) UK
(Sonataspace)
(Website)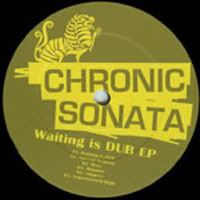 CHRONIC SONATA – SPECIAL REQUEST
Hopefully tomorrow a little Penthouse post, I'd only mess it up if I tired … er tried to whang it up now. Uber and oot.