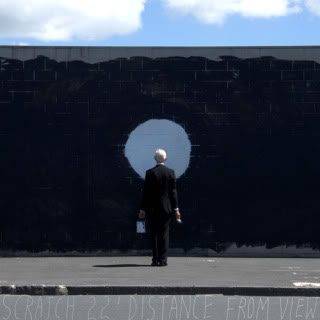 NO APOLOGIES…THIS (ABOVE) IS A SUBTLE HINT THAT SAYS…. GO BUY THE SCRATCH 22 ALBUM 'DISTANCE FROM VIEW' RIGHT NOW FROM THOSE ANTIQUATED RELICS OF BYGONE DAZE…SHOPS (IF YOU'RE IN NZ) OR FROM BANDCAMP, iTUNES etc (IF YOU'RE ANYWHERE ON OEUF)… SATISFACTION IS AMPUTEED….
Bull Ring Boogie (Wrongtom Rmx) – Pama Intl (soundcloud)
When We Kill – Skarra Mucci ft Ken Boothe (Soul Force)
New York Minute – Ray Darwin (Joe Frasier)
Run Run Run – Tinga Stewart (Joe Frasier)
Mustang (J Rocc Rmx) – Blundetto (Heavenly Sweetness)
Downpressor – Michael Rose (Undisputed)
Big Machine – Mr Lexx (Undisputed)
Wuker – Kncky Cordner (soundcloud)
Money – Sheba (TJ)
Life – Vybz Kartel (TJ)
Sabor A Gaita – DJ Negro (Bersa Discos)
Luna Lunera (DJ Krack Rmx) – Revelacion Colombiana (soundcloud)
津波神風ーTsunami Kamikaze – Dolomites (soundcloud)
Danger Up & Down – Dolomites (soundcloud)
Pacmanimals Cumbia – SDP vs Mr Sakitumi (Generation Bass)
Bullet Against Bone – Kode9 & Spaceape (Hyperdub)
Turkisk-Ish – Debruit (Civil Music)
Easy Action – The Alps (Mexican Summer)
Communication – Scratch 22 (Round Trip Mars)
333DIRT – 333 (Parallel Thought)
Chasing The Sun – J Rocc (Stones Throw)
C&S Mixtape – Micachu & The Shapes (Rough Trade)
Low Dogg – Micachu & The Shapes (Rough Trade)
Hollow Bone – Scratch 22 (Round Trip Mars)
Supercollider – Radiohead (XL)
For Isabel – The Alps (Mexican Summer)
Romantic Attitude – John Fitch (Beacon Records)
This Songs For You – El Michels Affair (Truth & Soul)
Go Outside (The 2Bears Rmx) – Cults (Sony)
Spray – The Alps (Mexican Summer)
Grand National – Julio Bashmore (3024)
Magnetic Devil ft Afrika Bambaata – Black Devil Disco Club (Lo)
Graffiti Girls – Parallel Dance Ensemble (Permanent Vacation)
Puertas Adentro (Pepepe Rmx) (Pueblo Nuevo)
Blossom Quarter – Lone (R&S)
Ribble To Amazon – Julio Bashmore (3024)
Green Sun – Kode9 & Spaceape (Hyperdub)
Falkenberg (Pilooski Edit) – Discodeine (Dirty)
Wolebe ("My Dear" Sung for the Bride) – Lema G/Hiwot
Yebete Zemedu (We'll See How The Relatives Play) – Lema G/Hiwot
Soyle Beni – Grazia (Koliphone)
Palaces Of Monetzuma (Barry Adamson Rmx) – Grinderman (Mute)
Bebaskan Aku (You Keep Me Hanging On) – Ismail Haron & The Guys (EMI Singapore)
Hole In Your Boat – Scratch 22 (Round Trip Mars)
Fallout – Moon Duo (Sacred Bones)
Goners – Moon Duo (Sacred Bones)
Apologies for last week's playlist going up the best part of a day late, pure oversight I'm afraid. I primped and preened the playlist to a pertinent point, and as is invariably the case when I flt it was done I pretty much immediately stuck the headphones on and got to making yet another foolish theraputic stinking tune.. it's what I do. Unfortunately I did everything but press 'publish' and didnt discover that till the next day when I bucked up on the tab underneath several layers of digital detritus on my desktop.. oops!
Bristol's Julio Bashmore has been popping out some fine tunes for a West Country minute, and I'm quite surprised that he hasn't popped up on Stinky Grooves more -though that's probably due to the overall doofiness of most of his gear. It's an intelligent doof (or an oracle-like oonst if you prefer) and with track titles like 'Um Bongo's Revenge' (surely a reference to the dodgily marketed, gruesome British fizzy drink of the 70's) and 'Grand National' – the man also has room for a bit of wit in his shit.
Love this tune (as my better half points out.. this tune has a sizable whiff of classic Pal Joey to it, no complaints round chez stink about that!), equally (almost) love 'Ribble To Amazon' from the same EP, so we're talking keeper type material. This'uns a digital extra so don't be content with the paltry 192 I'm offering up for your perusal for one week only…buy the bloodclaat things here ….go onnnnnnnnnnnnnnnn.