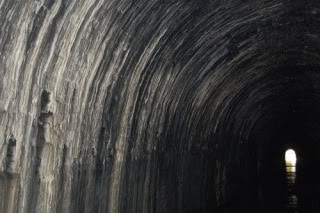 Colegiala – Los Ilusionistas (Barbes)
El Rondador – Ranil y Su Conjunto Tropical (Light In The Attic)
Siboney – Los Walkers (Barbes)
Cumbia Del Palmar – Alfredo Barrantes
Rubielo – Lito Barriento y Su Orquesta (Discos Fuentes)
Nena Ven – Los Strwck (Kubaney)
Chinito Rulo – Ranil y Su Conjunto Tropical (Light In The Attic)
Push Me In The Corner – The Eternals (Moodisc)
Looking Back – Gregory Isaacs (Moodisc)
Give Me Jah Jah – Sugar Minott & Jackie Mittoo (Studio One)
Words, Sound & Power – General Levy (African Beat)
Choo Choo – General Levy (African Beat)
Money Ah Dem God – Lady Chann (African Beat)
Keep On – Tippa Irie (African Beat)
Gal You Got It – Busy Signal
Wat U Say – Busy Signal (Turf Music)
Between Eyes – Busy Signal (Turf Music)
Nah Stop Shine – Tifa (Fedda Weight)
Prettiest Thing – Agent Sasco (Fedda Weight)
Tear Up Jeans Riddim – Ward 21 (Ward 21)
Besito – Los Espiritus
Bicho De Luz (Tucu Tucu Versio) – Frikstailers (ZZK)
Ay Gatita – Don Conejo (Cabeza!)
Culoevaina (Jose Luis Radio Edit) – Papaya Republik
Cumbia De La Cobra (Chale Tamale Edit) – Fito Olivares (soundcloud)
Sonido Verdadero – Pachanguito (soundcloud)
La Chichera (Chale Tamale Edit) – Fito Olivares (soundcloud)
Zug (Borngrabe & Struver Rmx) – Conrad Schnitzler (M=Minimal)
Raptus – Count Down (Light Sound Dark)
Kumbayero – Weyman Corp (Light Sound Dark)
Raindrops (John Talabot's Cosmic Rework) – Blue Daisy & Aneeka (Black Acre)
Icaros – Mexicans With Guns (Friends Of Friends)
Playa (Mexicans With Guns Rmx) – Freddie Gibbs (bandcamp)
Bring It On Home (Mexicans With Guns Rmx) – Diego Bernal (bandcamp)
Bruzin – Terror Danjah (Hyperdub)
Fat Si – Cooly G (Hyperdub)
Jurassic Notion/M Theory – Flying Lotus (Brainfeeder)
To : Love(Instrumental) – Ahu (One Handed Music)
Baby I've Been Missing You – Bunny Maloney & Mudies Dub Crew (Moodisc)
No Bother With Fuss – Angelia Prince (Studio One)
Marcus Garvey – Nuwaupu (Tradition)
Seventy-Two Nations – Dadawah (Dug Out)
Lightning & Thunder – Bim Sherman (Attack)
Ancestors (Dreamtime) (Mark Pritchard Rmx) – Gonja Sufi (Warp)
Humming Birds – Teebs (Brainfeeder)
As well as the several tunes that are linked upstairs in t'playlist through soundcloud, bandcamp and whatnot (and don't sleep because these things don't always hang around and neither should you!!) can I suggest you pay a virtual visit to the good folks at Cabeza! netlabel. Their latest free Cumboid EP is from Chilean charger Don Conejo and it's a bit of a pearler. Please do repair yourself there and get your DL on…this is what you are looking for…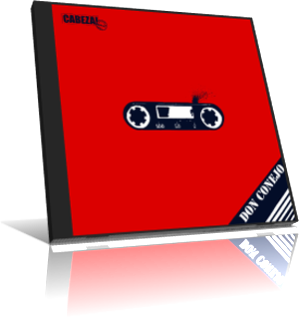 and you'll find it here…Cabeza! netlabel
It's about time for a munty contribution to the weekly (about time for a lot of things, but thats another story) and who better than Light Sound Darkness (LSD geddit) who have returned to raise some serious questions about taste barriers, and generally fry minds and sizzle synapses with Return Of The Sherm.
I was well taken with their first offering alone similar lines Sherm Sticks And Other Nasty Joints ..and Vol 2 could almost be better. Give me a few days on that as I only hauled it into my digi-shopping net last night, but currently..I'm impressulated. This is a breaks classique and with good reason, for me it's all about those fruit-loop vocals..and the rest.
Buy on 2LP or digitalistically will follow soon nae doubt.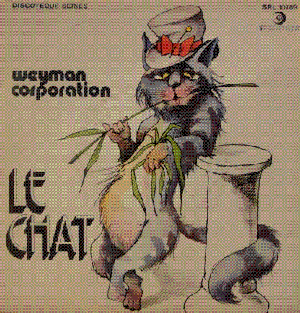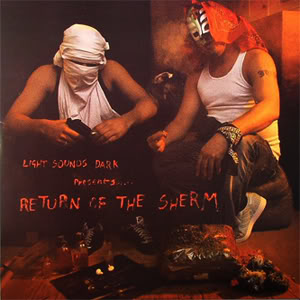 au rev-later..