**** HOLD THE PRESS ****
Don't forget Aromatherapy at the Minx on Thursday or The Turnaround's 8th Birthday on Friday at Bacco….. do I have some tunes for yoooooooooooooo….
Toot toot
****PSA OVER ****
Sunrise – Monkey Sequence
Estrella – Tom Eno (Jack To Phono)
Carruseles – Afrosound (Vampi Soul)
Seventy-Two nations – Dadwah (Dug-Out)
Observing In Dub – Lee 'Scratch' Perry (Dug Out)
El Ascensor – Los Corraleros De Majugal (Vampisoul)
Amor De Mis Amores – Nixtamal (Cabeza!)
La Ku Kuk Kumbia (Willow con K TNT Mix) – Tinitus & Willow
Funkun – Tinitus & Willow (OuzoMusic)
Hang On (Kinky Electric Noise Chicha Rmx) – Unitone HiFi (Round Trip Mars)
Valicha – Los Destellos
Por Que No Me Das – Pepito Quechua
Sueno Hippie – Los Beta 5
REVOFEV – KId Cudi (UMG)
Yaya – Mr OK ft Larose (Masalacism)
10 out of 10 – Badness, Gappy Ranks, Maxwell D
Respek I-Spek (Appleblim & Gatekeeper Rmx) – Dubkasm (Planet Mu)
Todos Tus Muertos vs Kode 9 vs Badawai – Villa Diamante
Sorcerer (Version) – Higamos Hogamos (All Time Low)
The 3d Harmonic – The Oscillation (All Time Low)
Path Through The Cathedral – The Time & Space Machine (Tirk)
Buddy – Wooden Shjips (Sick Thirst)
Bloody Rockers – Joachim & Rolf Kuhn (Finders Keepers)
No Need To Run – Kwes (Young Turks)
Symbolism In Transition – Deepchord Presents Echospace (Modern Love)
Mayor – Mount Kimbie (Hot Flush)
Carbonated – Mount Kimbie (Hot Flush)
Automaton – Lorn (Brainfeeder)
Maroon Chant – Gemmy (Earwax)
Zion Land – Dadawah (Dug Out)
Fly Away Version – Ras Michael (Zion Disc)
Man From Wareika Dub – Rico (Ghetto Rockers)
K Dub 10 – Jah Wobble & Nippon Dub Ensemble (30HZ)
Chicken Riddim – Q Jay & The Sons Of Thunder (Fun In Your ear)
Elisa – Laurent Lomande (Honest Jons)
Klim – Jean Mpia (Honest Jons)
Bino Boton, Bosele – Adikwa Depala (Honest Jons)
Moni, Moni Non Dey – Boniface Koufoudila (Honest Jons)
In the face of seemingly endless internet and network palavers I'm going to be posting this from the studio again to be on the safe side, so apologies for the threadbare nature of this post. Fortunately it's musically fully stuffered with a track from Uraguay's finest (OK I confess I'm not entirely sure I've ever played a track from Uraguay before.. which is a damn shame on this evidence) and a link to an entire EP/albumette of said excellentness for free.
It's cumbia Jim, but not as we know it, or at least not as we've heard it for a while. Heavy on the glitch and not afraid to freak the fuck out, this release has been growing on me like some genetically mutated ivy of late. Once again I can loudly proclaim my ignorance from the nearest virtual rooftop, I don't know what colour socks they wear – but I do like these tunes. Perhaps have a nibble on the little gem below and then pull out your spork for a beaty banquet of the whole deal from Ouzomusic.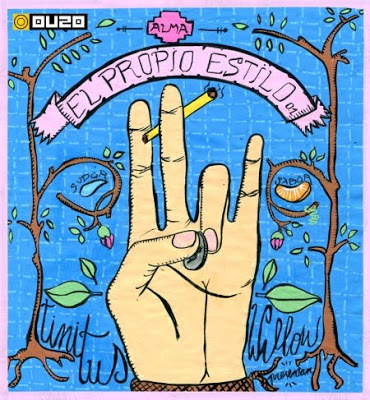 Clickers aqui to get the whole EP fandangle for free from Ouzomusic, can't say fairer than that.