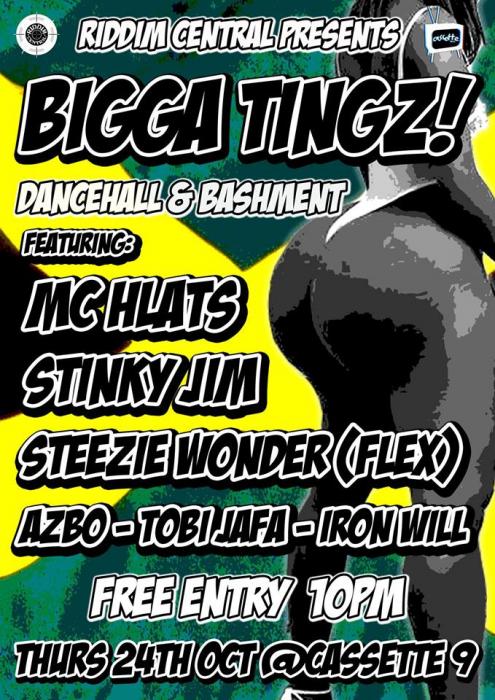 Thursday night all roads lead to Cassette for Bigga Tingz bashmenteering to the maximum – we'll come with something special for that… I'll be playing 10.45 – 11.45 or thereabouts
Smoke It Up – Tony Curtis & Konshens (Ward 21 & Wiletunes)
Stupid Money – Wayne Marshall & Agent Sasco (Ghetto Youths)
Blood Sucker – General Degree (Penthouse)
Defend Mi Self – Di Genius (Di Genius)
Lend Dem Some Badness – Laden (Di Genius)
Gwaan Like Thugs – Agent Sasco (Di Genius)
Mad World – Friso Kid (Di Genius)
Mad World Riddim – Di Genius (Di Genius)
Cumbia De Las Luchas (Instr) – Boogat (soundcloud)
Cumbia Spacial tu Amigo el Cenzontle – Arturo Herrera Dj (soundcloud)
Rastrillo De Mundial – Kinky Electric Noise (soundcloud)
Orimonika (Thornato remix) – DJ Shotnez (Urban World)
Mawal Jamar – Omar Souleyman (Ribbon Music)
He Knows – Fulgeance (Musique Large)
Seas Albatross – Psymun & Chester Watson (bandcamp)
Neptune State (Psymun Rmx) – King Krule (bandcamp)
Hives – Kwes (Warp)
Alternate Virtuality – Eero Johannes (Sound Pellegrino)
Gong – Fout Tet (Text)
Ombillic Contact – The Atomic Crocus (Because Music)
Hetrotopia (Young Marco remix) – Michael Ozone (ESP Institute)
The Deep Hum At The Heart Of It All (Andrew Weatherall Remix) – Michael Smith & Andrew Weatherall (Faber & Faber)
King – Group Rhoda (Not Not Fun)
Spirit – Frédéric Mercier (Because Music)
Hammer & Sickle (Bullion Rmx) – Neon Neon (Lex)
Blackbird – Jean-Michel Jarre (Because Music)
Générique-Début – Cerrone (Because Music)
Come Save Me (Andrew Weatherall Rmx) – Jagwar Ma (Future Classic)
Servants – Wooden Shjips (Thrill Jockey)
Judy Nylon – Arp (Smalltown Supersound)
Rollerblades – Kwes (Warp)
Chelsea – Robert Wyatt (Cunieform)
Bannai – Psymun (bandcamp)
Hackney Parrot (Special Request VIP) – Special Request (Houndstooth)
Find Me – Belbury Poly / Spacedog (Ghost Box)
And don't be forgetting the Magic Roundabout on Friday at Verona, Dub from 9-1, me from 5- – BEST VIBES IN TOWN weekly and not meekly!! then afterwards….
the Turnaround goes back to its roots boots in the Galatos Basement this Friday – ever large!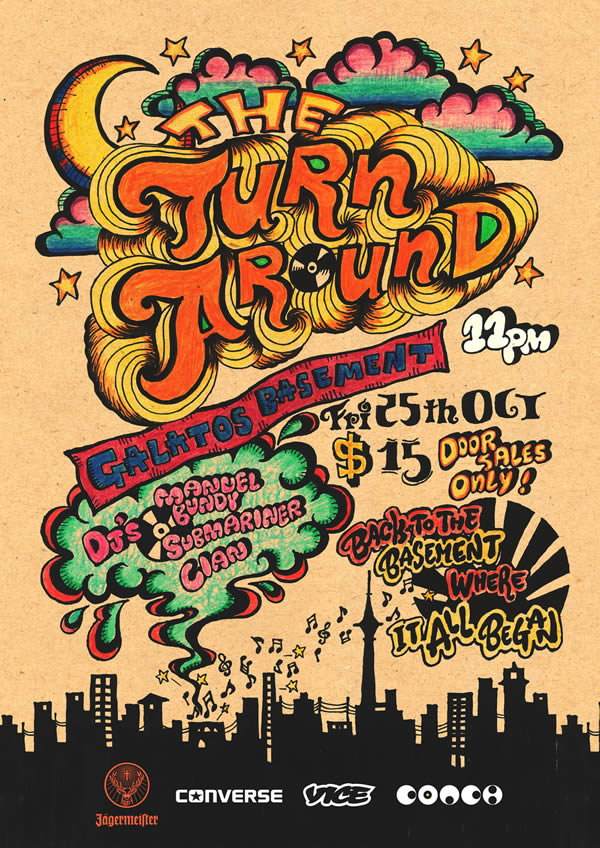 On Sunday it's the last one of these mismatches at Tyler Street Garage ever.We've got Art Official guesting from Welli, and I'll be kicking shit off from 3 (probably some 3 for 3 for 3 action between 4 and 6 or 3 and 7 or suchlike) as regards the rest and our curtailment – as a yoof I was told don't say anything if you can't say anything nice..Ok then ….