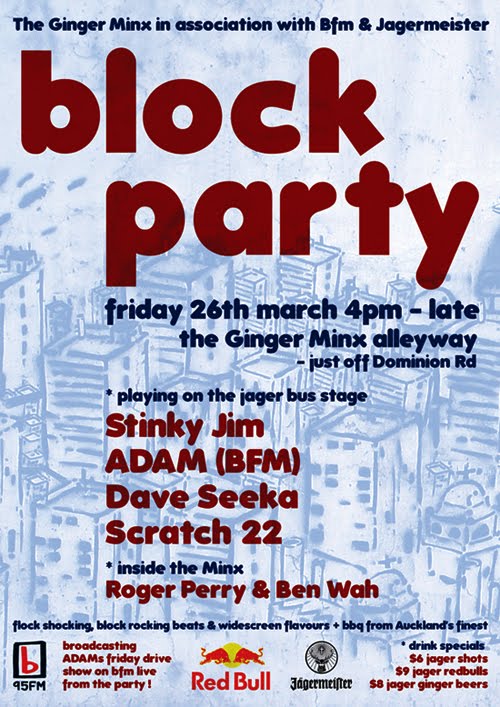 Noche De Estrellas – La Sonora Del Caribe (Disco Fuentes)
La Subienda – Gabriel Romero (Disco Fuentes)
Amore De Fantasia – Los Pakines
El Sonido Del Silencio – Los Quantos
Perso Fra I Mesquites – Grupo Fantasma (Fantasma)
Continue? – Ikonika (Hyperdub)
They Are Losing The War – Ikonika (Hyperdub)
Citizens Dub – Bok Bok ft Bubbz (Blunted Robots)
Carajo Colombia – Orion
Pure De Tetrix (Original Mix) – Nino Herrero
Nightmare (Mensah Rmx) – Badness ft Skepta & Lil Nasty (No Hats no Hoods)
Resaleable Friendship (Slugabed Rmx) – Rudi Zygadio (Planet Mu)
Oceans – Vex'd (Planet Mu)
Psychedelic Baby – Fubura Sikibo (Soundway)
Take Off – Tempo All Stars (Stones Throw)
Aki Special – Prince Nico Mbarga (Rounder)
DstryPrfts (Shackleton Remix feat Vengeance Tenfold) – Badawi (The Index)
See Birds – BALAM ACAB (Tri Angle)
Cartesian Space 4D Mix – Suizen (dub45.bandcamp.com)
Take Us To Africa – Lewis Can Cut (Congo Tardis)
Most Wanted – Cults (cults.bandcamp.com)
To Binge – Gorillaz ft Little Dragon (EMI)
Turkish Voodoo – Free The Robots (Alpha Pup)
Afrika (Bullion Rmx) – Oborne (Ghostly Intl)
Pernett El Protegido – Pernett
Bakers Dozen – Simon Sound (Project Blue Book)
In The Dark Of The Night – Michoacan (DFA)
Paradise Rings – 1000names (Team Acre)
Discoko – Falty DL (Rush Hour)
Disco Umpty NumberSix – Andrew Weatherall (Rotters Golf Club)
41 Mojitos (Canyons Poolside Dub) – Tame Impala (Modular)
Maze – Actress (Werk)
10000 CCs – Don Froth
Schematic Blocks – Cardopusher (On The Edge)
Beacon – LV & Untold (Hemlock)
Yoshimiyshu – Ikonika (Hyperdub)
Automating – Darkstar
Taken For A Ride – Cardopusher (On The Edge)
As you can probably tell it's a bit bleeding giggy round these parts of late. After last weeks Aromatherapoid and Tiger Translate on Saturday (which was a gas) this week it's predictably another waft of the Aromatherapy on Thursday followed by Block Party on Friday which promises pungent power of unspeakable proportions. Inside the Minx me old mucker Roger Perry will be playing with Ben Wah while outside A.D.A.M. will be presenting his Friday drive show for 95bFM from 4-7 and then Scratch 22, Dave Seeka and myself will be sending out the shots (sonically) from the Jagermesiter bus/hummer type thing down the alley. The Minx will be sectioned off and there will be an outdoor bar and allsorts, as ever it's free – so all those people who whinge and whine about paying the equivalent of a beer or two as a cover charge..NO EXCUSES! Tightwads and them living large are all welcome, see you there.
This week have a gander at this track from the new EP by Venezuelan vibes vandal Cardopusher. While he's best known for his impressive but often merciless drill'n'bass-step kind of maneuvers, and frankly his gear is a cut above almost anyone in that scene, there is always a discernible sense of sophistication and a suggestion of something less abrasive than the mob in his hoo-ha. Schematic Blocks his latest for On The Edge realizes that potential and leaves any pavlovian wobble tricks in the cupboard… it's very very good. Have a listen to this slink number and see if you're not hooked, then follow the links to purchassification gratification and you are officially away.
Buy vinyl or download from Boomkat
Cardospace
And don't forget… Aromatherapy — Thursday…you know it makes scents!