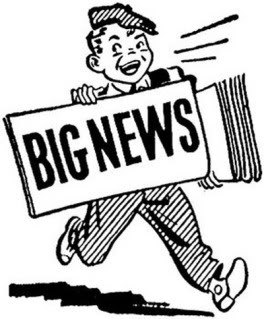 YES!! INDEED!!! BIG NEWS AND INDEFENSIBLY POOR PUNCTUATION OVERLOAD COMING AT ROUNDTRIPMARS.COM IN THE NEXT 24 HOURS. KEEP 'EM PEELED ON THE HOMEPAGE TO FIND OUT WHAT THE CRACK IS WITH 'INVADERISM', AND ALSO WHO HAS JOINED THE RTM FAM AND HAS A SCOOOOOOOORCHER OF AN ALBUM IMMINENT….
Sofa (WrongTom Rmx) – Nextmen ft Pupajim (Nice Up!)
Christopher Columbus – Prince Fatty ft Little Roy (Mr Bongo)
Freedom Day – Ken Boothe (LTD)
That Very Night In Dub – Prince Fatty ft Hollie Cook (Mr Bongo)
Lime & Salt – The Flying Lizards (Staubgold)
All Will Be Well In The Garden – Lee Scratch Perry & Adrian Sherwood (On-U Sound)
Galang So (Douster Rmx) – Wildlife! (bandcamp)
Wine Up (Nuh Pop Dung) – Busy Signal (Washroom)
Seh Mi Good – Tifa (Washroom)
Gyal Yuh Hot – Mr Lex (Washroom)
Flashing Lights -Shana S (Fedda Weight)
Bad Mind – O'bryan (Fedda Weight)
Pan The Money – Bust Out Crew (Fedda Weight)
Mars Mi Gone – Beenie Man ft Cee Gee (MD Entertainment)
F.Y.I. – Busy Signal (Stainless Music)
Bullit – Seanie T (suspectpackages.com)
International Rudeboy – Lotek (Counter Clockwise)
General – Bounty Killer
Tune In – The Bug ft Roots Manuva (Ninja Tune)
Education – Digital Mystikz (DMZ)
Gold Tooth Grin – Taz (Numbers)
Showdown In Chinatown – Becoming Real ft Trim (Not Even)
Like Me – Becoming Real ft Trim (Not Even)
TS Hoe 09 – DJ Clent
The Announcement – Jay Electronica ft John F Kennedy
Ashin' Kusher – Kid Cudi (Universal Motown)
Into The Cosmos (Mr Beatnick Dub) – Architeq (Tirk)
The Incident at Mbuji-Mayi – Bass Clef vs Kasai All Stars (Crammed)
Boys Outside (Andrew Weatherall Dub 2) – Steve Mason (Double Six)
Ghandi (Andrew Weatherall Rmx) – Le Corps Mince De Francoise (Heavenly)
Darlin' (John Talabot's Oscuro Baile Remix) – Tahiti 80 (Barclay)
The Hammer (Canyons Rmx) – !!! (Warp)
Afro Latino – Banana Clipz ft Los Rakas (Bersa Discos)
Masikulu Dub – Konono N°1 vs Mark Ernestus (Crammed)
Fanpharaoh- Shazalakazoo (soundcloud)
Akiskan Misafirler Iki – Hayvanlar Alemi (Sublime Frequencies)
Ineffable Dresscode – Hayvanlar Alemi (Sublime Frequencies)
Daddy Lolo – Charles "Chick" Ganimian & His Orientals (ATCO)
Halvah – Charles "Chick" Ganimian & His Orientals (ATCO)
Come With Me To The Casbah – Charles "Chick" Ganimian & His Orientals (ATCO)
Lucidity (Pilooski Rmx) – Tame Imapala (Modular)
Let Them – jj (Sincerely Yours)
Swedish Radio Session – jj (Sincerely Yours)
A veritable harvest festival of freshness and crisp biscuitery this week with a vast swathe of ridiculous rhythms and mounted melodies making their way onto the airwaves. As ever, follow the links up above for further enlightenment, free tunage and spots where you might have to place hand in poche… but it will be well worthwhile.
For your eary appreciation this week a track from Taz, for Glasgow's ever over-endowed in the bass department Numbers label. This is actually the first domestic (as in Scottish) release from the label all year, and as far as the title track goes…its' worth the wait. Most often to be found under the Taz Buckfaster alias, much of Taz's (Tarik Cherkaoui) gear is too bombastic for my delicate (?!) tastes, but this track 'Gold Tooth Grin' shows exactly why the likes of Mary Ann Hobbs have been on his jock (sorry there had to be one bad Scottish pun) and labels like Ramp, Rwina and Subway have been flinging his stuff out to the grime encrusted kidlings.
This tune has some sort of seismic, cinematic charm that I find impossible to ignore. Hope you feel the same, if so please support by following this link and whipping out your financial credentials.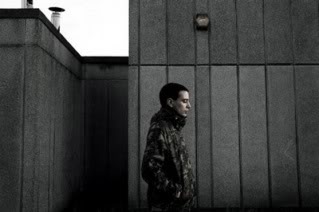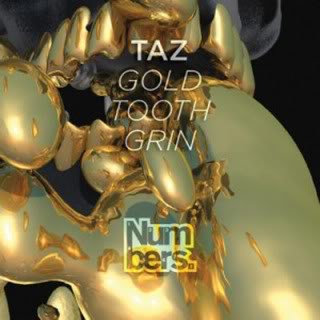 And Aucklandateers (and surrounds) folk don't forget the Turnaround is on this Saturday at 1885. Usual trio of miscreants on the decks with Sandringham representing in the form of Recloose flinging down a marathon session of dusty jazz and funk sides in the basement. Poster below.