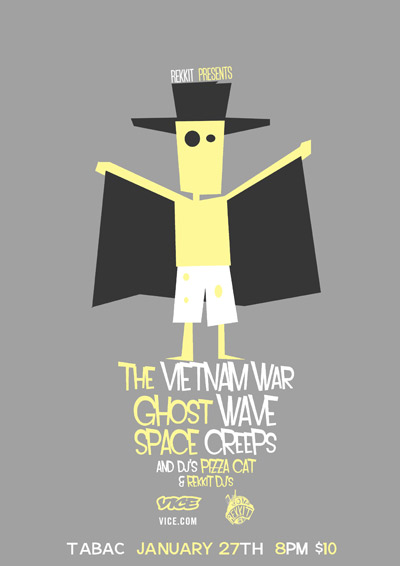 Tell Dem Already – Busy Signal (Truck Back)
Original Dancehall – Tarrus Riley (Truck Back)
In My Arms – Gyptian (Truck Back)
Time & Wisdom – Warrior King (Truck Back)
Only Man She Want – Popcaan (SoUnique)
Me A Wife – Stylysh (SoUnique)
Lost Angel Riddim – High Stakes (SoUnique)
Bam Bam – Bunji Garlin (Precision Production)
Callejero (Freak Castro Rmx) – Juana Fe (soundcloud)
Loca (The Pobretons Rmx) – Chico Trujillo (soundcloud)
Se Te Quemo (Avatar Edit) La Casa – Orlando Martin (soundcloud)
Post Apocalypse – BEeFF (bandcamp)
Wassup – ASAP Rocky (RCA)
Raymond 1969 – Schoolboy Q (TDE)
Pimpin Smokin Dro – LosRakas ft E-40 (bandcamp)
F-U-Y-A – C2C (On & On)
Die Poor – Tourettes (bandcamp)
Full Spectrum 2 – Zilla Rocca ft Has-Lo & Open Mike Eagle (bandcamp)
Stick Up – DJ Rashad & DJ Manny ft Brenmar (Lit City Trax)
I Had You – Simply Ded (Add Cat)
The Blame – Gonjasufi (Warp)
Nikels And Dimes – Gonjasufi (Warp)
U-Neeq – Guido (soundcloud)
Wild Eyed (Andrew Weatherall Rmx) – The Horrors (XL)
Crossing (Andrew Weatherall Rmx) – Wooden Shjips (Thrill Jockey)
Buckaroo Banzai – Mickey Moonlight (Ed Banger)
Nitten Nitti (Harvey's Not Normal Rmx) – Bjorn Torske (Smalltown Supersound)
New Leaf – Blackbird Blackbird (bandcamp)
Chai Garden – Globe Stepping (2NX)
Dusty Path – Globe Stepping (2NX)
Without Money No Family – Chief Boima ft Sorie Kondi (Dutty Artz)
Minigrip Walk – Yot (Raha & Tunteet)
New Epoch – Goth-Trad (Deep Medi)
Default (Dan Carey Rmx ) – Django Django (Because)
ISM (Pilooski Edit) – Principles Of Geometry (Tigersushi)
Into Our Midst – Walls (Kompakt)
Marshmellow Yellow (Ital Remix) – Peaking Lights (Not Not Fun)
Myggsommer – Todd Terje (Smalltown Supersound)
Scar City – Plug (Ninja Tune)
Not much to report this week. Aromatherapy at the Ginger Minx is done, it's been a good run of over 2 years so only natural, bit of a crappy way to end though. Ital was pretty darned good at Whammy last week for thems that made it. This week all roads lead to Tabac for The Vietnam War and some others, feels like tooo long since I've seen those larrikins live and I can hardly wait…call a cab. She's So Rad is playing at the Kings Arms on Thursday supporting the delightful Anna Coddington and since I no longer have to work I'm going to be there with bells on…
One final thing, the lovely Haunted Love ladies made a video clip, you can have a gander at it below. Tell a friend.