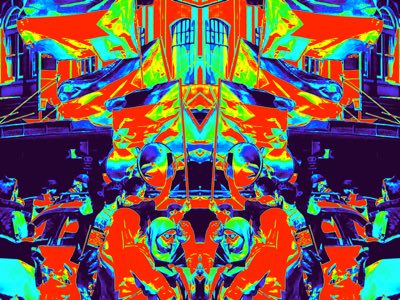 So Long – Ras Tamano & Goja Bongos (Dubophonic bandcamp)
Dey Sey Dub II – Holy Tongue (Honest Jon's bandcamp)
I Don't Know About War (Carbon Mix) – Junior Cony + Shanti D (OBF Dubquake bandcamp)
Wonderful girl – Simplists (Notte Brigante)
Ethiopian Serenade – Ras Tamano & Goja Bongos (Dubophonic bandcamp)
Goodbye Forbidden Hell – Jay Glass Dubs + Richard Youngs (Jay Glass Dubs bandcamp)
I'm a bee you're a flower (The Bug remix) – Friday Night Plans (?)
Frass Box – Adam Curtain aka Curtain x Warrior Queen (Banoffee Pies) 18 nov
The Don – Lusinda ft. The Ragga Twins (Hustler)
El Hombre Caimán (Extended Mix) – Thub (Folcore bandcamp)
Sikudelia – Jin Yerei (Jin Yerei bandcamp)
Esfregado – Dj Znobia (Nyege Nyege Tapes bandcamp)
A Oltranza – Joseph Tagliabue (dubblackltd bandcamp)
Fire – Gulls (Boomarm Nation bandcamp)
Narcissus – Jay Glass Dubs + Spivak (Jay Glass Dubs bandcamp)
STRL – Erik Mowinckel (Oslated bandcamp)
Demo 5 – Aufgang B (Neubau bandcamp)
Sublimate – Jdotbalance (ESP Institute bandcamp)
Silver Moon Dial – Fantastic Twins(Fantastic Twins bandcamp)
Flumen – Simone Bauer (Oslated bandcamp)
Blowing Flow – Azu Tiwaline (I.O.T. bandcamp)
Pinc Sunset (Wrongtom Dub  Instrumental) – Huw Marc Bennett (Albert's Favourites bandcamp)
Klaus – Justine Forever (Human Endeavour bandcamp)
Xram (Marco Shuttle Remix) – Santaka (Radio Vilnius bandcamp)
Behind Walls – Nonetheless (Neubau bandcamp)
White Flicker – Tolouse Low Trax (Bureau B bandcamp)
Slow Whispers Of The Nature – Rainsoft (Oslated bandcamp)
Stop Apologising – David Holmes ft Raven Violet (Heavenly bandcamp)
Lovesong Industrial Complex – Meatraffle (Blang bandcamp)
Smallest Gang – Meatraffle (Blang bandcamp)
It's Only a Matter of Acceleration Now – Lamin Fofana (The Trilogy Tapes bandcamp)
Shizoid (Radio Mix) – Freund d Add Former Familie (Freude Am Tanzen bandcamp)
Exodus – Brendon Moeller (Constellation Tatsu bandcamp)
Off the Grid – Jin Yerei (Jin Yerei bandcamp)
Dub and myself will be out at Hallertau Riverhead this Sunday the 29th from 12.30 – 4.30, as usual best bet is book first to avoid dissapointment. We will be providing the sonic cutlery and rhythm relief.