Blue – King Midas Sound (Hyperdub)
Wizards In Dub Pt 2 – Invasion vs Shackleton (This Is Less Music)
People Riddim – Nick Manasseh (Roots Garden)
C20 Riddim – Tapes (Jahtari)
Nuh Fraid Of Them – Busy Signal
Question – Busy Signal (Stainless)
Duffle Bag Riddim – DJ Karim (Stainless)
Done Wid War (09 Rmx) – Busy Signal
Lactic & Coil – Cutty Ranks Brain Storm (Skicron)
Roll Out – Red Fox (Skicron)
Nuh Fit Mi – Christopher Martin (Skicron)
Picantie – Busy Signal
Belly Off – Peter Pozorek
Rede (Doma Tornadoes Rmx) – Daniel Jeffs (Pueblo Nuevo)
Incredulous (Frank Booker Edit) – Julien Dyne (BBE)
Black Glory – Scalper (Like Water)
Burn – Thavius Beck (Big Dada)
Mixing Up The Medicine – Juelz Sanatana ft Yelawolf
Do Over – Ghostface Killer ft Raheem "Radio' (Def Jam)
Stay Off The Fucking Flowers – Blakroc ft Raekwon (V2)
Arab Trip For Cumbia Allah – Gianko y Su Sonido La Limpia
2Pac vs SG Colombia – Black Mandingo
Cumbia Bichera (Tremor Rmx) – El Remolon (Pueblo Nuevo)
Viajante – Tremor (ZZK)
Baile (Doma Tornadoes Remix) – Ricardo Villalobos
Soundclash 1 (Grevious Angel Rmx) – Naptha (Blackdown)
The loot (Sully Rmx) – J-Treole (Keysound)
Reminder – Sully (Frisjo Beats)
Chakra – Guido (Punch Drunk)
Roadz – Hostile
Waiting For You – King Midas Sound (Hyperdub)
Bluez – Peverelist (Punch Drunk)
You Monopolize Me -The Ogyatanaa Show Band (Soundways)
Them Go Talk Of You – The Cutlass Dance Band (Soundway)
Carmen – The Silvertones (Soundway)
Mulatu – Mulatu Astatke (Strut)
The Plague Village – I Monster/Skywatchers (Platipus)
JB Dubs – John Baker (Trunk)
Stay On Grey – Bernard Fevre (Lo)
Mirrors – Dam Funk (Stones Throw)
Hands Of Love (Fingers Of Sand) – Rocha (International Feel)
Naomi – John Talabot (Permanent Vacation)
Bitter Wind – Rene Hall (Essential)
Shipbuilding – Orchestre National De Jazz (Bee Jazz)
Multiplication – Jonny Trunk (Trunk)
Assault On Precinct 13 – John Carpenter (Record Makers)
Sandobu – Bernard Fevre (Lo)
Umbral feat Tremolo Audio – Tremor (ZZK)
'Don't make plans' is arguably some of the best advice you can ever be given, if only I could follow it. I made plans for a bit of a birthdaystravaganza with StinkInc turning one, just as the noughties have almost done their dash… and my rashly promised plans have been dashed. The Mulatu round two interview languishes on my hard drive, untranscribed and forlorn – hopefully this weekend. 100 to 90 of the years renkingest tunes have been mustered and semi-prepped and prodded, and I was hoping to have that to post today. But alas, I am full of shit. This was compounded by the realisation that I had got the date wrong for the 1st post as I had checked when I re-edited it, not posted it. I believe in the current parlance this is a FAIL.
I got excuses, plenty, ranging from the generally worthy to vague mumbles about how Friday night's excellent, opulent Curious Films party and an impossibly timed semi-convincing drubbing of the visionless Twickenhamites the following night mashed my weekend and senses up proper.. but you don't need to hear it. Instead ..something you should here.
It's always a rare delight when two local (or local once removed), tracks rub up against one another, solely on merit not any enforced NZ Muzak Weak palaver. Tonight it was Julien Dyne, whose Pins & Digits album has been picked up by BBE which has already resulted in an EP with a cracking edit and a sturdy instrumental. Points, prizes, props and pats on the back to him. Next was Scalper, a feller who made a big impression on me when he first came over as a relative newbie with long time muckers Fun-Da-Mental many years ago. These days he's a scalping out on the West Coast, and his album 'Flesh & Bones' which is due next year is some proper potent business you'll be hearing more of round these parts. The track I played tonight 'Black Glory' is available from
iTunes
(follow the link for some Scalperation) etc along with another ripper that I haven't got around to running yet 'Zero'.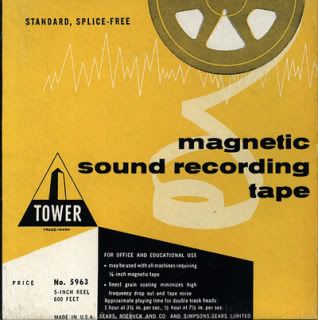 Hanyways like a shaggy dog story I'm not chucking either of them up, instead it's another local (almost…. well he used to be). Jackson Bailey has been gently blowing up with his digital explorations and it's great to see his Tapes 12″ finally oot and aboot through the genial gentlefolk of Jahatari. I got a sneak on a few of these cuts when I caught up with him in London and they have a unique charm that unravels with with cumulative replays.
Check the EP out because it's a wee gem, replete with tape hiss and enough attitude and humour to lift it well above the 8-bit-stepper standard. Here's a low qual entree but please do slip yer shopping shoes on and get in touch with a copy, those Jahtari folk are awful generous with the free tunage so patronise for eternal karmic reward.
Check the other link to a scorching track from tonight below, for them with a further inclination for some tune satiation…..
Buy the 12″ direct from Jahtari
here
also supreme quality files at
Boomkat
who are positively raving about the release, bless em….
Had a ramble about the excellent net label
Pueblo Nuevo
here a couple of weeks back and don't you know it they're at it again. This time they've hauled in the fast ascending Doma Tornadoes to remix Daniel Jeffs 'Rede' and he's done a potently percussive job unclenching the electronics. Check it
here
at Pueblo Nuevo or alternatively hit Doma Tornadoes
bandcam
p where it's legit and free, as well as his (I think unauthorised) remix of Ricardo Villalobos's excellent 'Baile'.