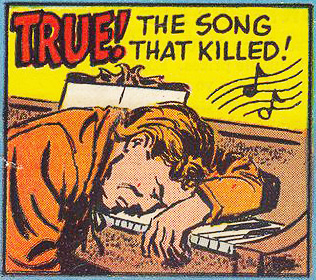 Soundbwoy (The Heatwave Refix) – Stylo G (Heatwave)
Music Will Mad Unu – Captain Sinbad (Maximum Sound)
I Know – Wayne Marshall (Ghetto Youths International)
Pressure Dem – Buju Banton (Payday)
Dun Fassy – Bounty Killer (Payday)
Go Thru – Sizzla (Payday)
Baby Father – Linval Thompson (Payday)
Fuss Cuss Riddim – Payday Music (Payday)
Selassie Souljahz (Vocal Dub Version) – Addis Pablo & The Suns of Dub ft. Chronixx, Sizzla, Protoje & Kabaka Pyramid (Royal Order)
Roots Sound – Chino & Di Genius (Di Genius)
Bongo Nyah – Stephen Marley ft Spragga Benz & Damian Marley (Ghetto Youths International)
Mek Duppy – Busy Signal (Turf Music)
Collard Greens – Schoolboy Q ft. Kendrick Lamar (Def Jam)
Red Dot Music – Mac Miller ft. Action Bronson (Universal)
Seven Series Triplets – Action Bronson Ft. Prodigy and Raekwon (Atlantic)
Gam – Levni (Tektosag)
Mira (Cero39 Remix) – Armadillo (soundcloud)
Cumbia, Cumbia, Cumbia ! (RCA Edit) – Cumbia Meguro (Instituto Mexicano Del Sonido)(free)
R.C.A (El Viento, La Brisa Y Tu Recuerdo) (RCA Refix) – Grupo Venus (free)
Neón – Armadillo (soundcloud)
Camimando En La Arena – Los Orientales (soundcloud)
Manabadman – Mark Pritchard ft Spikey Tee (Warp)
It's Time – Zomby (4AD)
Begin To Begin – Lone (R&S)
Smooch – U-ziq (Planet Mu)
As Darkness Falls – Zomby (4AD)
Petit Cochon – Siriusmo (Monkeytown)
Versions – Moderat (Monkeytown)
The South – oOoOO (Nihjgt Feelings)
Across A Sea – oOoOO (Nihjgt Feelings)
Mehtaab – El Mahdy Jnr (Boomaarm Ntion)
Release! – Melt Yourself Down (eOne)
Brainfreeze – Fuck Buttons (ATPP
Long Live The Jazz – Swindle (Deep Medi)
Start Me Up – Swindle (Deep Medi)
London Dungeons – Congo Natty ft Martha Kean Big Dada)
Bring Me Weed – Sherwood & Pinch (On-U Sound)
Did You Have to Float On? – Jagwar Ma / The Time and Space Machine (Marathon Artists)
The Pisgee Nest – Daughn Gibson (Sub Pop)
All My Days Off- Daughn Gibson (Sub Pop)
The Rad Lord's Return – Kid Congo & The Pink Monkey Birds (In The Red)
Smokey Joe's la la (Original 7" Version) – The Googie Rene Combo (Acid Jazz)
Lene Antchi Bitcha Nesh – Ayalew Mesfin (Mississippi Records)
Gebru Guratch Gute – Abbebe Tessemma (Mississippi Records)
Hari Meru Meru – Hailu Mergia (Awesome Tapes From Africa)
Lebene Sheweshew – Samuel Belay (Mississippi Records)
Lots on this week – naturally we'll be having another spin on the Magic Roundabout at Verona on Friday and that is pinnaclest of all entertainory extensions. I'll be doing 5-9, Mr Big Stuff is making like the absent Dub from 9-12 and the inimitably impressive Manuel Bundy will be midnight ons – YOWZA!
Before that I will be regulating the rhythms and manning the melodies at my next favouritest joint in AK – Golden Dawn on Thursday from 8 – c.a.n.n.o.t. w.a.i.t……..
Sunday is of course Tyler St Garage where I had quite the choicest chune-off with Selecto last week. This Sabbath is another seriously look forward to  as it tis Mikey Samson (formerly Yardboy of bFM/Downbeat/Bassteppa etc fame) who steps over from the Shore to kick things off proper from 3pm so you can expect the very best in roots, rockers, rocksteady, dubwise,digital and beyond – so across the proverbial board basically. I'll be joining his Samsonlyness from 5pm for a bit of back and forth till 7, after which I'll guide her home so to speak. Like all of the above – it's free – and would be great to see your smiling boats.